---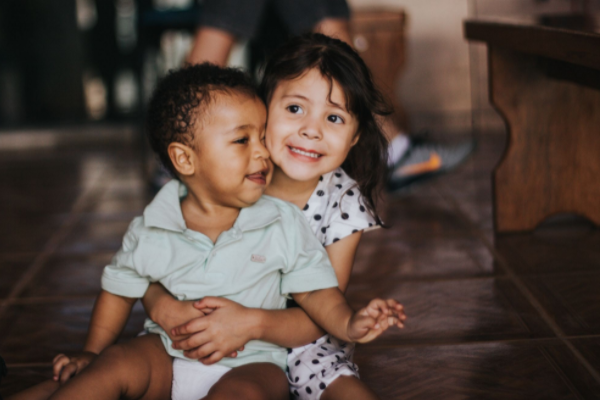 Growing your family is exciting, but getting children ready for a new baby brother or sister can be challenging. 
You probably already have a rose-tinted vision of how you want your kids to bond, play together, and becoming the best of friends. We've all seen those YouTube videos where kids are introduced to the new baby and cry with joy and give them kisses and hugs. 
The truth is, it doesn't always go like that. At times, you're going to feel more like a referee than a parent. But if you already have a child, the sudden appearance of a sibling can be very difficult for them. They're used to being the center of your world, getting all of your attention. You might find that their behavior changes or they're having difficultly accepting the new situation. 
Here are some tips on how you can prepare your child for the new baby's arrival and deal with any issues that might arise. 
Before the birth
Age is important 
The age of your child will dictate a lot of your actions to prepare them for a new brother or sister. Older children can better understand the concept of siblings and babies but might find that they experience jealousy more because they have spent a lot longer being the sole focus of your attention. 
Toddlers won't really understand what you're telling them and won't be able to verbalize any feelings they have, you may have to try and work these things out from their behavior. 
A good idea is to ask for advice from parents who have had a similar age gap. 
Explain why you want another baby
Tell them that you are having a baby so that they will have someone to play with and be friends with forever. The important thing is to tell them that you're not looking to replace them. 
There are some great family quotes on Everyday Power that you could use to inspire you. 
Find good examples of siblings
Depending on your child's age, they might not have a concept of siblings. Try and find some good examples from your everyday life, such as at your kid's school or nursery, or even your own brothers and sisters. 
Tell them about the fun you can have with your siblings. 
Show them that it doesn't mean you love them any less
This is a common fear for both kids and parents. Often, when parents are expecting their second child, they wonder if the levels of emotion are going to be the same as when you have your first. It's perfectly understandable, but it's based on assumption that you only have a finite amount of love to give. Parents find that their love grows, rather than divides itself between the number of children you have. 
Children often view it like this too. They think that a new baby in the picture means that you won't love them as much. You need to reassure them that you will love them just as much as you do now and that they'll love their new brother or sister too. 
Don't rush them to achieve things before the baby is born
When you're expecting your second child, being super organized is even more important. You might have an idea in your head of what you want your oldest to be able to do before the baby is born. This could be potty training, sleeping in their own bed or learning how to dress. Really think about timing. Are they ready? Or is it just better for you? If you put a ticking clock on their milestones, it could cause unnecessary stress and make them feel resentful. Let them progress at their own pace rather than pressuring them for the sake of the new baby. 
Remind them what a baby is
Go through your child's baby photos with them to remind them that they were once a baby too. Try and make them aware of how much a baby can't do for themselves, which is why you'll have to do everything for them, but as they get older they'll be able to play and take care of themselves more. 
If possible, spend time around any babies that are in your family or friends' circle. It may take some of their fear about babies away. 
Encourage them to speak up about how they are feeling
Explain to your child that it's natural for them to feel a range of emotions when a new baby arrives. Tell them that they can tell you how they feel whenever they need to. 
Get them excited about helping out
One of the best ways to get children to accept a baby is by making them feel a part of the process. Tell them about the things that can help with including helping to change and bathe them and read them stories. 
Once the baby is born
Buy them a gift from the baby
When there's a new arrival, you'll probably be inundated with baby presents, which can make your eldest feel left out. Many parents find it works well to buy a gift and say that it's from their new brother or sister. This will get them associating their new sibling with positive feelings. You'll also find that many people will buy them a small gift too when they come round to visit the baby. 
Expect regression 
If your older child's behavior becomes challenging, this is often a sign of frustration or jealousy. It's common for children to revert slightly in their behavior. This could come in the form of using baby language or bedwetting. 
Rather than scolding your children, understand that this is normal as they are coming to terms with their new role within the family structure. 
The good news is that these problems rarely persist into later childhood or adulthood. 
Spend time with your child by themselves
Babies can take up so much time, that it can be difficult to spend time with your oldest. Take them out of the environment and do something with them one-on-one. It will help you both to reconnect and assure them that it's not always the baby that comes first. 
Try positivity rather than punishment 
When dealing with challenging behavior, it pays to try and deal with this positively, rather than by punishing your child. If you do this, you run the risk of your child associating the baby with being punished, and this could build their feelings of jealousy and resentment even further. 
Obviously, there will be certain behaviors that are unacceptable and will need to be dealt with in a firmer way, but by trying patience and understanding then they will begin to feel more secure. 
Try not to change too many things at once
There's going to be a lot of upheaval to your life when the new baby arrives, that's unavoidable. Try not to compound this by making any other unnecessary changes to your child's routine or environment. 
If you are moving your older child to a different bedroom, so that you can reuse the nursery for the new baby, do this as early as you can in your pregnancy, and make a big deal of it so that your child feels like they are getting a grown-up room to themselves, not like they're being kicked out of their space to make room for the baby. 
Don't compare your children
It's perfectly natural to notice the differences between your children. Perhaps one slept through the night and the other didn't or one is a fussy eater. Even these small, innocuous comparisons can be picked up on by your child and they can feel as if they're being compared to the new baby. 
This holds true for then they get older too. Don't compare their behavior or tell them that you wished they would do xyz like their brother or sister. 
Final thoughts
Expanding your family beyond having one child brings with it a lot of new things to consider, not least of which is preparing your oldest child for the change. Some people have no issues at all, but it's unusual for a child not to react when there's such a huge change in their world. 
If you're genuinely concerned about their behavior, then speaking to an early years specialist can really help and could give you some techniques to improve the situation. 
Even if your child does react badly to a new sibling, this doesn't mean that it will always be the case. Most people grow out of it and go on to have close relationships with their brothers and sisters. 
You know your own child best and will have a better idea of the types of things they will respond to. When it comes down to it, giving them as much reassurance as possible and getting them involved is a great way to help them adapt. After all, it's an entirely new family dynamic they're in and they'll need help becoming a great big brother or sister. 
---