---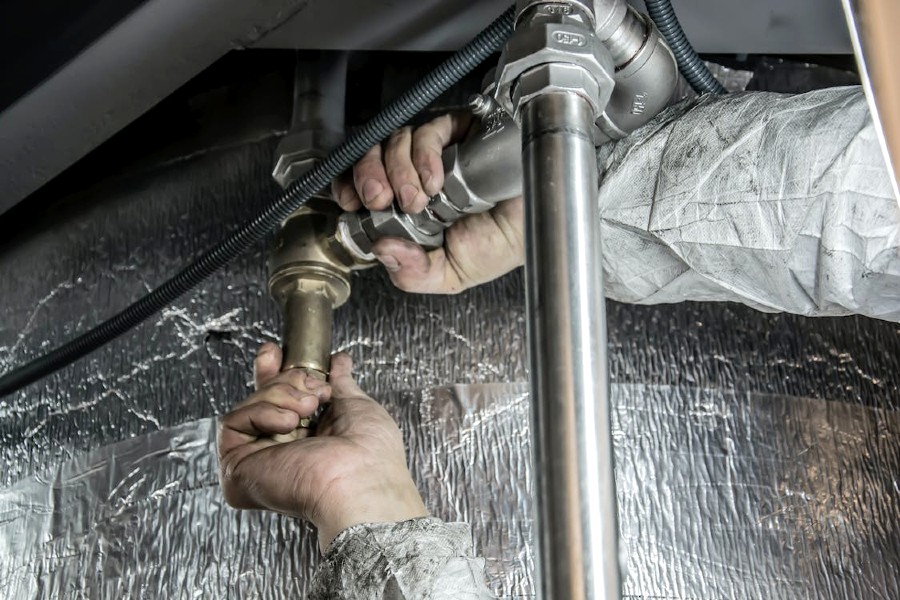 If you are looking to start a business of your own, you could consider checking out the plumbing sector.
Right now, the plumbing business is getting a lot of attention and is turning out to be quite profitable. 
According to Gitnux, the global plumbing industry was valued at $144.3 billion as of 2021. In the past year or so, the global value of this industry has been predicted to increase manifolds.
In terms of revenue, the plumbing industry in the US was valued at $130.4 billion in 2022 according to IBISWorld. As the industry grows bigger, more and more entrepreneurs are looking to enter this market. Many of them are more than eager to start small and then eventually expand their business.
However, running a small plumbing business requires more than just technical expertise in fixing pipes and drains. Efficiently managing daily operations is crucial to ensure a smooth workflow, satisfied customers, and a thriving business.
Here are a few essential tips to help you successfully manage the day-to-day activities of your small plumbing business.
Ensure Effective Scheduling and Time Management
In the plumbing industry, time is money. Proper scheduling and time management are key to maximizing productivity and minimizing downtime. Utilize scheduling software or tools to plan appointments, allocate resources, and dispatch plumbers effectively. Consider factors like travel time between jobs and the complexity of each task to create a realistic schedule.
When choosing software for client management, job scheduling, handling online payments, or overseeing entire business operations, companies mostly opt for one of two specialized software. These are Workiz and Housecall Pro.
Both Workiz and Housecall Pro have their pros and cons. However, when pitted against one another in a Workiz vs Housecall Pro standoff, Workiz seems to have the upper hand for your small plumbing business. That is because the platform is free to use for small teams whereas Housecall Pro will end up charging you $49 a month. On top of that, it also provides a ton of other features that Housecall Pro does not, including inventory management, custom invoicing, call masking, etc.
Streamline Communication
Smooth communication within your team and with customers is essential for a well-operating plumbing business. Implement digital communication tools to keep everyone connected, whether it is through messaging apps, emails, or project management platforms. This ensures that crucial information reaches the right people promptly, reducing the chances of miscommunication or misunderstandings.
You must also maintain an open line of communication with your clients. That means you have to listen to and understand their concerns. At the same time, you should also explain your proposed solutions to them before implementation.
Invest in Staff Training
Your plumbing business is only as good as your team. Regularly invest in training and professional development to keep your plumbers up-to-date with the latest techniques, tools, and industry trends. Well-trained staff can complete tasks more efficiently, leading to higher customer satisfaction and positive word-of-mouth referrals.
Offer training not only on technical skills but also on customer service and soft skills. Friendly and knowledgeable plumbers can leave a lasting impression on clients and set your business apart from competitors.
Embrace Technology
In the modern business landscape, leveraging technology is not just an option – it's a necessity. Use plumbing-specific software for tasks such as job tracking, invoicing, and inventory management. These tools can help you automate processes, reduce paperwork, and keep accurate records, ultimately saving time and improving overall efficiency.
Consider implementing a customer relationship management (CRM) system to keep track of customer interactions, preferences, and service history. This enables you to provide a personalized experience and targeted marketing efforts.
Monitor Finances Closely
Effective financial management is the backbone of any business. Track your expenses, revenue, and profit margins. It'd be best if you use accounting software to keep records of all transactions and generate financial reports.
At the same time, you must also review your pricing structure regularly. Doing so will allow you to keep up with industry standards as well as your competition. Remember to set aside funds for unexpected expenses and emergencies as well.
Conclusion
According to the Profitable Venture Magazine, plumbing companies in the US generate around $100,000 per year in profits. If you're starting a small plumbing business, you can expect to make the same amount of profit. However, if you can stick to the suggestions discussed above, there's a good chance you can increase your profit margin to some extent. Therefore, don't hesitate to give these suggestions a shot.
---