---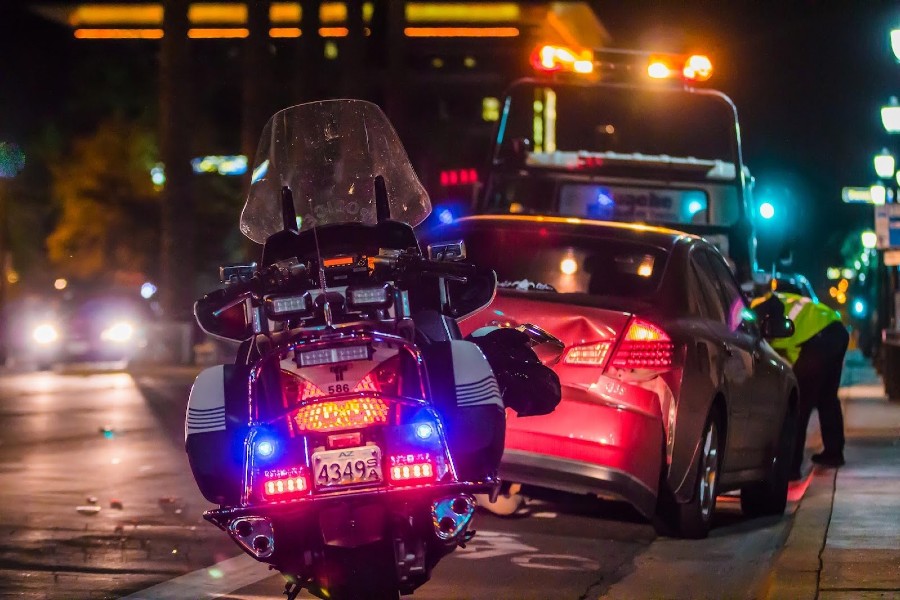 Have you recently been involved in a motorcycle accident? If so, it's important to understand the steps needed to file an insurance claim correctly.
Filing a successful claim can ensure you receive the financial and medical assistance required for recovery.
No matter your current knowledge or understanding of insurance claims, once you're done reading through this guide, you should have all the information needed to ensure your rights are fully protected after the incident!
Consult with a Lawyer
Before you even consider filing a claim, it's highly recommended to consult with a lawyer who specializes in motorcycle accidents. Especially if you have been injured in a motorcycle crash, you know that these types of accidents can be hard to navigate on your own. An experienced lawyer will be able to assess your situation and advise you on the best course of action. They can also help you gather evidence and handle negotiations with insurance companies, ensuring that you receive fair compensation for your losses. You don't have to face this challenging time alone; partnering with a skilled lawyer can make all the difference for your recovery and future.
Ensure Safety First
Safety should always be a top priority, especially in the event of an accident: you need to act quickly and ensure that everyone involved is out of harm's way.
The first step is to assess the situation and check for any injuries or signs of distress. If anyone requires immediate medical attention, you need to have your phone at hand and call 911 right away. When you take swift action, you can prevent further harm and potentially save lives. No matter how chaotic the situation may be, staying calm and focused on safety is key.
Contact the Police
No one ever thinks they will be in a car accident, but when it happens, it can be a jarring experience. Even if the accident seems minor, it's crucial to contact the police and have them document the incident. Their report will be necessary when filing a claim with your insurance company.
The police will also gather information from all parties involved and any available witnesses, which can be valuable evidence for your case. Be sure to obtain a copy of the accident report for your records as well. While it may be tempting to brush off a minor collision, don't underestimate the importance of involving law enforcement.
Document the Accident
One of the most important things to do after being involved in a motorcycle accident is to document everything you can while you are still at the scene. Using your phone, take pictures of the accident scene including your motorcycle, any other vehicles involved, and any visible injuries you may have sustained.
Even write down what happened as you remember it. You may be shaken up and your memory may be foggy, so it's important to jot down as many details as possible as soon as you can. These pictures and notes may come in handy when dealing with insurance claims or legal proceedings. The more information you have, the better off you'll be.
Gather Witnesses
It can be difficult to prove who is at fault in a car accident, but if you were lucky enough to have witnesses on the scene, then don't let their information go to waste. Gathering the contact information of these witnesses can be instrumental in building a strong case in your favor. They may be able to provide testimony and evidence that supports your claim, helping to solidify your case and increase your chances of receiving the compensation you deserve. If you ever find yourself in an accident, be sure to get the contact information of any witnesses if your case ends up going to court.
Notify Your Insurance Company
Amidst the chaos, it's easy to forget to notify your insurance company. Regardless of the severity of the accident, you must contact your insurance provider as soon as possible to kickstart the claims process and provide you with the peace of mind you need.
Be sure to have all the details of the accident on hand, such as the location, time, and date, as well as any documentation you've gathered, like witness statements or police reports. The sooner you notify your insurance company, the sooner they can get to work on resolving the situation.
Seek Medical Attention
Even if you think you're not injured, many injuries aren't immediately apparent. You may feel fine right after the accident, but a few hours or even a few days later, you might start experiencing pain or swelling.
Seeking medical attention also has the added benefit of providing evidence for your claim. Records of your visit and any treatment you received can support your case and help you get the compensation you deserve. It's always better to be safe than sorry, so make sure to get checked out by a medical professional after any accident.
Reach Out to the Other Party's Insurance Company
When an accident happens, there may be more than one party involved, and this means that multiple insurance companies might be involved. If you need to file an insurance claim, make sure to reach out to the other party's insurance company.
Sure, it is intimidating to talk to the other party's insurance company, but it's a necessary step to ensure a swift and fair resolution to your claim. You don't want to delay the process by keeping them in the dark, and you also don't want to risk having your claim denied because of a lack of communication.
File the Claim
Filing the claim involves submitting all the gathered information to your insurance company. This typically includes the accident report, photos, witness statements, and medical records. It's crucial to be thorough and provide as much detailed information as possible to support your claim.
Insurance companies will scrutinize the claim, so the more evidence you provide, the better chances you have of a successful claim. After filing, ensure to follow up regularly with your insurance company until your claim is settled.
Successfully navigating the aftermath of a motorcycle accident can be a challenging and stressful process, but with the right knowledge, you can ensure that your rights are protected and that you receive the compensation you deserve. From the immediate actions after the incident to the filing of the insurance claim, every step plays a vital role in your recovery journey. By following these guidelines, you can navigate this complex process with confidence and focus on what's truly important: your recovery and future well-being.
---