---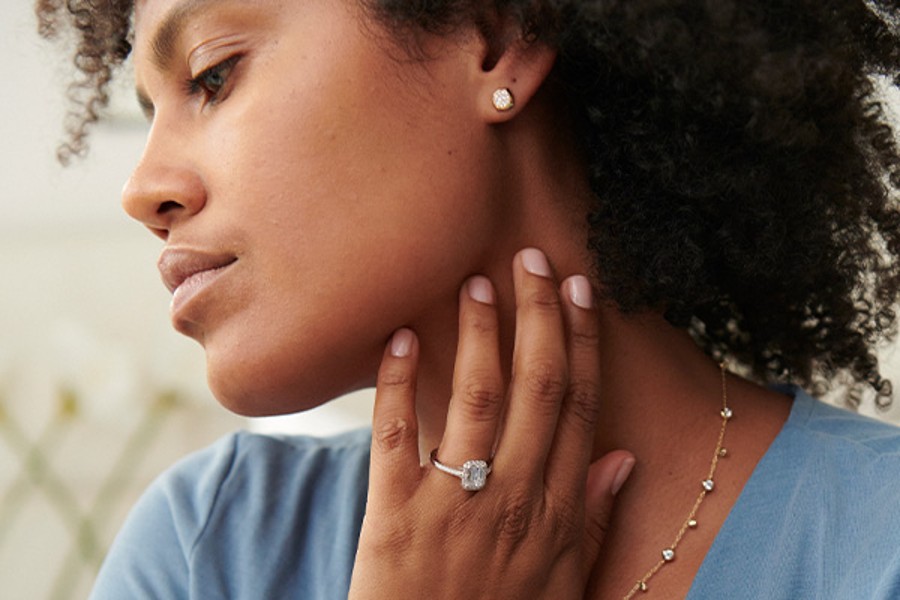 By Bretton Love
Hidden halos in engagement rings are a newer detail. It's a circle of small, pavé stones that surround the base of the center stone.
It's a way to add a personal touch and make your engagement ring more unique. Customizing an engagement ring with personal details is a sentimental, meaningful way to symbolize your love and commitment.
Engraving Your Love
An impactful way to personalize a hidden halo engagement ring is with an engraving. Here are some ideas to get you thinking:
An important date/time/location (where you met, how you met, when you met, first date, first kiss, anniversary, when you said you loved each other)
Location coordinates
Initials of you and your partner or your names
Nicknames for each other
Meaningful saying in your relationship
Favorite quote (movie, literature, etc.)
Romantic line of poetry
"My love" or "I love you" in another language, or perhaps in your native language. For example, "Para siempre" which means forever in Spanish.
A heart or infinity symbol
In addition to choosing what to say, you can also select the engraving technique and the style–from classic block letters to elegant script fonts. The look of the engraving is completely up to you!
Another way to customize your engagement ring is by adding symbolic charms or accent stones. The accent stones can represent birthstones, favorite colors, the month you met, etc. Charms can symbolize important religious symbols or motifs that represent shared interests or experiences. The options are endless!
Adding Unique Details
The setting design is another way to personalize a hidden halo engagement ring. Look for filigree work, milgrain edges, intricate patterns (branches, woven), and adorned bands that can make your ring more unique and special. Personal details enhance the overall design of the ring and reflect the individuality of the wearer.
Selecting Colored Gemstones
In addition to adding colored gemstones to the setting, consider choosing colored gemstones for the hidden halo. Or maybe a halo with both diamonds and gemstones. The colored gemstones can represent birthstones, or perhaps each of your birthstones, or gemstones that symbolize meaningful moments or memories. You can also choose a mixture of lab-made diamonds and natural diamonds. It's your ring to personalize how you want!
Collaborating with Designers or Jewelers
If you have a specific design in mind, you can collaborate with experienced designers or jewelers to create the ring of your dreams. Start with drawing out your design and any specifications you have in mind. Experts can bring your vision to life and ensure the customization aligns with your design and preferences.
Care and Maintenance of Customized Details
You spend time, money, and thought into creating a perfect engagement ring, so taking care of and maintaining it is essential. Regular inspections can make sure the prongs are securing the diamonds and gemstones in place. Everyday dirt and grime can build up over time, so periodically clean it. Let your ring soak for about 30 minutes in a bowl of warm water and dishwashing soap. Then use a soft toothbrush to gently scrub the stone's settings and anywhere else in the ring that could collect dirt. Consider the durability of the design, stones, and metal as you choose your engagement ring. You want it to withstand everyday wear and last a lifetime, just like your love. 
Related: The engagement ring has long been established as a profound symbol of the beginning of a couple's life journey get the Gabriel Hidden Halo Engagement Ring.
It's All About You and Your Journey as a Couple
You have endless ways to create the perfect ring. As discussed above, one way to personalize is to add details, such as hidden halos, engraving, or colored gemstones. Colored gemstones can represent birthstones (of you and your loved one), the month you met or first said I love you, or simply your favorite color. If you have the perfect ring in mind, you can create a completely custom ring by working with an expert or professional jewelry. Engagement rings are one of the most important pieces of jewelry you'll ever purchase. Embrace the opportunity to personalize your engagement ring so it reflects your style. At the same time, you're creating a special piece of jewelry that tells your unique love story and will be passed down from generation to generation.
---