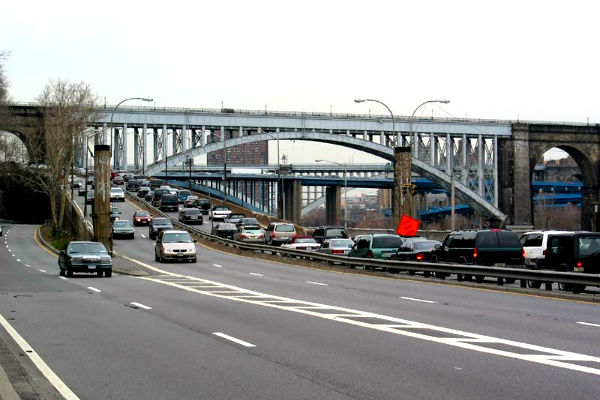 Harlem River Drive is a limited access parkway that has shaped the history of New York and Harlem in particular.
The road stretches for 4.2 miles and it was started in 1898 when it was used for horse-driven carriages.
Foreign tourists should take the time to take a ride along the road and experience the history of the area as they do. In order to do so, a foreign driver will need an international driving permit issued by the International Drivers Association and your national permit as well.
The Construction
The construction started in 1894 and was completed in 1889. Originally the road was meant to be used for horse-drawn carriages. It soon became a tourist attraction since horse races were held on the road and tourists stood aside and bet on them.
In 1919 motorists were first allowed on the road but they weren't allowed to race. This change and the passage of time led to the road deteriorating and it was first paved over in 1922. That's when it got the name Harlem River Driveway. For a while, the road was unremarkable outside of its important location.
The Expansion
The driveway was first expanded in 1939 and it was turned into a four-lane route with parks and playgrounds on each side of it. The sections of the old driveway were to be incorporated into the new highway. The main point of the expansion was to connect the Bronx to the newly built speedway coming from the Washington Bridge.
This would make the road bigger, and busier but it also connected to important regions that at the time had great importance for the African American community and its business and art activities.
The Modern Harlem River Drive
Harlem River Drive as we know it today came to be in the 1950s and 1960s. At that time, it was made to connect with all three bridges of the area and it was further expanded into six lanes. That's when the road becomes what it is today – the line that connects this part of the city and allows the community to grow alongside it.
There were no other major expansions to the road since then other than maintenance and making it more accessible to bikers.
---
---
The Name Change
The name change came in 2003 when the driveway was officially renamed 369 Harlem HellFighters Drive. This was done to honor the all African American regiment that fought in WW1 in France. Many of the servicemen came from Harlem itself and they played a prominent role in the community after the war.
The original Harlem River Drive name is still more widely used and it was the title of a song by Eddie Palmieri, who grew up in Harlem and was inspired by its mix of cultures and artistic backgrounds.
The road itself is an integral part of the community and shows how important public infrastructure is in shaping an area and its occupants.
Related Articles