---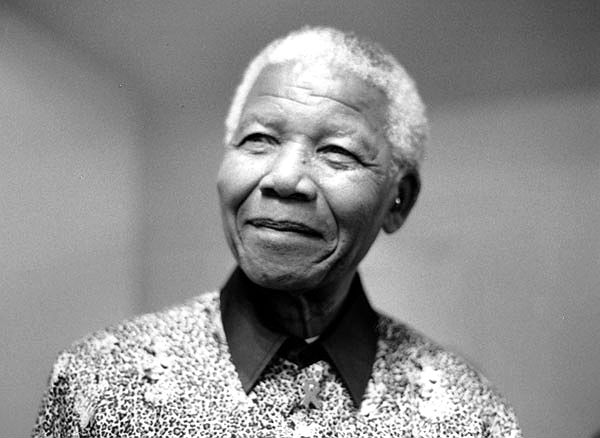 By Marc Rasbury
Last Thursday we lost one of the worlds most significant and historic individuals in former South African President Nelson Mandela. He passed away after a long battle with a respiratory aliment at the age 95. Battles were nothing new to this great man. He used various tools to bring down one of the most evil and oppressive forces known to man in South Africa's Apartheid. But he also used the world of sports to help reunite South Africa once he became the nation's leader.
As a young lawyer, he defended several anti-apartheid political advocates and he joined the African National Congress (ANC) in 1944. Initially the ANC's mission was to overthrow the National Party's apartheid practices through peaceful tactics. Mandela was originally tried for treason in 1956 but was acquitted in 1961. Eventually Mandela formed a more militant wing of the ANC which used more violent methods to achieve its goals. This eventually led to a second treason trail in 1963. He was convicted and sentenced to life in prison on Robben's Island, the South African equivalent to Alcatraz.
During his imprisonment, he became the face of the anti-apartheid movement. He spent most of 27 years imprisoned in an isolated wing of the facility so that he could not interact with other prisoners and organize anti-apartheid activities. However, as a result of international and financial pressure, he was released in 1990 amidst civil strife in South Africa.That same year Nelson Mandela arrived in Harlem as a guest of then Mayor David Dinkins at The Riverside Church in West Harlem.
Upon his release he trusted himself back into political movement and was reelected to the re-established ANC in 1991. In ironies of all ironies, he worked with then South Africa's President F.W. de Klerk to abolish the country's apartheid policies and establish a multi-racial general election. In 1994, Mandela won that election becoming the first modern day leader and elected official of the country. Although the world celebrated, the former minority leadership and their followers were not so thrilled. Mandela's first objective was to unite his divided country.
Now it will be blasphemous for me or anyone else to sit here and say that sports were main theme of Mandela's bio or career. But, if you read his bio, you will see that sports always played a role in his incredible life. Even before he started his political career, he was an amateur boxer. While in prison, he saw how a soccer league formed and organized by his fellow political prisoners helped them get through their incarceration. He also used the Rugby and Soccer World Cups to unite and promote his beloved country.
Prior to taking up the fight against apartheid, he took his battles to the ring, the boxing ring that is. "I did not enjoy the violence of boxing so much as the science of it," Mandela wrote in his autobiography Long Walk to Freedom. "I was intrigued by how one moved one's body to protect oneself, how one used a strategy both to attack and retreat, how one paced oneself over a match." He went on to say in his autobiography "Boxing is egalitarian. In the ring, rank, age, color, and wealth are irrelevant…I never did any real fighting after I entered politics. My main interest was in training; I found the rigorous exercise to be an excellent outlet for tension and stress. After a strenuous workout, I felt both mentally and physically lighter. It was a way of losing myself in something that was not the struggle. After an evening's workout I would wake up the next morning feeling strong and refreshed, ready to take up the fight again." His boxing workouts also helped him mentally and physically get through the isolation of his imprisonment.
Also while he was imprisoned, some of his fellow political prisoners formed and established the Makana Football Association (MFA), named after a fellow jailed African Chief. Rules and bylaws comparable to any other established sports League were drafted and utilized by MFA members. The MFA bylaws were so detailed that many have claimed that they were the foundation of the Constitution of the newly formed Government established when Mandela was elected back in 1994.
Mandela was not allowed to participate in the MFA games due to him being banished to the isolation wing, but he knew of the virtues of the League. Many of the participants have told reporters that they would not have been able to survive the rigors of Robben's Island if it were not for their weekly contests. Like Mandela's boxing workouts, the MFA games kept his fellow prisoner's spirits up.
Once he was elected to the country's Presidency, he needed a means to unite his divided county. You see everybody was not happy with the new majority rule government or the fact that the native Africans were going to enjoy the same civil rights as the minority Whites. Several radical groups were poised to overthrow Mandela's regime. Once again he looked to sports as one method to help unite South Africa
First he took an unlikely tool, Rugby, to bring the races together. Rugby has long been viewed as symbol of white supremacy in South Africa. Mandela embraced the South African National Team during their 1996 Rugby World Cup run and asked his reluctant fellow Black residents to follow suit. Through the miracle of sports the National Team's victory brought the White and Black South Africans together. "Sport has the power to change the world…it has the power to inspire. It has the power to unite people in a way that little else does. It speaks to youth in a language they understand. Sport can create hope where once there was only despair. It is more powerful than government in breaking down racial barriers." Mandela once said and that was evident during the 1996 Rugby World Cup.
Once race relations started to improve in his country, Mandela looked to promote his beloved country. And he thought that there was no better way to accomplish this than to hold either the Olympics or the Soccer World Cup. South Africa narrowly lost the bid to host the 2006 World Cup but in 2010 Federation International de Football Association awarded the World Cup Games to the country. The country was given a platform to highlight how far it had come socially since Mandela was released from prison and showcase the beauty of the country's astonishing landscape and the nation's attributes.
Sports are just a blip on Nelson Mandela's resume. What he went through and accomplished is hard to match in the history of humanity. For a man to see his brothers and sisters so unjustly treated and have almost three decades of his life taken away and still bestow love to very antagonist that inflicted these travesties upon him and his race is just beyond imagination. He did it because he knew that battle was bigger than him. He used many tactics including violence and love to bring about change but he also used sports. And the world is a better place because of his foresight. Over 90 statesmen attended his funeral, a service that was fitting for a King.
Related Articles
---