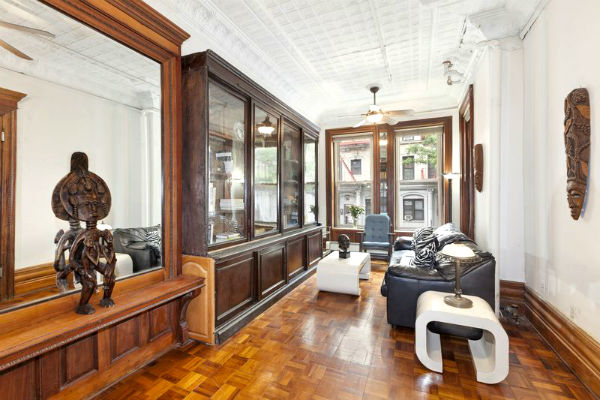 It's not uncommon to find townhouses in New York City that tout their historic bona fides—this one was built in the 18th-century, that one has original mill work, you know the drill—but this Harlem townhouse, which recently hit the market, actually has quite the storied past.
It was once the home of legendary magician Harry Houdini, who lived in the townhouse with his wife, Bess, for the 22 years before his death in 1926. And according to the Houdini fansite Wild About Houdini, the illusionist kitted the place out with all manner of tricks and illusions:
Inside, Houdini had a gigantic sunken bathtub and a large mirror installed to practice his underwater effects. The bathroom tiles were engraved with an "H," while Bess's bathroom sported a "B." Houdini also had the entire house wired for sound — including an early "wireless" radio in the carpets — so he could amaze visitors with mind reading effects. Even the front door was an illusion. It looked normal, but when you turned the knob, it opened from the hinge side.
After Houdini's death, his wife sold the house to a family that lived across the street; it's changed hands only a few times since then, with the current owner having bought the house in 1991. "The lady who sold it to me never told me Houdini lived here," Fred Thomas, who's now selling the property, told the New York Daily News in 2013. "The neighbor told me after I moved in. People are always outside talking pictures of the house. I've developed a callousness."
The house itself has been converted into a three-family home, with an owner's duplex occupying the first two floors, a one-bedroom apartment on the second floor, and a two-bedroom on the third floor. As you might expect from a house that's had the same owner for nearly 30 years, it could use some updating. But there's lots of charm and plenty of nice details, including a large backyard, original wood in the foyer, and tin ceilings.
The Houdinis purchased the home for $25,000 in 1904, a princely sum at the time; now, it's asking $4.6 million.
Via NY Curbed
Related Articles