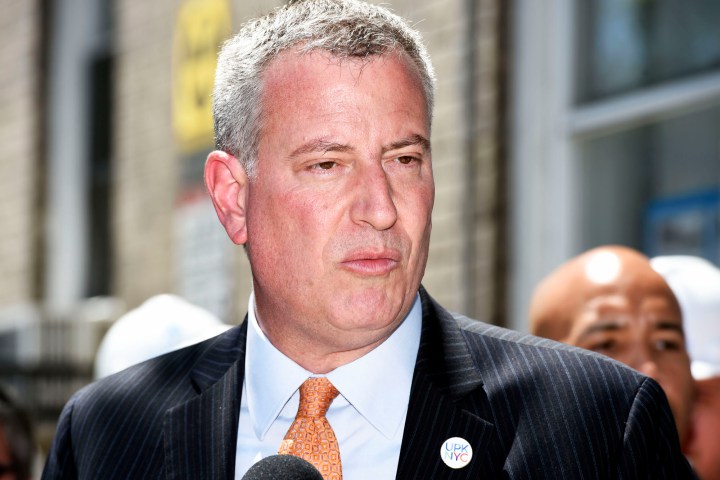 A condemnation drama unfolding in East Harlem is presumably not what community residents expected of Mayor de Blasio's "progressive" agenda.
The city is trying to evict a handful of holdout landowners on the block between Second and Third avenues and 125th and 126th streets to make room for an "East Harlem Media, Entertainment and Cultural Center."
The vaguely defined project was trumpeted in 2008 by former Mayor Bloomberg and by Council member Melissa Mark-Viverito, who is now Council Speaker.
At stake are not merely the property owners' holdings but the fate of a dozen-odd minority-owned stores and services at the site and their 100-plus employees, who are mostly black and Hispanic.
In the crosshairs are a gas station, an auto repair shop, a hair-braiding salon, a dry cleaner, a tire repair stand and a small but very active church. Some of the landlords and tenants have formed an "East Harlem Small Business Association" and hired lawyer Adam Leitman Bailey to fight eviction.
"For government to destroy some of the last businesses in East Harlem will probably put the final nail in the coffin of Harlem as the center of black and Latino-owned businesses," Bailey said.
Similar arguments failed to sway courts in earlier cases where condemnation was cited as a pretext to oust minorities in favor of gentrification. A lawsuit filed by the East Harlem businesses says the developers who will benefit from the new project are "investors principally of Caucasian heritage."
But the businesses' case — technically a counter-suit to the eviction order — also claims the city was required by law to start evictions within three years of an Oct. 12, 2010, state appeals court ruling that upheld the city's right to buy out property owners.
The city didn't file its eviction order against the holdouts until Feb. 12, 2014 — four months too late, the suit states.
Condemnation is never pleasant or tidy. But in some high-profile cases — for the New York Times headquarters on Eighth Avenue, for example — it was at least known what would replace the "blight."
That's by no means clear at the East Harlem site. The suit argues that since 2008, the city has secretly dropped the original redevelopment plan but failed to spell out a new one — and thus, forfeited its right to condemn for a specific "public purpose."
Of course, resistance to condemnation can be an effort to wrest more money out of the city at a time when property values in the neighborhood are skyrocketing.
---
---
But while landlords can usually survive being bought out, it's another story for small-business tenants and their workers, who might not have anywhere else to go.
Among those caught in the squeeze are Lugo's bustling flat-fixing stand, which has been on the block for 20 years, and Eustace Virgil, 67, who runs a small recycling business. "If I have to move, I'll have to shut down," said Virgil.
The New Light Baptist Church at 213 E. 125th St. leases its building from landlord Park-It Management, whose principals didn't return calls.
Besides serving a congregation of 650, the church provides a wealth of community services including an arts program, youth counseling, a nursery, gym and a thrift shop where Phyllis Dade and her colleagues make low-cost goods available to the community.
Associate pastor Charmaine DaCosta said that if forced to move, "We'll have to look for new space, but we'll lose members of our congregation. Moving would seriously cripple the life and growth of the church" (source).
Law Department rep Nicholas Paolucci said, "The [condemnation] process was proper in all respects. We will respond to the claims accordingly once we are served with the legal papers."
A spokesperson for Mark-Viverito, Robin Levine, said only, "We are hopeful the administration is able to reach a satisfactory agreement with the business owners."
Economic Development Corp. rep Kate Blumm said, "The site holds powerful potential for hundreds of thousands of square feet of affordable housing, plus commercial, retail, community and open space — all priorities expressed by the community." (
Related articles
Related Articles
---