---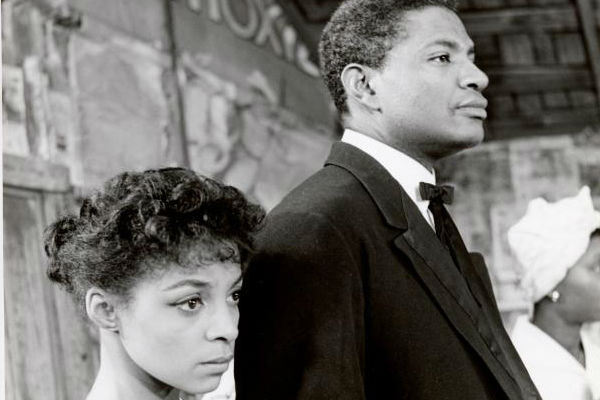 The Schomburg Center for Research in Black Culture is pleased to announce the latest milestones in its ongoing "Home to Harlem" initiative.
The initiative highlights materials and collections that tell the stories of those with a personal and cultural connection to the Black cultural capital. The collections of six pioneering authors, filmmakers, and activists, including beloved best-selling authors Maya Angelou and Ann Petry, will be fully available to the public. While already available for research, the collections of Angelou and Petry, as well as groundbreaking filmmaker Kathleen Collins and Gertrude Hadley Jeannette, thought to be the first woman to have a taxi cab license in New York City, have now been fully processed with updated finding aids. The newly added archives of actors and activists Ruby Dee and Ossie Davis is open to the public for the first time.
Actors and activists Ruby Dee and Ossie Davis attribute their start onstage to the American Negro Theatre, founded in the early 1940s in what would become the Schomburg Center. The newly opened Ruby Dee and Ossie Davis archives consist of photographs, manuscripts, and personal letters that date from 1932, including Ruby Dee's high school activism, down to 2015. Especially prized is correspondence detailing their times as lifelong civil activists and giving a rare glimpse of the couple's personal lives—including letters from notable artists and activists in their milieu, including Langston Hughes, James Baldwin, Paul Robeson, Gwendolyn Brooks, Malcolm X, and Betty Shabazz. Davis and Dee's creative work together is also represented, including scripts and transcripts from their Ossie Davis and Ruby Dee Story Hour radio show and their With Ossie & Ruby television series. Perhaps most striking is the original working script and Dee's handwritten notes of the 1959 production of A Raisin in the Sun
, which was the first play by an African American woman to run on Broadway.
First added to the Schomburg Center's holdings in 2010, the Maya Angelou
papers have remained a popular source of research and one of the Center's most important collections. With newly processed files and modernized finding aid, this large, 200 linear-foot collection of over 400 boxes is now fully available and searchable to the public. Angelou (1928-2014) was one of the most renowned and celebrated voices in American literature. The Maya Angelou papers consist of original manuscripts, typescripts, galleys, and proofs of published work such as I Know Why the Caged Bird Sings
, I Shall Not Be Moved, A Song Flung Up to Heaven
, Heart of a Woman, and All God's Children Need Traveling Shoes, as well as manuscripts for unpublished work and dozens of poems. Additionally, there is personal and professional correspondence with such notable figures as James Baldwin, Ruby Dee and Ossie Davis, Mari Evans, Rosa Guy, Coretta Scott King, Abbey Lincoln and Max Roach, Julian Mayfield, Malcolm X, and her editors.
Pioneering filmmaker, dramatist, and writer Kathleen Collins (1942-1988) has undergone something of a renaissance recently, with the release of Notes from a Black Woman's Diary: Selected Works of Kathleen Collins
, edited by her daughter, Nina Lorez Collins, based on material now found at the Schomburg Center. The release of Notes followed a recent reissue of Kathleen Collins groundbreaking 1982 film Losing Ground, which made her the first Black woman to direct a Hollywood-distributed feature, and an acclaimed posthumous collection of her short stories Whatever Happened to Interracial Love? (2016). The Kathleen Collins papers include personal and family papers, as well as professional correspondence and writing. Typescript drafts of many of Collins's playscripts, short stories, and screenplays show the artist's range, and handwritten edits provide a window into her creative process. A recently acquired collection of Kathleen Collins scripts donated by actress and collaborator Seret Scott
includes several of Collin's unpublished play scripts and screenplays. While not a Harlem resident, Collins has a long connection to New York City and regularly wrote of race and the uptown environment, as well as the traditions of blues and soul found in Harlem.
Gertrude Hadley Jeannette, who made history in 1942 as New York City's first woman to be a licensed taxi driver, was an accomplished actress and director. She performed onstage with Ruby Dee and Ossie Davis at the Schomburg Center's American Negro Theatre. Realizing Broadway would not cast her in the roles she wanted to perform, Jeannette added playwright to her list of accomplishments. She penned and performed in the autobiographical The Way Forward
(1948-50). Some of her other dramatic works included A Bolt from the Blue
(1950), and Light in the Cellar
(1960). The Gertrude Hadley Jeannette papers consist of material regarding her personal life and her various careers as an actor, writer, director, and the founder of the HADLEY Players. Her collection includes correspondence, playscripts, film scripts, and printed matter (such as reviews, clippings, and interviews) in relation to her performances, writing, teaching, and management of the Hadley Players. Her writings include various drafts, typescripts, and notes, mainly of her playscripts and novel.
The Ann Petry collection consists of nearly 40 boxes that cover the professional, social, and personal life of the author who lived in Harlem for a decade, and helped make its avenues famous. The papers, photographs, and unpublished manuscripts offer an in-depth look at Petry (1908-1997), who shied away from the public spotlight after the 1946 publication of her debut novel The Street
. Petry made history when the book went on to sell a million copies making her the first Black woman to achieve this feat. After her success as a novelist, Petry moved into children's books with the 1949 publication of Drugstore Cat, helping to jumpstart the tradition Black-authored children's and young-adult books, which she continued with Harriet Tubman: Conductor of the Underground Railroad
(1955) and Tituba of Salem Village (1964). The Ann Petry collection includes Petry's unpublished writings, including two incomplete drafts of the novels Checkup and The Wayfarer, as well as poetry. In the nearly 80 journals covering nearly as many years, the author tested out novel material, including recorded anecdotes, overheard dialogue, and character notes. These journals and her extensive correspondence make up an unwritten memoir, addressing key moments as far back as her childhood; her Harlem decade from 1938-1947, seemingly lost when Petry succeeded in destroying most of those journals, is in fact recorded throughout the journals of the 1970s to the 1990s.
Together, these significant archives represent the pinnacle of Black excellence, with a particular focus on Black women. The collections also connect with other prominent recent holdings, from the James Baldwin
archive to the Malcolm X papers, to the Schomburg Center's longstanding archives such as the Lorraine Hansberry and Julian Mayfield papers. All of these "Home to Harlem" works have already been exhibited and featured in recent programs, with items from Angelou and Ossie Davis and Ruby Dee slated for the upcoming Traveling While Black exhibition, opening in March 2020. This exhibition, the first show as the Schomburg Center celebrates its 95th anniversary, explores over a century of travel—moving from the Great Migration of African Americans at the start of the twentieth century to the restrictions and resistances of travel in the Jim Crow South and in apartheid South Africa, from those who found themselves exiles within their own country down to the pilgrims and pleasure seekers of our time.
"Home to Harlem" names an ongoing Schomburg Center initiative that courses across exhibitions, collections, programming, recent grants, and processing priorities, and has helped inform recent and future acquisitions of several significant Harlem-based archives. These recent additions include the complete archive of James Baldwin and "saxophone colossus" Sonny Rollins; the archive of married actors and activists Ruby Dee and Ossie Davis; important papers of Ann Petry and of filmmaker Oscar Micheaux; and the dynamic "archive of the future" of hip hop pioneer Fred "Fab 5 Freddy" Brathwaite. Many of these have been featured prominently in The New York Times, appearing twice on the front page, including the acquisition of the manuscript of The Autobiography of Malcolm X with edits by Alex Haley and Malcolm X himself, as well as a crucial "lost" chapter of the leader's masterpiece.
Founded in 1925 and named a National Historic Landmark in 2017, the Schomburg Center for Research in Black Culture is the world's leading cultural institution devoted to the preservation, research, interpretation, and exhibition of materials focused on African American, African Diaspora, and African experiences. As a research division of The New York Public Library, the Schomburg Center features diverse programming and collections totaling over 11 million items that illuminate the richness of global Black history, arts, and culture. Learn more at schomburgcenter.org.
Photo credit: Ossie Davis and Ruby Dee in the stage production Purlie Victorious in 1961.
---