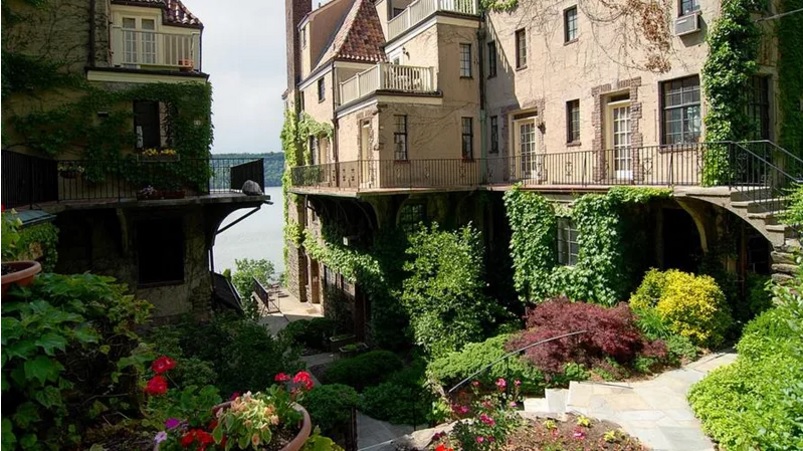 Perched atop a cliffside in the Bronx overlooking the Palisades sits one of the most charming residences within New York City: Villa Charlotte Bronte. It's located in Spuyten Duyvil, which translated from Dutch means "spouting devil," an appropriate moniker given the dangerous tidal currents created as a result of the confluence of the Hudson and Harlem Rivers. Despite this harsh name, Villa Charlotte Bronte was designed, and has survived, as a pastoral escape from the hustle and bustle of New York City.
The residence was constructed in 1926 by John J. McKelvey, a lawyer, writer and developer, who advertised it in the New York Times for anyone whose "soul is hungry for the majesty of the river." Attuned to the wave of high-rise apartment development taking place in northern Manhattan and other parts of the Bronx, McKelvey fought to prevent such mass destruction (and construction)—which he labeled "city ugly"—from coming to the area that had been his beloved home since the 1890s. This reference may have been in contrast to the City Beautiful movement, a reform philosophy popular around this time that introduced aestheticism, classicism, and monumental grandeur to cities.
McKelvey's answer to this new wave of development was to construct cooperative apartments resembling "villas made up of individually owned duplex and triplex studio homes"—
which would become the first apartment houses in Riverdale
. In 1924, he built his first development, the Villa Rosa Bonheur, which resembled a large cottage with seven co-operative apartments offering breathtaking views of the Harlem River. This building still exists (at 2395 Palisade Avenue), yet the co-operative structure failed in 1941. However, his masterpiece would arrive two years later.
McKelvey commissioned architect Robert W. Gardner (who also designed the Staten Island Institute of Arts and Sciences Building, later the Staten Island Museum) to design the Villa Charlotte Bronte, comprising two matching buildings separated by a central courtyard with unobstructed, picturesque views of the Hudson.
Designed in the style of an Italian villa, the buildings contain 17 co-operative apartments, each connected by walkways, staircases and stone arches; there are also architectural flourishes such as protruding bays, balconies, and casement windows. The exterior is made from stucco, featuring brick and stone ornamentation and multi-colored tiled roofs. Each apartment is unique, with each one having a different floor-plan as well as varying views of the Hudson. The complex also contains charming gardens as well as lush vegetation scaling a portion of the building.
Photo credit: 1) Greg Martz via TourFactory.com. 2) Villa Charlotte Bronte circa 1998William Meyers via the NYPL's Digital Collection.
No related posts found...
---