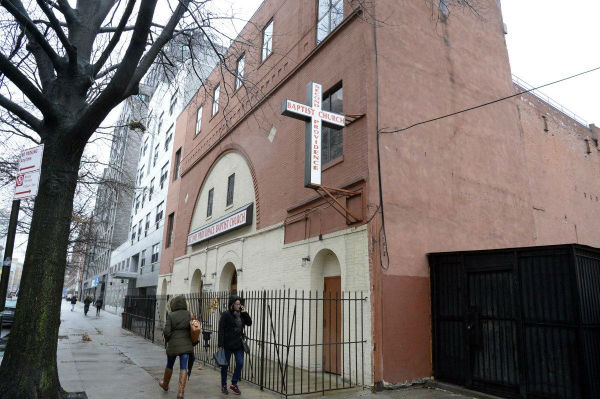 The plan is to keep the faith — just in a nicer building.
A historic Harlem church wants a judge to let it sell its building to a condo developer in a deal that will allow the house of worship to keep operating on at least three floors of the new space, the Daily News has learned.
Second Providence Baptist Church has agreed to sell the building, on W. 116th St. between Fifth Ave. and Malcolm X Blvd., to Azimuth Development Group for about $6 million in property and cash, according to recent Manhattan Supreme Court filings.
Azimuth plans to demolish the building and construct 25 to 30 apartments on the lot. The apartments likely will rent or be sold at market rates, the developer said.
But when the project wraps, Azimuth says, it will deed at least the first three floors back to the church — meaning the congregation will own the space outright, Azimuth President Guido Subotovsky told The News.
---
Become a Harlem insider - Sign-Up for our Newsletter!
---
Second Providence would get a third, or approximately 15,000 square feet, of the new building's total 45,000 square feet, the developer said.
The project is expected to take 24 to 30 months. Under the deal, Azimuth would find and pay for a temporary home for the congregation, Subotovsky said.
The Rev. Kyshawn White said his church — with roughly 200 members — is not struggling financially. It signed the deal with Azimuth to adapt to "changing demographics" and expand community outreach, he said.
The new facility will house a food pantry and day care center, as well as literacy and employment assistance programs, he said. "It's going to further develop the community," White said of the deal. "I'm very optimistic."
Second Providence Baptist Church was founded in 1949 and moved several times before landing at its current location in 1996.
"We are here for old Harlem and new Harlem … We serve everyone, from the projects to the penthouse," White said.
Related Articles
---
VIDEO
---
"Dr. Harry Delany is a renowned Harlem born and raised surgeon, the son of the great jurist and civil rights leader, Hubert Delany...." This monthly post is made in partnership with Harlem Cultural Archives.