---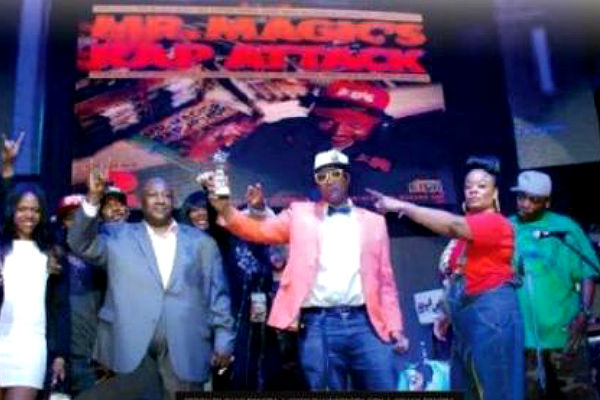 The Hip Hop Awards TV Show has been rescheduled for Tuesday, November 21, 2017 in New York City.
Hip Hop Icon and Female MC Roxanne Shante' returns to co-host the Official 2017 Hip Hop Awards 'Induction Ceremony & Concert' taping for television broadcast in New York City again returning to Stage Forty8 in Midtown Manhattan.
Harlem Man Diddy Honors Biggie And Brings His Son Onstage At The Billboard Music Awards 2017Sean 'Diddy' Combs led a standing ovation for his late 'friend, brother, and artist' Biggie Smalls o…May 22 2017harlemworldmag.com
VIP red carpet at 6:30pm and show starts at 8pm. Tickets are on-sale now at http://hiphophof.org and on Ticketmaster 9-16-17. Roxanne Shante hails from Queens, NY and is part of Hip Hop Legend Marley Marl's Juice Crew All Stars that are now re-united and touring around the world.
'Ms. Shante did such a great job hosting the 2014 Hip Hop Awards 'Induction Ceremony & Concert at Stage Forty8, it's an honor to have her return to the stage,' stated show creator and executive producer JT Thompson, the founder/chairman of the Hip Hop Hall of Fame + Museum development project to Manhattan, and who produced the first Hip Hop Hall of Fame Awards TV Show in the early 1990s which broadcast on national syndicated television and on the BET Network.
Harlem's Rev. Al Sharpton At The 2017 Face List Awards Hosted By Ama K. AbebreseAward-winning Ghanaian-British actress Ama K. Abebrese (left) will be hosting the 2017 FACE List Awa…Jun 30 2017harlemworldmag.com
The 2017 Hip Hop Hall of Fame Awards Inductees were unveiled at a 20th Anniversary national press conference held recently at Sylvia's Restaurant in Harlem, NY. The Hip Hop Hall of Fame Museum officials talked about winning its bid to recently to purchase a Harlem building and development site on 125th St, and revealed plans to raise $150m in major 3 year capital campaign to build a 20 story Museum & Hotel Entertainment Complex and create new jobs, job training & educational programs, house an arts & media academy, provide internships, culinary training, and produce live events and content. The project is expected to see 1,000,000 fans, visitors, students, and tourists annually, and stimulate an estimated $350m socio-economic impact contribution annually in the tri-state area.
'We are proud to unveil the 2017 Inductee Class of the Hip Hop Hall of Fame include Solo Artists, Groups, DJs, Dancers, Graffiti Artists, Film, Record Labels, a historic Venue and contributors to hip hop music and culture' stated show co-producer Kenny 'Yoda' Syder.
SummerStage Announces Free Show With DNCE, B.o.B, Questlove In Central ParkJust when you thought the outdoor concert season was coming to an end, City Parks Foundation and Cap…Sep 8 2017harlemworldmag.com
The Theme highlighted in this year's 2017 Show is 'Global Peace, Love, & Unity in the Hip Hop Community'. A new Hip Hop Hall of Fame Museum initiative due to the current political and social climate here in America, and around the world. The Hip Hop Hall of Fame will pick up the mantle of peace and take the lead in promoting global socio-economic empowerment through the arts, music, education, science & technology, healthy lifestyles, community development & investment, entrepreneurship, and equality through hip hop music & culture worldwide! This promotion and live television broadcast for Peace will chase the sun with our partners from Asia to Africa, to Europe, to South America, to North America, and the USA delivering a message of unity, opportunity, and partnership worldwide. This will be followed by a compilation album, and national & international tour of the same co-branded initiative. In 2018 the Hall of Fame Awards will be re-positioned as a global broadcast in 30 countries by our new deal partners who will produce, and distribute the new show version. We value a high quality production partner and this will put the Hip Hop Hall of Fame Awards Show on another level like a Grammy or American Music Awards Show.
Hip Hop Hall Of Fame Awards Show Hosted By Roxanne Shante Moves DateThe Hip Hop Awards TV Show has been rescheduled for Tuesday, November 21, 2017 in New York City. Hi…Sep 16 2017harlemworldmag.com
New promotional flyers, and radio ads will re-commence in October in an effort to boost engagement and pack out the venue for this great historical hip hop event that now has the quality production values and aesthetics worthy of the Hip Hop Hall of Fame in its future horizon.
In light of the ticket sales totals for the previously scheduled September 15th, 2017, date in NYC, and the high International demand to see the show live, and spending large amounts of resources on venue, radio stations, production, and promotion, we had to reschedule back home at Stage Forty8 in Midtown, out of respect and appreciation of our 2017 Hip Hop Hall of Fame Inductees.
Also In appreciation of our fans and the support of our ticket purchasers, we have contacted all of them and gave them the option to either roll over their previously purchased tickets to the new show, or receive a refund from Groupon and our online ticket partner. The HHHOF has made the best fiduciary move and responsible decision possible under the circumstances, and the returning home to Stage 48 in Midtown fits the present demand for ticket sales as dictated by the marketplace totals.
For more information on the Hip Hop Awards Show to RSVP click here
Related articles
---