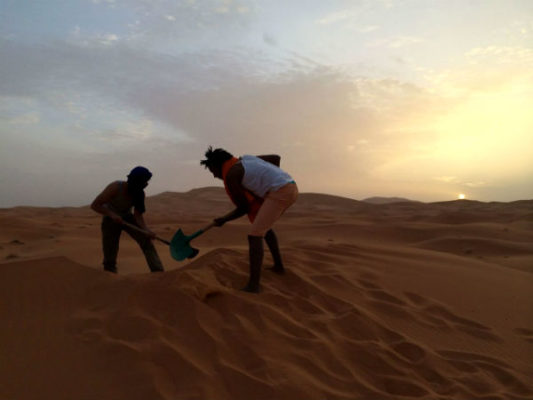 Gaelan Connell, a New York based Cartoon Network star turned maverick independent filmmaker, is blowing his film's marketing budget on The Fans. His new film, "Blood, Sand & Gold" follows archaeologist Mave Adams (Monica West) and ex-con Jack Riordan (Aaron Costa Ganis) on a global treasure hunt for billions of dollars in 15th century artifacts. The film was shot in 58 days on five continents for a "shoestring" budget so when it came time to make the big marketing decisions, it seemed only fitting to do something a little outside of the box and put all the money in the hands of the people who matter most – the fans.
To that end, join Gaelan, Monica and Aaron in CENTRAL PARK at 11 AM EST on Saturday, March 11, 2017 where the real-life treasure hunt begins. Keep your eyes on the event's Facebook page for details, clues and tips! One savvy "hunter" is going to go home with $2000 in CASH!
Dont forget the "Blood, Sand & Gold" red-carpet premiere on Thursday, March 9, 2017 at the Nighthawk Cinema in Brooklyn.
Related Articles
---
VIDEO
---
"Dr. Harry Delany is a renowned Harlem born and raised surgeon, the son of the great jurist and civil rights leader, Hubert Delany...." This monthly post is made in partnership with Harlem Cultural Archives.