---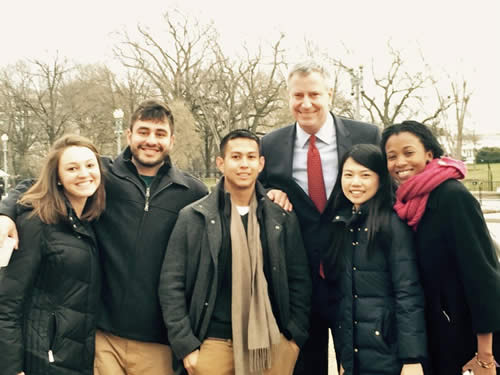 Carefully planned internships managed as a three-way partnership between the student, the host organization and the school are an integral part of a thorough education in the field of public affairs, providing significant benefits for each of the participants.
Students:
Learn professional skills and how to function in the workplace;
Begin to develop a network; and
Test settings for potential careers. ]
Nonprofit organizations:
Strengthen organizational capacity and programs;
Develop strategic relationships with colleges and universities.
Marxe School of Public & International Affairs
Build partnerships with organizations active in the fields served; and
Encourage the exchange of ideas by sharing research findings and best practices.
Graduate Internship
Beginning more than 30 years ago, our partnership with National Urban Fellows has trained individuals for leadership roles in the public and nonprofit sectors through a fourteen month program that combines a full-time mentorship at a leading nonprofit organization, foundation or government agency in cities around the country with coursework leading to a Master of Public Administration degree.  Other longstanding graduate internships include programs in higher education for future college administrators and individuals seeking New York State certification as School Building Leaders and School District Leaders.
The Washington Semester program provides an opportunity for MPA candidates to spend a semester living and working in Washington, DC while earning academic credit for courses taught by Marxe faculty.  This year seven students work at the U.S. Department of Commerce, the Capitol Hill offices of Senator Gillibrand and Congressman Meeks, the National Women's Law Center, the Truth Initiative, the American Action Council and Food & Water Watch.
Undergraduate Internships
Marxe also offers numerous internship opportunities for undergraduate students studying for the Bachelor of Science in Public Affairs degree. The Hagedorn Internship Program provides a $1,500 stipend for undergraduate students to complete a 150-hour internship at a nonprofit organization during the semester, as well as a 3-credit course. This program was funded by a generous grant from Baruch alumna Amy Hagedorn.
Numerous Marxe students plan to work in government following graduation and there are several opportunities for these young people to gain experience in the public sector. The New York City Council Internship Program combines an eight week internship with a course taught by a former council member. This spring semester, fifteen Marxe students participated in the New York State Senate and Assembly Internship Programs.  They receive a stipend from both the legislature and the City University of New York to support their living expenses in Albany while earning 15 course credits.
For more inform contact Michael Feller michael.feller@baruch.cuny.edu
Photo credit: Washington Semester Program with mayor Bill de Blasio.
Related Articles
---