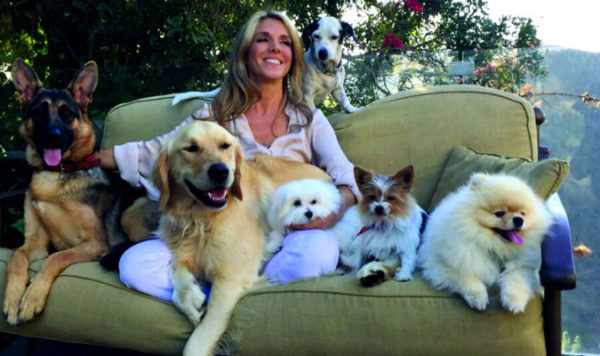 Tamar Geller helped Natalie Portman pick out her Yorkie from a shelter in Harlem, she lived with Oprah Winfrey for a month to train her adopted three golden retriever puppies. 
Now, the Israeli-born dog trainer sat in her Bel Air living room surrounded by five well-mannered, tail-wagging canines, including Oliver, her golden retriever, who was mislabeled as aggressive by his previous owners and faced possible euthanasia. Nearby was Katy, her pit bull mix, who once wanted to attack "every male who came to my house," Geller said, and a German shepherd who had come to her home for a weeklong "training vacation," during which she will learn doggie "life skills," as Geller put it.
When a UPS driver rang the doorbell with a delivery, some of the dogs started barking. "Shush," Geller said. And when the pooches complied: "Good shush," she told each pooch by name in a joyful voice.
Geller's longtime client Oprah Winfrey has called her "a life coach for dogs and their people." The trainer eschews the use of forceful practices in favor of cruelty-free methods. She doesn't issue commands or use the word "no."
"A lot of people who call themselves trainers say to the dog, 'You're going to shut up, and you're going to be obedient,' " said Geller, 53. "But I don't care about obedience. I also don't care about 'respect.' Science has shown that dogs' cognitive development is very much like the human toddler, and I don't want a child to come to his mother with respect; I want him to come with love and trust. The dog has a story to tell, and it's my job to [help], because in the process that's tikkun olam — making the world a better place."
Rather than using harsh words to curb continuing unwanted behavior, Geller might turn her back on a dog for, say, excessive jumping. For superb behavior, she "makes a party," which involves praising the dog and offering treats. While initial training might involve lavish goodies, Geller tapers off the treat-giving to once in a while. Random rewards work best to ensure a well-mannered dog, she said, citing the renowned behaviorist B.F. Skinner — the dog behaves well because he never knows when he is going to get lucky.
Geller never set out to become a dog trainer. Rather, she aspired to become a psychologist, in part to understand the abuse she suffered at the hands of her parents while growing up on a moshav in Israel. Her parents often beat her, sending Geller to the hospital more than a few times with a dislocated shoulder.
Her childhood dog, Lori, a dachshund, also was mistreated. "My parents housebroke him by hitting him on the nose with a newspaper," Geller writes in the first of her three books, the 2007 best-seller "The Loved Dog: The Playful, Nonaggressive Way to Teach Your Dog Good Behavior," which has a foreword written by Wayne Pacelle, president and CEO of the Humane Society of the United States. "When the poor puppy innocently chewed up my father's stereo wires one day, he beat the living daylights out of him. … After Lori had been disciplined and shamed, I would take him to my bed and cuddle him to sleep. I now know that my parents trained Lori the way they raised me."
While later serving as an intelligence officer in the Israeli army's elite special forces, Geller witnessed the brutal training of dogs for the military. "The idea of breaking an animal's spirit was popular at the time, and they used what I have come to call 'Spanish Inquisition' methods — choke chains, prong collars, hitting, pushing and more," she writes. And later: "I wanted to scream out, 'Stop this right now!' " But she didn't yet have any training alternatives to suggest. (The army's methods have since changed, she said.)
After Geller finished her military service, she decided "to get away from humans for a while." She headed to a research facility in the Arava Desert, where eventually she began observing the behavior of wild Asian wolves. She was impressed by how the alpha male used games to teach his pack members how to hunt and to behave. Geller eventually would use some of those games, including "chase" and tug of war, to train her own canine clients.
Her professional career with dogs began almost by accident. Geller traveled to Los Angeles in the late 1980s for what was supposed to be just a couple of weeks when she decided to volunteer for a dog trainer. One day, he received a call from a Beverly Hills resident whose pooch kept stealing his socks. The trainer didn't want to deal with a potentially difficult, wealthy client, so he sent Geller instead, even though her English wasn't good at the time. 
---
---
She diagnosed that the cocker spaniel in question had an attention-seeking issue. "He knew if he stole socks, his owner would drop everything and chase him," she said. Geller taught the owner to play tug of war and other games with the spaniel, "so he got his needs met in a constructive rather than a disruptive way," she said. The problem was solved in two days.
The client was the musician Kenny G, and before long he was telling his celebrity friends about Geller. "All of a sudden, Goldie Hawn and a bunch of other famous people were calling me," she said.
Related articles
Related Articles
VIDEO
---
Harlem Cultural Archives is a donor and foundation-supported Historical Society, Its mission is to create, maintain and grow a remotely accessible, online, interactive repository of audio-visual materials documenting Harlem's remarkable and varied multicultural legacies, including its storied past as well as its continuing contributions to the City and State of New York, the nation, and the world.
Support Harlem Cultural Archives
and
click here to get more Harlem History
, Thank you.