---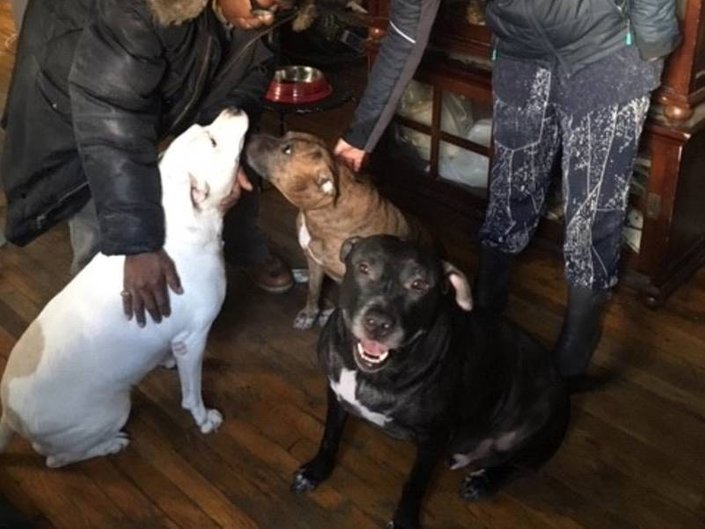 A Harlem woman going through health difficulties has found it difficult to take care of her three beloved dogs and is looking for a new home for the animals.
Carol Singleton, who lives in Central Harlem, told Patch that she's had the dogs for seven years. One of the dogs gave birth to the other two — a boy and a girl — in her apartment, Singleton told Patch.
"I've loved them since they were babies in my house," Singleton said. "I was the first one to handle them, given them nothing but love."
Last year was a "trying time" for Singleton, 66, after suffering two heart attacks, the woman said. She also received five blood transfusions for a condition called AVN, or Avascular necrosis, which causes blood loss to her bones.
Singleton's three neighbors have been helping her care for the dogs
Named Tazer (white), Apollo (black) and Maxi (brown/tiger stripe)
But they need a permanent home. Singleton said that she has no spouse or boyfriend living with her to help care for the dogs.
Because the dogs are bonded, Singleton would ideally see them all go to the same home, but she isn't optimistic that will happen. If an adopter would be able to take all three dogs it would be a "blessing," Singleton said.
"I love them dearly and can't bear the idea of taking them to get euthanized," Singleton told Patch. "I'm praying and praying that God helps me get through it."
Singleton and neighbor Monica Dula described the dogs as friendly with people and children, but not with other animals. Dula told Patch in an email that she and two other neighbors want to help lift the burden of caring for the dogs from Singleton.
"I want her to leave this earth knowing they have a home," Dula said in an email.
Singleton told Patch that prospective adopters can reach her on her home phone number, which is (212) 368-0679.
Photo credit: Monica Dula.
---