---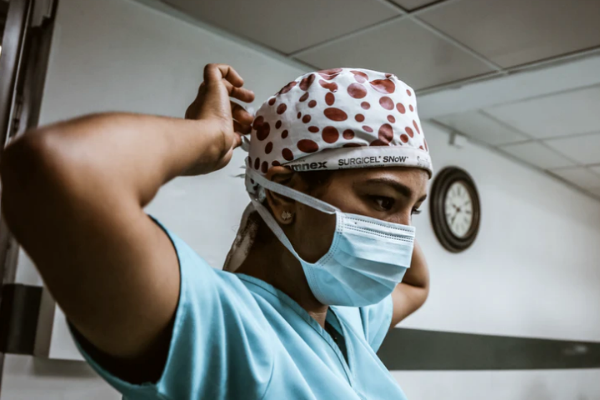 Over the last 10 months, Americans for the most part have grown accustomed to wearing a mask in public spaces.
But many health experts are now suggesting that not just any mask will do.
In a recent Op-Ed piece, medical publication STAT News pointed out that the newly-discovered coronavirus (COVID-19) variant, first found in the UK, is more easily spread from person to person and is more difficult to contain.
"While most masks provide some level of protection for the wearers and those around them, many masks, including the widely used cloth and surgical masks, only partially filter the small COVID-19-spreading particles known as aerosols that people emit when coughing, sneezing, breathing, and talking," the authors write. "As demonstrated in a recent study, high-filtration (Hi-Fi) masks like N95 masks are the best protection against these small particles."
The publication concluded that, as the nation continues to roll out vaccines against the virus, a cost-effective measure would include providing every household with these so-called Hi-Fi masks, especially since government health officials expect the new virus variant to quickly spread throughout the U.S.
N95 masks work best
According to AirQueen, a manufacturer of Hi-Fi masks, these masks filter out 95 percent of infectious particles. It says these masks have offered "complete protection for many healthcare providers who directly treat COVID patients."
The company says medium filtration masks include surgical masks with 67 percent filtration and triple layer cloth masks with 50 percent protection. Low filtration includes loosely woven single layer cotton masks with as low as 5 percent protection.
Currently, most of the masks consumers wear in public are not rated N95. These cloth masks protect people around the wearer if the person happens to be infected.
However, they are less effective at protecting the wearer if someone nearby, not wearing any face covering, is sick and sneezes in their direction. Even so, As recently as November, the Centers for Disease Control and Prevention (CDC) asked the public to stick with cloth masks and leave N95 masks to the professionals.
New variant, new threat
With a new highly-transmissible strain of the coronavirus on the loose, that advice could change in the weeks ahead reports Consumers Reports.
"With the rapid spread of this COVID variant and airborne nature, the Hi Fi mask offers vital enhanced protection for the general public," said medical journalist and author Dr. Bob Arnot.  "This is especially true for front line workers from teachers to firemen who have not been able to obtain this high level of protection."
Arnot says the White House could invoke the Defense Production Act to increase the supply of Hi-Fi masks to the general public. In a speech last week announcing a new federal approach to dealing with the pandemic, President-elect Biden said he would use the wartime act when needed to help bring the pandemic under control.
Photo credit: Nurse.
---