---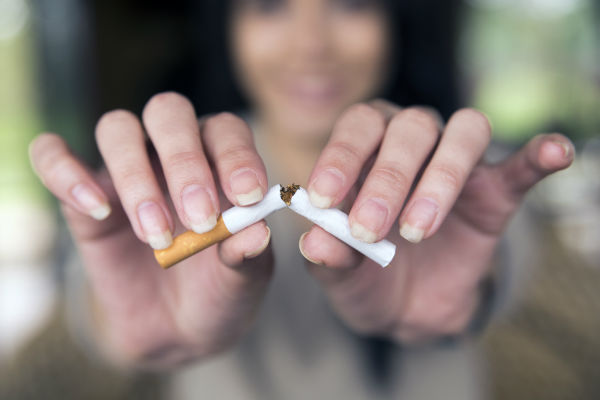 The Health Department today launched the "Quitting is Hard, Cancer is Harder" campaign, featuring Chris, a New Yorker, former smoker, and stage 4 lung cancer survivor. Chris was diagnosed at 39, when he discovered a lump in his neck. The campaign will run on TV, social media, in newspapers, on the radio, in the subway, and, for the first time this year, on the Staten Island Ferry. The campaign also kicks off the agency's Nicotine Patch and Gum Program to help New Yorkers quit smoking. The cost of the campaign is $1.8M. Eligible New Yorkers wishing to quit smoking should call 311 or visit nysmokefree.com. The program, in partnership with the New York State Smokers' Quitline, will run through April 13th.
"As a former smoker, I know how hard it is to quit," said Health Commissioner Dr. Mary T. Bassett. "I thank Chris for being courageous enough to tell his story in the hope that others will make the decision to quit or not pick up the habit in the first place. For New Yorkers who want to quit smoking, we want to make it as easy as possible to take the first step. Don't wait one more minute to call 311 or visit nysmokefree.com to take advantage of this free giveaway."
"I am telling my story about being diagnosed with stage 4 lung cancer and surviving, so that other New Yorkers can make the decision to quit now,"said Chris, who is featured in the "Quitting is Hard, Cancer is Harder" campaign. "Being diagnosed at age 39 was the biggest shock of my life. I asked myself, why did I ever start smoking? Smoking added nothing to my life but cancer. I urge New Yorkers to take advantage of the free patch and gum giveaway. It could save your life."
"We are pleased to participate in this important initiative with the New York City Department of Health and Mental Hygiene, and encourage New Yorkers to contact 3-1-1 by phone or online to take advantage of this opportunity," said NYC 311 Executive Director Joseph Morrisroe. "Call Center representatives are available 24/7 to provide support and assistance for New Yorkers requesting stop smoking assistance."
"Effective advertisements like these are key to communicating the dangers of tobacco use," said Council Member Corey Johnson, Chair of the Health Committee. "These advertisements powerfully illustrate both the reality of lung cancer, and the fact that it is preventable. I commend Commissioner Dr. Mary Bassett and the Department of Health for this noble effort to make tobacco use a thing of the past."
Since the Nicotine Patch and Gum Program began in 2003, over 350,000 New Yorkers have enrolled. It is a key component of the City's multi-pronged comprehensive tobacco control (CTC) program which has reduced the prevalence of adult smoking to 13.9% in 2014 from 21.5% in 2002. This represents a 35% decline in smoking since CTC was put in place, and is one of the lowest prevalence rates of smoking on record in New York City.
Breaking a dependence and addiction to nicotine is not easy, but thousands of New Yorkers have already done it. Data show that using medications and counseling – both of which are provided during this free program – makes a smoker twice as likely to be successful in quitting. Despite the decreasing number of adult smokers in New York City, smoking remains a leading cause of preventable death in New York City. Currently, about 900,000 adult New Yorkers smoke, including 361,000 men between the ages of 18 and 44. Cigarettes are the only consumer products that, when used as intended, kill up to one-third of users. Making the decision to quit lowers the risk of developing heart disease, stroke, cancers and many other illnesses.
Eligible enrollees in the Nicotine Patch and Gum Program will receive a NYC Quits Kit which includes a coaching guide in four languages, and a two-week supply of patches and/or gum depending on the number of cigarettes smoked daily. Enrollees will also receive follow-up calls from the Quitline and a relapse prevention email.
Tips to make quitting easier:
1. Prepare yourself. Stand firm on your decision to quit and think about the benefits.
2. Pick a date to quit. Write it down in a quit smoking journal.
3. Create a smoke-free environment by throwing away all cigarettes, lighters and ashtrays.
4. Ask for support and encouragement. Inform your family, friends and co-workers of your decision.
5. Find a quit buddy. Encourage another smoker to quit with you, or ask for support from a former smoker.
Live longer, enjoy a healthier life and join the many New Yorkers who have already quit smoking. For more information on how to quit:
·         Call 311 to find a local quit smoking clinic
·         Contact the New York State Smokers' Quitline (1-866-NY-QUITS)
·         Join us on Facebook by visiting Facebook.com/NYCQuits
·         Visit nyc.gov and search for 'NYC Quits"
Smokers who want help quitting can apply to get patches or gum at no cost by calling 311 or completing an easy online application at www.nysmokefree.com.
---