---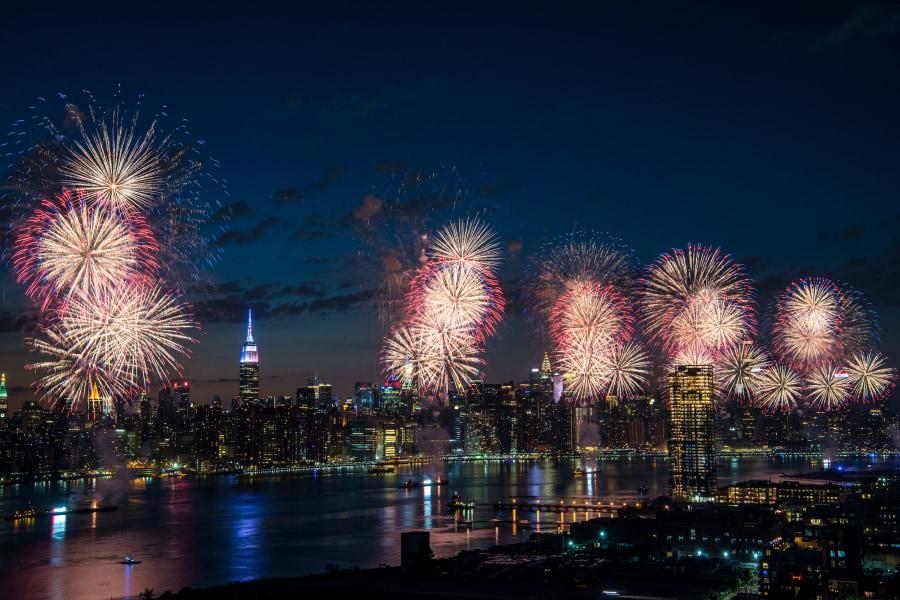 As New Year's Eve celebrations begin this weekend, the Health Department reminds New Yorkers to take care of themselves and others.
"For many, this is a time of year to enjoy being with those we love," said Health Commissioner Dr. Ashwin Vasan. "But to do that, we also have to protect ourselves and others, which is why we're sharing some simple tips for New Yorkers and their communities for how to celebrate more safely."
Here are some tips to have a safer New Year's Eve:
No matter how you celebrate, help prevent the spread of COVID-19, flu and other respiratory viruses. Get vaccinated and boosted. To find a vaccination site, visit NYC Vaccine Finder. It is safe to get a booster at the same time as a flu shot. You can also call 877-VAX-4NYC (877-829-4692) to schedule an appointment at certain sites, and for other vaccination assistance. Also stay home if you're not feeling well, wear a face mask in public when indoors or at crowded outdoor events and get tested for COVID-19 before gatherings. At-home rapid antigen tests for COVID-19 are available at over 250 walk-up distribution locations in every borough, including at city libraries, parks facilities, and cultural institutions, among other locations. New Yorkers can visit NYC.gov/COVIDTest to find convenient at-home test distribution locations. If you test positive, talk to your provider about what care and treatment is right for you. You can call your health care provider or 212-COVID19 (212-268-4319) to ask about treatment. And, of course, continue to keep your hands clean.
If you are going to have sex, make sure to practice safer sex. Use condoms or use pre-exposure prophylaxis for HIV as appropriate.
If you're going to drink alcohol, try to decide ahead of time how much you plan to consume and how you plan to get home safely, if traveling. If you are not able to walk, use a designated driver, public transportation, or taxi. Eat dinner first and enjoy snacks throughout the evening. Pace yourself and drink non-alcoholic beverages to stay hydrated. And please, be mindful of the medications you are taking and whether they may increase the effect of alcohol on your body.
If you are going to use drugs, avoid using alone. Create an overdose safety plan with someone who knows you are going to use and who could call 911 in case of an overdose or emergency. If you are going to use alone, call the "Never Use Alone" hotline at 800-484-3731 before using so someone can monitor for safety by phone. If you do use drugs use a small amount first.
Please avoid mixing drugs or mixing drugs and alcohol. Using different drugs together, including alcohol, increases your risk of overdose. If you do, go slow and use a small amount first.
Whether or not you use drugs, carry naloxone, a safe medication that can reverse an overdose from heroin and other opioids, including fentanyl. If you are using drugs, leave naloxone out where others can find it.
Please be aware, in recent years fentanyl—a potent opioid—has been identified in cocaine, heroin, ketamine, and methamphetamine. Fentanyl has also been identified in benzodiazepines (such as Xanax or Klonopin) and opioid painkillers (such as oxycodone or Vicodin acquired from non-pharmaceutical sources). Fentanyl poses an overdose risk to anyone who uses drugs containing fentanyl. Individuals who lack tolerance for opioids are at even higher risk of overdose if their drugs contain fentanyl.
Here are a few other resources available to ensure New Yorkers enjoy a happy and healthy 2023.
Download the free mobile app Stop OD NYC to learn how to recognize and reverse an overdose with naloxone. The app also links individuals to nearby community-based programs and pharmacies where naloxone is available without a prescription. Or join one of the Health Department's naloxone training, which teaches New Yorkers to recognize the signs of an overdose and respond by calling 911 and administering naloxone. The training are free, and all participants are offered a free naloxone kit.
If you witness an overdose, call 911 immediately.
Find more information about alcohol and health here. Individuals seeking support or treatment for alcohol or drug use issues can contact NYC Well by calling 1-888-NYC-WELL, texting "WELL" to 65173, or going to nyc.gov/nycwell. Free, confidential support is available at any hour of the day, regardless of immigration or insurance status, in over 200 languages.
"If you are going to have sex: consider safer sex options," said Dr. Marcus Sandling, Clinical Director of Sexual Health at Callen-Lorde Community Health Center. "Barrier protection with condoms or PrEP (pre-exposure prophylaxis) to protect against HIV can help reduce your risk. If you are concerned about a potential HIV exposure after having sex, contact a medical professional as soon as possible to discuss your options, including PEP (post-exposure prophylaxis), to prevent transmission of HIV."
"While this year has been a challenge for many and a night of enjoyment is definitely what we all deserve, please have fun by also enjoying all the prevention tools we have available in New York City," said Caroline Carnevale, DNP, MPH, HIV Prevention Clinical Lead at NewYork-Presbyterian Hospital/Project Stay. "Whether it be taking your on-demand or daily PrEP (pre-exposure prophylaxis), scheduling a visit for an STI screen after the New Year, or using condoms and lube, play with trusted friends and be good to yourself. Happy New Year."
"Our resolution for 2023 is to continue working hard to reach health equity in New York City," said Guillermo Chacon, President of the Latino Commission on AIDS and Founder of the Hispanic Health Network. "On New Year's Eve, please have fun. If you have sex, make sure to practice safer sex. Use condoms or use PrEP (pre-exposure prophylaxis). And avoid mixing drugs. Combining drugs, including alcohol, increases your risk of overdose. If you do, go slow and use a small amount first. Please protect yourself and your loved ones! Together we can have fun and be safe."
"It is so refreshing to see the Health Department conveying such judgement-free, full harm reduction messaging for those who engage in sex or substance use," said Cecilia Gentili, Principal Consultant and Founder of Transgender Equity Consulting. "Understanding that stigma drives bad outcomes is what makes a difference in public health! Cheers!"
"Across genders and sexual orientations, especially for young people exploring their sexualities, the best New Year's advice is true every day of the year: Take proactive charge of your sexual and reproductive health," said Kelsey Louie, CEO of The Door, which provides premier youth-development programming, including comprehensive adolescent health services. "Whether you're single or coupled, monogamous or non-monogamous, the best way to have fun, experience sexual pleasure, and keep your peace of mind is to operate with respect, candor, knowledge, and safety. Empower yourself with accurate medical information, so you can decide—sometimes with planning, sometimes spontaneously—what work best for you. Get tested for HIV and STIs, so you know your status and can get treated if needed. Explore and use the full sexual health toolbox for birth control, HIV prevention, and STI prevention. Whatever you do, make informed choices. Enjoyment is sexy, pleasure powered by knowledge and protection is sexier."
Photo credit: Source.
---