---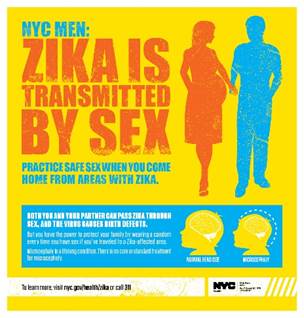 The Health Department today issued a Health Alert informing health care providers that four additional babies have been born with congenital Zika virus syndrome in New York City since the Department announced the first case of Zika-related microcephaly in July. In total, the Department has identified five infants with congenital Zika virus syndrome. Eight additional infants in New York City have tested positive for Zika virus, but have not shown evidence of congenital Zika virus syndrome. Babies born with congenital Zika virus syndrome can have an array of health problems, including microcephaly (head smaller than normal), brain and eye abnormalities, shortened or hardened muscles and tendons and neurologic impairment. Since January 2016, more than 200 infants have been born to women with Zika virus infection during pregnancy in New York City. The Health Department is following these infants for the first year of life to assess the effect of the mother's Zika infection on the infant. Children with birth abnormalities who were suspected of having a developmental delay, and continue to reside in New York City have access to the City's Early Intervention Program. This program assists families in identifying appropriate therapeutic and education services for their child.
As part of the Mayor's multi-million dollar comprehensive plan to prepare the city for Zika, the Health Department expanded the capacity of the Public Health Laboratory to meet the demand for Zika surveillance and testing. As of December 2nd, 8,000 New Yorkers have been tested for Zika virus. Of them, 962 New Yorkers have tested positive, including 325 pregnant women (92 of whom have confirmed Zika virus infection, while the rest have laboratory findings suggestive, but not definitely positive for the virus). All cases were associated with travel. Of these travel-associated cases, six were transmitted sexually.
"Today's news is a reminder that Zika continues to be a threat to pregnant women and their babies. As we enter the holiday season, we urge all pregnant women in New York City, those who might become pregnant, and their male sexual partners not to visit places where there is active Zika virus transmission," said New York City Health Commissioner Dr. Mary T. Bassett. "We are closely following all babies born to mothers who test positive for Zika infection and will connect parents to available services to improve their child's quality of life."
"Our City is aggressively tracking this disease and taking every precaution to keep New Yorkers safe," said Council Member Corey Johnson, Chair of the Committee on Health. "Where instances of congenital Zika virus arise, we will do everything we can to ensure families have the resources they need to manage symptoms and lead happy, healthy lives. I'm proud of the work that our Health Department has done to implement a comprehensive response to Zika, and I urge all New Yorkers to follow its good advice. I thank Commissioner Dr. Mary Bassett and her staff for their extraordinary efforts."
"With the holidays upon us, it is wise that the NYC Health Department is reminding New Yorkers of the continued risk of Zika infection, and the tragic consequences that can be suffered by pregnant women and those who become pregnant after exposure to Zika. I implore New Yorkers to heed this advice, and take precautions if your holiday travel plans will take you to warmer parts of our hemisphere," said Council Member Andrew Cohen.
Travel warning remains in effect
In keeping with guidance issued by the Centers for Disease Control and Prevention, the City's travel warning remains in effect. The following group of New Yorkers should avoid traveling to areas with ongoing Zika virus transmission: pregnant women and sexually active women of reproductive age who are not using a reliable form of birth control. We urge sexual partners of women who are pregnant or trying to get pregnant to follow recommendations to avoid mosquito bites while traveling in areas with ongoing Zika transmission and to practice safe sex for the length of the pregnancy when they return. All New Yorkers returning from Zika-affected areas are reminded to practice safe sex to help prevent transmission.
The Zika virus can be transmitted sexually, and an infected woman can pass the virus to her fetus, causing severe birth defects. The Health Department recommends that health care providers discuss contraception and reproductive options with people at risk for Zika virus infection, either through travel or sex. For information on birth control and where to go for free or low cost services, New Yorkers can visit nyc.gov and search "birth control" or call 311.
New Yorkers should check the CDC website to learn if the area they are visiting has ongoing Zika virus transmission. Any pregnant woman who traveled to an area with Zika virus transmission while pregnant or trying to get pregnant should see her doctor and be tested for Zika virus infection.
As part of the ongoing response to the Zika virus, last month the City launched a new ad campaign (see lead photo above) in time for the holiday travel season. The new campaign urges New Yorkers to remain vigilant as the Zika virus continues to circulate in the Caribbean, Mexico, Central America, South America and parts of Miami-Dade County. The citywide campaign is running on television, social media and in newspapers.
The Early Intervention Program
The Early Intervention Program supports families with children from birth to age three who have disabilities or developmental delays. The program is available at no cost to all New York families regardless of race, ethnicity, income, or immigration status. The program provides services to approximately 30,000 New York City children each year.
Following a referral, the Health Department assigns a service coordinator to explain the program and help the family select an evaluation agency. After a child is evaluated and found eligible for the program, a team of professionals works with Health Department staff and the family to create an Individualized Family Service Plan (IFSP) that meets their needs. The family works with a team to develop goals and a plan that meets their child's developmental needs. After the meeting, early interventionists (teachers and therapists) will work with the family to help their child learn. Interventionists work with each child and family during their daily routines.
Early Intervention is available at no direct cost to families. The program uses a child's Medicaid and/or insurance (if available) to help pay for services. This does not affect or reduce a family's Medicaid or insurance benefits.
NYC's Zika Action Plan
The City's Zika Action Plan, announced in April, developed the surveillance infrastructure to monitor and test both mosquitoes and humans for the Zika virus, and to educate New Yorkers about mosquito control, risks associated with visiting Zika-affected areas, and testing guidelines.
During this year's mosquito season, the Health Department applied more treatments in all five boroughs than ever before – 26 adulticide treatments (8 percent increase from 2015), seven aerial larvicide treatments (133 percent increase), 8,799 ground larvicide applications (212 percent increase), 539,452 catch basin larvicide treatments (25 percent increase), and two truck-based larvicide treatments for the first time. No mosquito pools tested positive for the Zika virus.
The Department also established a dedicated call center for health care providers to process testing requests. The Zika Testing Call Center facilitated testing for over 7,000 patients and arranged no-cost specimen transportation for 3,000 patients.
Additionally, the Health Department took unprecedented steps to raise awareness about the Zika virus. Our robust public ad campaign resulted in a 170 percent increase in standing water inspections (6,174 in 2016) and a 194 percent increase in notices of violations issued (1,780 in 2016). The City distributed travel advisory posters to over 1,000 health care providers likely to see pregnant women, including urgent care centers, community health centers and OB/GYN practices. The Department also conducted over 220 community presentations to engage New Yorkers about efforts being made to fight back against mosquitoes and distributed over 4,000 Zika awareness kits and over 2,000 Zika travel warning posters.
To learn what the City is doing to prevent the spread of the Zika virus in New York City, read the most recent information about the Zika virus and access the latest data available, visit the Health Department's website: www.nyc.gov/health/zika.
Related Articles
---