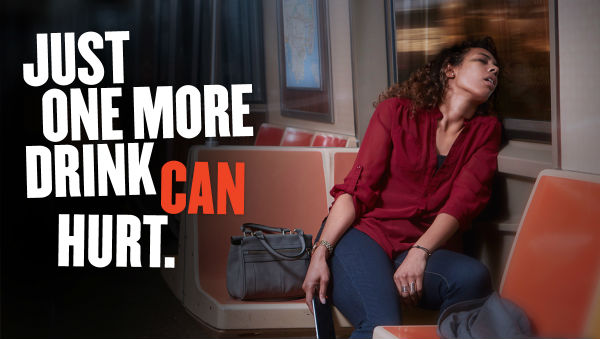 As the summer season begins this Memorial Day, the Health Department reminds all New Yorkers about the risks of excessive alcohol drinking. In New York City, there are nearly 1,800 alcohol-attributable deaths every year and an average of 84,000 alcohol-related emergency department visits – with increases around Memorial Day and July 4th.The Department is expanding its effective ad campaign that warns New Yorkers of the harms of excessive alcohol drinking, both to them and people around them. The campaign reminds New Yorkers that "just one more drink" can hurt, and to "cut off" their friends before drinking one too many. The ads will be online and in various print media outlets as the summer season begins.
"Excessive alcohol use is a serious public health problem, responsible for preventable injuries, accidents, chronic illness and even death," said Health Commissioner Dr. Mary T. Bassett. "With this campaign, we again remind all New Yorkers of actions that they can take to protect themselves and their friends from the unintended, dangerous consequences of alcohol use."
The Health Department offers the following tips for holiday revelers:
Be conscious of how much alcohol you consume:
Eat before celebrating and snack throughout the evening
Pace yourself and,  if you choose to drink alcohol, alternate alcoholic and non-alcoholic beverages
Stay well hydrated – drink plenty of water or a non-alcoholic beverage in between drinks.
"It is important to remind people of the dangers of excessive drinking before we begin a holiday weekend that often includes heavy drinking.  The City's past campaigns have been successful in cutting down excessive drinking by reminding New Yorkers about the threat to health and safety posed by drinking too much," said Assembly Member Richard N. Gottfried, Chair of the Assembly Committee on Health.  "Considering the wide ranging effects heavy alcohol consumption can have on the brain, the liver, and other parts of the body, as well as leading to violence against others and car crashes, this message cannot be overstated."
White New Yorkers are most likely to binge drink, followed by Latino New Yorkers. Binge drinking is associated with increased likelihood of smoking cigarettes.
Women are advised to limit themselves to no more than three drinks per occasion, and men should not have more than four drinks per occasion. Exceeding these limits is considered binge drinking. According to the 2014 Community Health Survey, one million adult New Yorkers (17 percent) binge drink, including nearly a quarter of adults ages 18 to 44. Men are almost twice as likely as women to binge drink. White New Yorkers are most likely to binge drink, followed by Latino New Yorkers. Binge drinking is associated with increased likelihood of smoking cigarettes.
This campaign aligns with the City's Vision Zero initiative by reminding New Yorkers that their choices matter. Excessive drinking puts road users at risk for serious injury – whether they are behind the wheel, riding a bicycle, or walking. Since launching Vision Zero in 2014, the City has implemented a number of safety initiatives, such as a reduced citywide speed limit and increasing the number of speed cameras in school zones. This past January, Mayor Bill de Blasio announced that 2015 had been the safest year in recorded history on New York City streets. This campaign also reinforces the message that crashes are not accidents by showing the role that excessive drinking can play in contributing to traffic-related injuries and deaths.
Other health department initiatives to help reduce excessive alcohol use in New York City include educating health professionals about the importance of screening and counseling their patients, a strategy that is one of the most effective prevention interventions; and supporting community-based efforts to prevent underage drinking. The Department has issued guidance for health professionals and provides data and other information to community coalitions.
More information on drinking guidelines and resources for New Yorkers can be found here.
Related Articles
---