---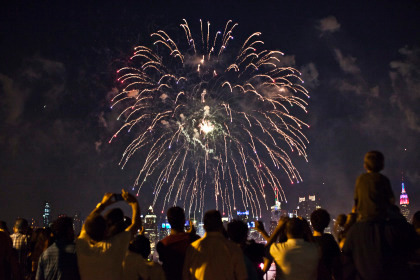 As Fourth of July celebrations begin this weekend, the Health Department reminds all New Yorkers about the dangers of fireworks and how to enjoy the holiday safely. Firework injures can be serious and can cause burns, broken bones, or blindness. Between 2006 and 2014, there were 185 total firework-related injuries that were treated at New York City hospitals – approximately 21 per year. 138 of these injuries were treated and released from emergency departments, while 47 injuries were hospitalized for a longer period of time.
"While we celebrate the Fourth of July holiday with our friends and family, it's important to keep in mind that fireworks are best handled by professionals and can potentially cause serious injuries," said Health Commissioner Dr. Mary T. Bassett.  "These injuries are preventable, and I urge parents to speak to their children about the dangers and risks involved with fireworks."
Between 2006 and 2014, three out of ten firework-related hospital visits occurred among those aged 15 to 24.  Among the injuries in this age group, 79 percent were male. Nearly three-quarters (74 percent) of all firework-related hospital visits occurred among males of all ages. More than half of all firework-related hospital visits were among Bronx and Brooklyn residents (26 percent and 29 percent, respectively). Nearly half (45 percent) of all firework-related hospital visits occurred between July 2 and July 8. Burns were the most frequent type of firework-related injury (50 percent).
The American Red Cross has steps you can follow to safely enjoy your holiday.
Highway Safety Experts say millions of people will be on the highways over the Fourth of July weekend. The Red Cross reminds everyone to buckle up, observe speed limits and to not drink and drive. Be well rested and alert and give your full attention to the road. Don't use your cell phone. Five more tips you should remember include:
1. Use caution in work zones.
2. Be respectful of other motorists and follow the rules of the road.
3. Clean your vehicle's lights and windows to help you see, especially at night. Turn your headlights on as dusk approaches, or during inclement weather.
4. Don't let your vehicle's gas tank get too low.
5. If you have car trouble, pull as far as possible off the highway.
Fireworks Safety The safest way to enjoy fireworks is to attend a public fireworks show put on by professionals. Stay at least 500 feet away from the show. Many states outlaw most fireworks. If you are setting fireworks off at home, here are five safety steps you should follow:
1. Never give fireworks to small children, and always follow the instructions on the packaging.
2. Keep a supply of water close by as a precaution.
3. Make sure the person lighting fireworks always wears eye protection.
4. Light only one firework at a time and never attempt to relight "a dud."
5. Never throw or point a firework toward people, animals, vehicles, structures or flammable materials.
Grilling Safety What better way to celebrate the holiday than to fire up the grill and cook delicious goodies for family and friends. Every year people in this country are injured while using backyard charcoal or gas grills. Follow these five steps to safely cook up treats for the backyard barbecue:
1. Always supervise a barbecue grill when in use.
2. Never grill indoors – not in your house, camper, tent, or any enclosed area.
3. Make sure everyone, including the pets, stays away from the grill.
4. Keep the grill out in the open, away from the house, the deck, tree branches, or anything that could catch fire.
5. Use the long-handled tools especially made for cooking on the grill to keep the chef safe.
First Aid APP While you're enjoying the holiday, accidents can happen. Download the free Red Cross First Aid App to put expert advice for everyday emergencies at your fingertips. The app is available for smart phones and tablets and can be downloaded from the Apple or Google Play for Android app stores. For more information, please visit redcross.org
Photo credit: WEEHAWKEN, NJ – JULY 4: People watch fireworks light up the sky over New York City on July 4, 2013 in Weehawken, New Jersey. July 4th is a national holiday with the nation celebrating its 238th birthday. (Photo by Kena Betancur/Getty Images)
Related Articles
---