---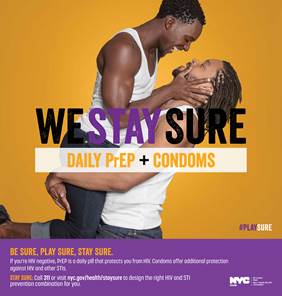 In recognition of World AIDS Day, the Health Department today announced the launch of "Stay Sure," a new sexual health media campaign that promotes HIV prevention services in New York City.
The campaign includes the consistent use of pre-exposure prophylaxis (PrEP), access to post-exposure prophylaxis (PEP), and condoms while encouraging New Yorkers from Harlem to Hollis living with HIV to stay on treatment for the dual benefit of maintaining their health and making HIV transmission nearly impossible.The announcements were made by Health Commissioner Dr. Mary T. Bassett during the 29th Annual World AIDS Day, an event at the new New York City AIDS Memorial organized in partnership with more than 70 community partners working towards ending the HIV epidemic in New York City by 2020.
In 2015, the de Blasio administration announced the NYC Plan to End the Epidemic, which included a $23 million investment in Fiscal Year 2017 to increase HIV prevention and health care programming that will benefit nearly 200,000 New Yorkers per year when fully implemented. The plan aims to reduce the annual number of new HIV infections in New York City to no more than 600 by 2020, a level that would reduce HIV to below epidemic levels. As part of this plan, the Health Department announced an increase in City STD clinic hours and HIV and other sexual health services earlier this year as well as several other innovative programs supporting HIV prevention and care through partnerships with community providers. Earlier this week, the Department released 2015 data showing for the first time ever, new HIV diagnoses dropped below 2,500, and there were no HIV infections diagnosed among infants born in NYC.
"With the new 'Stay Sure' campaign, the Health Department continues its innovative and successful approach to ending the HIV epidemic by the end of the decade," said Health Commissioner Dr. Mary T. Bassett. "Our joint efforts with community partners have led to the lowest number of HIV diagnoses ever and no infections diagnosed among infants in NYC. This work continues as we address persistent disparities and remind all New Yorkers to be HIV sure, play sure and stay sure."
"New Yorkers taught us to 'be HIV sure' with astronomical rates of people getting tested and aware of their HIV status," said Dr. Demetre Daskalakis, Assistant Commissioner for the Health Department's Bureau of HIV/AIDS Prevention and Control. "New York taught the country how to 'play sure' with PrEP, treatment and condoms, and now we're bringing it all together to encourage New Yorkers, HIV negative or positive, to 'stay sure'."
"Each year, World AIDS Day is an opportunity for all of us to consider how we can move forward towards a future without HIV. That's exactly what the Stay Sure Campaign is all about." said Council Member Corey Johnson, Chair of the Committee on Health. "By educating the public about PEP, PrEP and the resources that are available, this campaign is a crucial piece of how we'll bring down transmission rates and end the epidemic. I thank Commissioner Dr. Mary T. Bassett and her staff at the Department of Health for their lifesaving work."
State Senator Brad Hoylman said: "As we come together once again to commemorate World AIDS Day, we reflect on those we've lost, stand with those who continue to fight, and look forward to the day we finally overcome the scourge of HIV/AIDS. Thanks to drug innovation, cure research, housing assistance and community outreach at the city and state levels, the end of the epidemic is surely within our grasp. But there's much more work to do, especially among communities of color. I'm extremely grateful to Mayor de Blasio, Commissioner Bassett, Assistant Commissioner for HIV/AIDS Control and Prevention Daskalakis, as well as to the State of New York and the countless advocates and leaders whose path-breaking efforts have brought us to the brink of history in our fight against HIV/AIDS."
"The NYC Health Department's 'Stay Safe' campaign is a welcome new initiative in the de Blasio administration's successful HIV prevention and treatment efforts," said Assembly Member Richard Gottfried, Chair of the Assembly Committee on Health. "With the number of new HIV cases in the city falling below 2,500 last year for the first time since the beginning of the AIDS epidemic in 1981, the City's proactive and effective outreach through efforts like the Stay Safe campaign are proving effective in helping to save lives and keeping New Yorkers healthy."
"For the past couple of years the Bronx has had the highest rates of HIV Testing across all 5 boroughs. Through testing we are able to link people to care and provide other HIV/AIDS prevention resources, such as PREP. The Stay Sure campaign will endeavor to bring more people to these necessary services, and I congratulate the New York City Department of Health and Mental Hygiene on the launch of this important initiative. This World Aids Day, it is important that we acknowledge all the hard work that goes into fighting HIV/AIDS , such as the Bronx Knows and the PlaySure campaigns, which have been vital in fighting the epidemic in The Bronx and across the City," said Bronx Borough President Ruben Diaz Jr.
Stay Sure Media Campaign & #PlaySure Kit
In keeping with the sex-positive messaging and images of other recent media campaigns such as "Be HIV Sure" and "Play Sure", "Stay Sure" promotes different HIV-prevention options including use of daily PrEP, emergency PEP, and condoms (for STI and HIV prevention) while also encouraging New Yorkers living with HIV and those on PrEP to stay engaged in care and treatment/prevention. The citywide campaign also includes PEP-specific ads that promote availability of PEP at City STD clinics and other Health Department supported sites.
In December 2015, the Health Department launched #PlaySure – a novel HIV and STI prevention campaign. The goal of this sex-positive campaign was to reach all New Yorkers and encourage them to choose their preferred HIV and STI prevention tools, regardless of their HIV status. To complement this campaign, the Health Department developed an innovative safer sex toolkit, the #PlaySure Kit. The #PlaySure Kit holds everything New Yorkers need to play sure –condoms, lubricant, and the prevention pill of a person's choice (e.g., HIV medications for prevention or care). Over 50,000 kits have been distributed to New Yorkers since World AIDS Day 2015, when the kit was originally unveiled. The Kit helps New Yorkers design the safer sex plan that fits their lifestyle and needs. #PlaySure Kits are available for free at participating community organizations and at many community events throughout the year. Distribution locations are also available by calling 311.
World AIDS Day Honorees
This past year's progress toward ending the epidemic is due in large part to the support of the Health Department's community partners, including community-based organizations, medical providers and local elected officials. To highlight the work of some of these partners and others who have made significant contributions to HIV prevention, treatment, and care in New York City, Health Commissioner Bassett presented the following honorees with World AIDS Day Awards:
Aisha Diori: Ms. Diori works as the Special Events Manager for the Schomburg Center for Research in Black Culture, is a community mobilizer, HIV prevention advocate, educator, performer and legend in Ball culture. Aisha's HIV prevention work with LGBTQ youth in the Ball culture, an LGBTQ subculture, has been influential in the field of public health.
Cristina Herrera: Ms. Herrera founded the Translatina Network in 2007 to organize and empower the transgender immigrant community through leadership development. Cristina is also a program coordinator at the Lesbian, Gay Bisexual & Transgender Community Center (The Center). She has been working in the field of HIV prevention, advocacy and community organizing for over 15 years.
Dan O'Connell: Mr. O'Connell most recently served as the Director of the New York State Department of Health's AIDS Institute, where he had worked since 1987. Dan led efforts to implement revised state laws for HIV, STD and HCV. He was instrumental in New York State's Ending the Epidemic plan, working with community stakeholders on a process that resulted in the Governor endorsed effort.
Gina Quattrochi: As a dynamic advocate for many years and Bailey House's CEO since 1995, Ms. Quattrochi has been a leader in the fight to end HIV/AIDS for decades. A relentless advocate for people living with HIV/AIDS, Gina's innovative leadership and drive built Bailey House into a $13-million-dollar organization that now houses hundreds of men, women and children and provides supportive services to many more.
Ginny Shubert: Ms. Shubert is one of the founding members of the legendary AIDS activist group ACT UP. She dedicated herself to serving one of New York City's most neglected populations: the tens of thousands of homeless men, women, and children in the city living with HIV and AIDS. Additionally, Ginny has also been instrumental with the Undetectables program, designed to help all New Yorkers with HIV achieve viral load suppression.
The Lesbian, Gay, Bisexual & Transgender Community Center: The Center has been a home and resource hub for the LGBT community, NYC residents and visitors since its founding in 1983. The Center provides a place to connect and engage, find camaraderie and support, and celebrate the vibrancy and growth of New York City's LGBT community. The Center celebrates diversity and advocates for justice and opportunity.
No related posts found...
---