---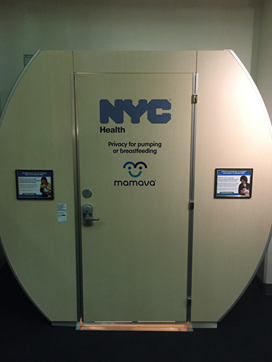 In recognition of World Breastfeeding Week, the Health Department today celebrated the opening of five "lactation pods" around the city, one in each borough, in locations that serve parents and families. The lactation pods are now available to the public at Health + Hospitals' Queens Hospital Center and Harlem Hospital Center; the Bronx Zoo; the Staten Island Children's Museum; and the Brooklyn Children's Museum. The new pods are part of the Department's efforts to promote and support breastfeeding in communities with the lowest rates of breastfeeding in the city and to ensure that mothers feel comfortable pumping and breastfeeding in whichever setting they choose. The 4 foot by 8 foot pod is a self-contained mobile unit equipped with comfortable benches, a table, an electrical outlet for plugging in a breast pump and a door that can be locked for privacy. The New York City Civil Rights Law gives women the right to breastfeed in public at any time.
The lactation pods complement the de Blasio administration's efforts to promote breastfeeding. In August 2016, Mayor de Blasio signed legislation sponsored by Council Member Robert E. Cornegy Jr. introduced at the behest of Brooklyn Borough President Eric L. Adams requiring the Administration for Children's Services, New York City Human Resources Administration/Department of Social Services and the Department of Health and Mental Hygiene to establish lactation rooms in select locations where social services are offered to the public. As of today, there are almost 30 locations open with more planned in the future. Locations will be listed on the Health Department's website, Mamava and latchME website and phone application. Following the new legislation, the Health Department has developed and is making available to other agencies a new poster identifying community lactation rooms.
"Breastfeeding provides wholesome nutrition for babies, enhances the mother-child bond, and fosters proven health benefits for both parent and infant," said Deputy Mayor for Health and Human Services Dr. Herminia Palacio. "Children who are breastfed have lower risk for SIDS and type 2 diabetes, and their mothers have decreased risk of breast and ovarian cancer and type 2 diabetes. These mobile lactation suites are just another example of our commitment to equipping moms across New York City with the tools they need to breastfeed their children."
"Breastfeeding is the most complete and natural form of nutrition for babies, and it also provides health benefits for new mothers," said Health Commissioner Dr. Mary T. Bassett. "We are fortunate to live in a city that protects a mother's right to breastfeed anywhere, anytime. We're happy to provide a comfortable option for women who prefer to breastfeed or pump in a private space."
"As we recognize the many health benefits of breastfeeding for both children and mothers, these lactation stations ensure that nursing mothers who visit these sites will have a clean, safe and comfortable place to express milk," said Department of Social Services Commissioner Steven Banks. "By making these spaces available the Administration is reinforcing its commitment to support mothers by making it easier for them to do what is best for their children."
"The lactation pods are a great resource for moms to support health development for their babies," said ACS Commissioner David Hansell. "I commend the Health Department for implementing this breastfeeding initiative and Council Member Robert E. Cornegy Jr. for sponsoring the legislation. We will continue supporting initiatives that address disparities in maternal and infant health outcomes citywide."
"The City's new 'lactation pods,' including our local site at the Brooklyn Children's Museum, will make a significant difference in the lives of mothers who pump or nurse. My administration has led the way in expanding access to safe, nurturing spaces that support the health-giving, natural act of breastfeeding. Health Commissioner Bassett has been a tremendous ally in our shared mission to raise healthy children and families," said Brooklyn Borough President Eric L. Adams.
"New York City families deserve to live in a city that values the lives of its citizenry. It is an honor and privilege to craft legislation that insures a healthy start for our children. With the opening of five lactation pods and thirty 30 new lactation rooms, we have made great strides in ensuring that families are able to breastfeed in a clean and comfortable environment," said Council Member Robert E. Cornegy Jr.
"As chair of the Women's Issues Committee and co-Chair of the Women's Caucus, I would like to acknowledge the incredible women throughout this city and beyond that unequivocally breastfeed their children anytime and anyplace," said Council Member Laurie A. Cumbo. "As working and stay-at-home mothers transition into their new roles, it is often a challenge to identify public spaces where women can nurse and pump to care for their child(ren) without harassment. I am a proud co-sponsor of the legislation that made today a reality – transforming public spaces into safe havens to support the bonding experience between mother and child while promoting their well-being. I want to thank the de Blasio Administration for working in partnership with community partners such as the Brooklyn's Children Museum to advance maternal and infant health throughout the City of New York."
"We've made an investment in the lactation pods to protect and support breastfeeding across New York City" said Deputy Commissioner Dr. George L. Askew "We want mothers to know we are here for them so they can access safe and secure spaces to nurture their littlest New Yorkers."
"The Brooklyn Children's Museum welcomes hundreds of thousands of Brooklyn families each year, many with infants or very young children. We are proud to support breastfeeding in any area throughout the Museum, and are pleased to host this new lactation pod to allow mothers to pump or nurse in privacy if they choose. We invite parents who live and work in our community to use the lactation pod in our lobby during business hours, whether they are visiting the Museum, or just need a private space to nurse or pump during the day," said Stephanie Hill Wilchfort, President & CEO Brooklyn Children's Museum.
"The pod will be incredibly useful to moms who appreciate a private space to breastfeed and if needed, keep their toddlers safe and close while doing so," said Jennifer Dudley, Director of Development, Staten Island Children's Museum.
"New York's cultural organizations are essential to the social fabric of communities across the city," said Cultural Affairs Commissioner Tom Finkelpearl. "I applaud this partnership between the Health Department, Brooklyn Children's Museum, Staten Children's Museum, and the Bronx Zoo to provide new mothers with a secure place to breastfeed or pump in the manner they choose, ensuring that public spaces across New York are open, welcoming, and conducive to healthy activities."
"As NYC Health + Hospitals/Queens marks its third anniversary as a 'Baby-Friendly' hospital, the Mamava breastfeeding suite is a welcome gift from the New York City Department of Health that will provide breastfeeding mothers, including working moms from our community, with a private, clean, and relaxing place to nurse their babies," said Chris Roker, CEO of NYC Health + Hospitals/Queens. "While our hospital remains committed to supporting every mother's right to breastfeed in public, this convenient lactation suite is another option for many, as well as providing another example of our efforts to promote and encourage breastfeeding as the best start in life for newborns."
"NYC Health + Hospitals/Harlem was the first hospital in New York City to earn the World Health Organization's 'Baby Friendly' designation. The addition of the Mamava suite allows us to provide breastfeeding mothers in the Village of Harlem to nurse their young with privacy, dignity, and respect," said Eboné M. Carrington, MPA, FABC, CEO of NYC Health + Hospitals/Harlem.
"Brooklyn Alliance for Breastfeeding Empowerment, Inc. (BABE) wishes to congratulate the New York City Health Department for providing such a wonderful and much needed resource to the breastfeeding families in Brooklyn," said Corine Dunson, MS, CDN, IBCLC, Co-Chairperson, BABE, Inc. "Breastfeeding is normal and having lactation pods available provide a space for the mothers to continue to breastfeed their babies or express their breastmilk when they are away from home."
"Every major health organization in the world recognizes the importance of breastfeeding. Breastfeeding is not only a lifestyle choice, but is a public health imperative. It is up to us as a society to support mothers and families in their breastfeeding journey. We are working together to create a culture that is comfortable with breastfeeding. New York City is providing many opportunities for moms to reach their breastfeeding goals, from prenatal care, to maternity hospital practices, to community support. The lactation pods are another step towards making it easier for moms to succeed," said Theresa Landau, Chairperson, NYC Breastfeeding Leadership Council, Inc.
Again, New York City leads the way in its promotion of breastfeeding. Although we support the right of every mother to breastfeed in public, these 'lactation pods' allow mothers to also breastfeed or express milk privately. As the Bronx Breastfeeding Coalition (BBC), we are especially excited that one of these pods will be placed in the Bronx at the Bronx Zoo," said BBC Co-Chairperson and Neonatologist, Lawrence Noble, MD, IBCLC, FAAP, FABM.
Exclusive breastfeeding is recommended for the first six months of life until one year of age or longer. Breastfed babies are less likely to have ear infections, diarrhea and respiratory problems. When done in partnership with safe sleep practices, breastfed babies are also at lower risk for Sudden Infant Death Syndrome (SIDS). While the exact case of SIDS is unknown, breast milk may help build a baby's immune system to fight SIDS-related infections. Mothers who breastfeed for 12 months or more have a lower risk of developing breast or ovarian cancer and cardiovascular disease.
Although the majority of mothers in New York City initiate breastfeeding and continue to breastfeed their babies for at least 8 weeks, racial disparities in breastfeeding continuation exist, especially with exclusive breastfeeding. Rates of exclusive breastfeeding eight weeks after birth were 21.3 percent for Latina mothers, 26.4 percent for Asian/Pacific Islander mothers and 29.7 percent for Black non-Latina mothers compared to 44.1 percent for White non-Latina mothers (PRAMS 2014).
The Health Department uses a multifaceted strategy to promote breastfeeding, including:
The "Improving Health Equity and Maternal and Infant Health Outcomes Collaborative" project, which brings together 22 agencies across New York City to address disparities in maternal and infant health outcomes.
Lactation rooms in Neighborhood Health Action Centers' Family Wellness Suites.
Partnerships with maternity hospitals, birthing centers and community-based organizations throughout the city to support Baby-Friendly hospitals and raise awareness about breastfeeding.
Home visiting programs such as the Newborn Home Visiting Program and Nurse Family Partnership offer breastfeeding support, breast pumps, safe sleep education and cribs to eligible families.
Certified Lactation Counselor training in hospitals to increase the skilled support available to breastfeeding families.
Text messaging campaign, Mobile Milk, available in English and Spanish to encourage and support breastfeeding from pregnancy through post-partum. Families can enroll by texting MILK or PECHO to 877877.
A report published in August 2016 entitled

"

Feeding Our Future

"

highlighting first-time expectant mothers in Central Brooklyn and their challenges with breastfeeding.
The Breastfeeding Empowerment Zone, an initiative to educate community members, faith-based leaders and small businesses on how to support parents and families.
The NYC Creating Breastfeeding Friendly Communities program funded by the New York State Department of Health, which helps medical providers, businesses and childcare centers establish supportive breastfeeding environments.
The Health Department leads the New York City Breastfeeding Hospital Collaborative. The goal of this Collaborative is to increase the number of Baby-Friendly Designated facilities in New York City. Through this initiative the agency is working with 30 maternity facilities. The Baby-Friendly Hospital Initiative (BFHI) is a global program sponsored by the World Health Organization (WHO) and the United Nations Children's Fund (UNICEF) to encourage and recognize hospitals and birthing centers that offer an optimal level of care for infant feeding based on the WHO/UNICEF Ten Steps to Successful Breastfeeding for Hospitals. Currently there are14 maternity facilities, 7 of them H+H hospitals, in New York City that hold this maternity care designation. One in four infants in New York City are born at a Baby-Friendly designated facility. This means that nearly 26 percent of babies in New York City are born in Baby-Friendly hospitals, far exceeding the Healthy People 2020 goal of 8.1 percent.
Related Articles
---