---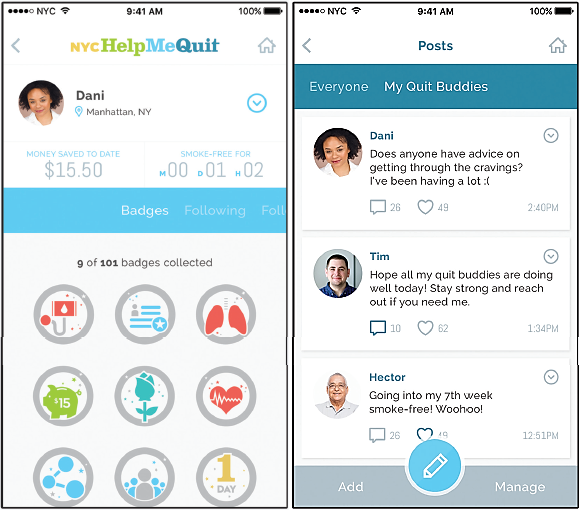 The Health Department today launched the NYC HelpMeQuit app, a free tool to help New Yorkers quit smoking from Harlem to Hollis. Developed with input from smokers trying to quit, HelpMeQuit includes tips to stop cravings; social support from other people using HelpMeQuit and Facebook friends; connection to existing smoking cessation resources (such as the New York State Smokers Quitline and a map of nearby clinics); and in-app games to distract from smoking.
The app helps New Yorkers track their progress through money saved by not purchasing cigarettes; cigarettes not smoked; badges earned for reaching milestones; and time – down to the hour – since they quit smoking.
The app is available at the Apple or Google Play stores. A citywide media campaign about the app launched on TV, social media, subways, and the Staten Island Ferry. The video campaign is available here.
"Quitting smoking is hard, but HelpMeQuit is here to make it easier," said Health Commissioner Dr. Mary T. Bassett. "The app helps smokers stay motivated to quit and reminds New Yorkers of the important health and financial milestones along the way. As a former smoker, I know personally how difficult it is to quit. I'm confident this new resource will help New Yorkers live smoke free."
"As a physician, I know every smoker's journey to quitting can be different, but the challenge of quitting is universal," said Deputy Commissioner Dr. Sonia Angell. "This unique tool is based on the evidence about what helps people quit. Quitting has almost immediate positive impact on your health. The NYC HelpMeQuit app is a great resource to help New Yorkers quit smoking."
In August 2017, Mayor Bill de Blasio signed several bills into law to reduce tobacco use, including raising the minimum prices for all tobacco products; capping and reducing through attrition the number of tobacco retailers citywide; creating a retail license for e-cigarettes and capping the number of e-cigarette retailers; and banning the sale of tobacco products at pharmacies.
Features of the NYC HelpMeQuit app (above right):
My Profile 

tracks money saved by not smoking and badges that highlight health gains achieved through quitting, like improved blood pressure and lung function.

I'm Craving Now 

offers 

concrete solutions for triggers and cravings, such as "Call a friend and chat for a few minutes" and "Close your eyes and take 10 slow, deep breaths."
My Quit Buddies 

connects to other people trying to quit through the HelpMeQuit app.

Why I Quit 

gives users a space to list their reasons for quitting and upload photos and videos to motivate them.

Distract Me 

offers four games to play instead of smoking: Bubble Pop, Hi-Lo, Hit & Miss, and Alien Invasion.
In New York City, 867,000 adults (13.1 percent) and 15,000 adolescents (5.8 percent) use tobacco products. Tobacco use is a leading contributor to premature, preventable death in New York City, killing an estimated 12,000 people annually, and its use impacts the quality of life for thousands more. Tobacco use can cause vascular disease, stroke, diabetes, heart disease, lung disease, and more than 10 types of cancer.
"Smoking is scientifically proven to cause long-term problems such as asthma, emphysema, and lung cancer," said Brooklyn Borough President Eric L. Adams. "I commend Health Commissioner Bassett for combating this public health challenge in a tech-forward manner through HelpMeQuit. I hope this innovative, hands-on approach will encourage Brooklynites to quit smoking."
"We all know the health risk associated with smoking, but for many New Yorkers it is a challenge to quit," said State Senator Gustavo Rivera. "I commend the New York City Department of Health for launching the NYC HelpMeQuit app in an effort to provide New Yorkers with easy access to resources, support and encouragement as they work to lead a healthier life." 
Health Benefits of Quitting Smoking
In 20 minutes: heart rate and blood pressure decrease.
In two weeks to three months: 

lung function improves and heart attack risk begins to drop.

In one year: the risk of heart disease is cut in half.
In 10 years: 

the risk of dying from lung cancer will be half that of a smoker.

In 15 years:

 risk of heart disease is the same as a nonsmoker.
For more information on how to quit:
Call 311 to find a local quit smoking program.
Contact the New York State Smokers' Quitline (nysmokefree.com or 1-866-NY-QUITS).
Join us on Facebook by visiting Facebook.com/NYCQuits.
Visit nyc.gov and search for "NYC Quits."
Get more information at health.nyc.gov
No related posts found...
---