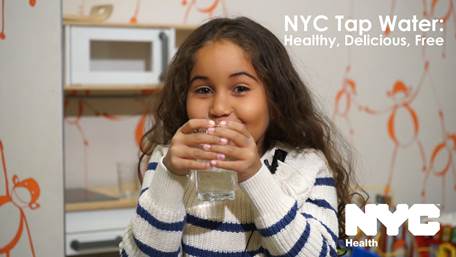 The New York City Health Department today announced a new youth-centered advertising campaign to get New Yorkers from Harlem to Hollis drinking more of the City's high quality tap water. In the "Drink NYC Tap Water" ads, school-age children share why water is a healthy choice, and how it helps them do more of what they love, like sports, dancing and singing. They also show how combining water with their favorite fruits is fun and delicious. These new ads complement recent campaigns that highlight the health benefits of drinking water, a healthy and zero calorie choice, and warn against the over consumption of drinks containing high amounts of sugar. Starting today,  the ads will run on YouTube, Facebook, Instagram and Twitter, as well as on television throughout the summer. The ads can be found on the agency's YouTube channel, NYC Health.
"We're excited to have the help of our youngest residents to encourage New Yorkers to drink more water," said Health Commissioner Dr. Mary T. Bassett. "There's no better way to stay hydrated and refreshed during the hot summer months than with New York City's high-quality tap water."
"Every single day of the year we deliver approximately 1 billion gallons of high quality tap water from protected reservoirs in the Catskills to each building in the city," said Department of Environmental Protection Acting Commissioner Vincent Sapienza.  "Drinking NYC water is healthy and it's a great way to stay cool and beat the heat during the hot summer months."
"With some unfortunate communities around the country unable to drink their local water, we as New Yorkers can sometimes take for granted our supply of the best tap water in the world. It's great to see our city's youth encouraging healthy and hydrating habits in their peers, especially during these hot summer months," said Council Member Corey Johnson, Chair of the Council's Health Committee.
"Our city's drinking water is one of our highest-quality resources. The Drink NYC Tap Water campaign will help encourage the use of this resource. Drinking from tap or from one of our city's water fountains and bottle refilling stations helps improve our environment through decreasing the waste that is produced by disposed bottles. Drinking water instead of sugary drinks also brings enormous public health benefits to our youth.  I commend Health Commissioner Bassett for her leadership on this important environmental and public health issue," said Council Member Costa Constantinides, Chair of the Council's Environmental Protection Committee, said,
"Water is good for the mind and the body," said Richard Gottfried, Chair of the NYS Assembly Health Committee. "It's also free and refreshing and we should all drink more of it."
"Sugary beverage consumption has more than doubled in the last 30 years, resulting in an increase in diabetes and catastrophic diseases.  We must create a healthy nutritional environment for our children. Obesity is one of the biggest health issues facing Americans today," said Assistant Assembly Speaker Felix Ortiz. "A majority of these extra calories come from sugar-sweetened drinks. These drinks supply 10 percent to 15 percent of total daily calories, both in children and adults, while providing no nutritional value. In New York City alone, nearly 40 percent of children, who are attending public schools, and 57 percent of adults, are either overweight or obese," he said, adding "water is a wonderful alternative."
The ad campaign complements the City's recent efforts to increase access to NYC tap water. Since 2010, the NYC Department of Environmental Protection has placed portable NYC Water drinking fountains at public plazas, busy pedestrian areas, and parks around the city during the summer months to promote the high quality of NYC Water and offer it as an economical, healthy and environmentally responsible alternative to bottled water and sugary beverages.
In 2015, the Mayor's Office of Sustainability convened the multi-agency Water Fountain and Bottle Refiller Task Force to install or repair 500 water fountains and water bottle refilling stations citywide. New Yorkers can now call 311 to find the nearest water fountain and bottle refilling stations.
The water campaign is 86 percent funded in the amount of $244,000 by the Centers for Disease Prevention and Control (CDC) – Partnerships to Improve Community Health Grant and 14 percent funded by the City.
Water is an essential building block for the human body. The body depends on water to function properly, making good hydration key to good health. The 2015-2020 Dietary Guidelines for Americans recommends reducing the amount of added sugars in the typical American diet by replacing sugary beverages with healthier options, such as water.
For additional information, search for "drink water" on NYC.gov/health or call 311.
---
---
Related Articles