---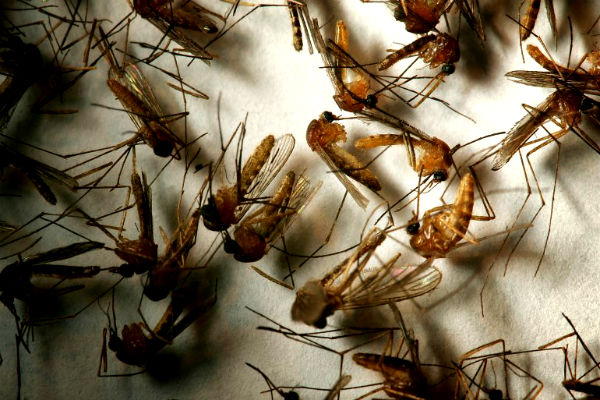 The Health Department today confirmed the first human case of West Nile virus of the 2017 season. The patient is less than 50 years of age with underlying medical conditions and is in serious condition at a Manhattan hospital.
Health Department Workers Visit Upper Manhattan And Other Boroughs To Encourage Zika TestingNew York City Health Department community outreach teams today visited over 100 health care provider…Mar 24 2016harlemworldmag.com
Human cases of West Nile virus occur each year in New York City, and most cases are identified between late July and October. While the mosquito population this year remains at an average level, West Nile virus activity varies year to year. The number of mosquito pools testing positive for West Nile virus has reached a record high at this point in the season – 337 mosquito "pools", or a collection of mosquitoes captured in a surveillance trap, have tested positive this season. This could indicate a greater risk of infection and may result in a larger number of human cases relative to other years.
The majority of the positive samples have been detected on Staten Island; however, mosquitoes with West Nile virus have been found in every borough. So far this season, the Health Department has completed seven rounds of pesticide spraying and two aerial larvicide treatments to reduce the risk of West Nile virus. Additional mosquito treatments are planned for the remainder of the mosquito season with locations to be determined by the extensive and sophisticated citywide surveillance system. To educate neighborhoods about West Nile virus, the Department has enhanced outreach to at-risk communities – particularly in senior centers and other venues – in Staten Island and Brooklyn. Health Department staff will expand outreach to Queens this week and begin distributing free mosquito repellent in high-risk areas throughout the city. More information about the City's mosquito control program can be found here.
New York Juvenile Asylum in Washington Heights, 1856-1901New York Juvenile Asylum, 175th Street near between 10th and 11th Avenues just north of Harlem in Wa…Jul 29 2014www.harlemworldmag.com
"The findings from our mosquito surveillance are concerning and serve as a reminder for all New Yorkers that they can take simple precautions to protect themselves and their families from mosquito bites: wear mosquito repellent, cover your arms and legs when you are outdoors, get rid of standing water, and install window screens," said Health Commissioner Dr. Mary T. Bassett. "We will not be able to completely eradicate West Nile virus from the mosquito population, but we can reduce human transmission and save lives."
The West Nile virus was first detected in New York City 18 years ago. Since 1999, the number of human cases has ranged from three to 47 annually. Of the 317 West Nile virus cases overall, 38 (15 percent) have died due to their infection. The number of positive mosquito pools has also varied from 40 to 827. New York City has over 50 species of mosquitos, but West Nile virus is transmitted primarily by several Culex species, including Culex salinarius and Culex pipiens.
The Health Department has successfully helped control mosquito-borne diseases with regular mosquito surveillance throughout the early spring and summer. Currently, there are 121 surveillance traps in the five boroughs. The agency's mosquito control efforts are data driven and rely on our mosquito trapping and testing results to determine areas of the city to spray pesticide and apply larvicide. The Health Department will increase spraying in neighborhoods that meet this criteria. Department employees use trucks or backpack sprayers to kill adult flying mosquitos.
Nile Rodgers, CHIC, Ne-Yo, Luke James and more At Apollo's Spring GalaThe Apollo Theater today announced details for its largest fundraising event – Apollo Spring Gala 20…May 11 2015harlemworldmag.com
Every year, as a part of normal outreach, the Health Department also conducts 80 to 90 presentations to educate communities about mosquito-borne illnesses. Community presentations on West Nile virus and other health topics can be requested here.
About West Nile Virus
West Nile virus infection can cause a mild or moderate flu-like illness, or sometimes no symptoms at all. In some people, particularly those 60 and older or who have weakened immune systems, West Nile virus can cause a serious and potentially fatal infection of the brain and spinal cord. The most common symptoms are headache, fever, muscle aches, and extreme fatigue. Symptoms of more severe illness can also include changes in mental status and muscle weakness. If you think you have symptoms of West Nile virus, see your doctor right away. For more information about West Nile virus, and how to avoid it, visit nyc.gov/health/wnv or call 311.
Reducing exposure to mosquitoes
• Use an approved insect repellent containing DEET, picaridin, oil of lemon eucalyptus (not for children under three), or products that contain the active ingredient IR3535.
• Make sure windows have screens. Repair or replace screens that have tears or holes.
• Eliminate any standing water from your property and dispose of containers that can collect water. Standing water is a violation of the New York City Health Code.
• Make sure roof gutters are clean and draining properly.
• Clean and chlorinate swimming pools, outdoor saunas and hot tubs. Keep them empty or covered if not in use. Drain water that collects in pool covers.
Report standing water by calling 311 or visiting nyc.gov/health/wnv.
For more information about West Nile virus, call 311 or visit nyc.gov.
Related articles
Related Articles
---