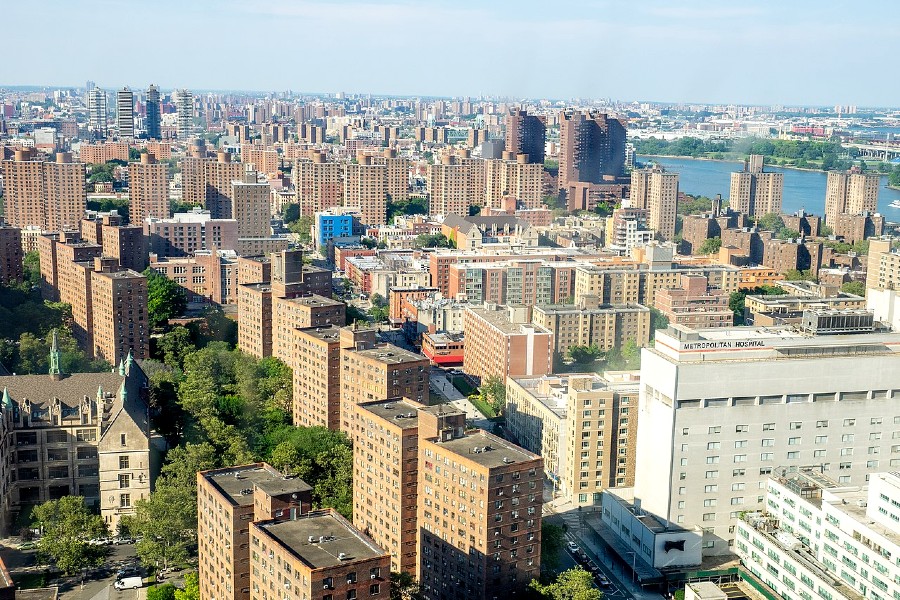 The NYC Health Department is celebrating the twenty-year anniversary of the trailblazing New York City Community Health Survey (CHS) which led the way in consistent data collection on the city level.
The CHS is conducted annually and provides robust data on the health of adult New Yorkers, including neighborhood, borough, and citywide estimates of a broad range of chronic diseases and behavioral risk factors. For two decades without interruption, CHS has been a crucial tool for understanding the health of New Yorkers, and in recent years has been vital for supplying data needed to address COVID-19. 
"A strong public health infrastructure that keeps New Yorkers healthy is based on the best data, to drive planning, policy, and programs", said Health Commissioner Dr. Ashwin Vasan. "For twenty years, the NYC Community Health Survey has provided us with objective data on what and where the biggest health problems are in New York City, allowing us to collectively design the best solutions to address these issues. These data have also been used by researchers and policymakers from all around the nation and the world, to inform public health at every level. I'm proud that CHS has collected a treasure chest of information that has been informing public health practice in our city for two decades, and I look forward to strengthening it and sharing it further, for years to come as we strengthen our public health system in the wake of COVID-19."
Since 2002, nearly 193,000 New Yorkers have responded to CHS, which has helped the Health Department compile data about smoking, diabetes, obesity, high blood pressure, and mental health, among other health conditions. The survey results are analyzed and disseminated in order to track the health of New Yorkers, influence health program decisions, and increase the understanding of the relationship between health behavior and health status. This information has been used in various City publications and data tools to help improve health outcomes for New Yorkers. Many Health Department special reports and publications in the NYC Vital Signs and Epi Data Briefs series include CHS data. Some examples of those publications, as well as data tools include:
Annually approximately 10,000 randomly selected New Yorkers aged 18 or older from across all five boroughs participate in the CHS.  From 2002 through 2020, respondents were contacted by interviewers dialing randomly selected phone numbers, and respondents took the survey by talking with interviewers. Beginning in 2021, respondents have been primarily contacted through mailings to randomly selected residential addresses, and most respondents have been taking the survey by web, with some taking the survey on the phone or on paper. Respondents can take the survey in English, Spanish, Russian, and Chinese (Mandarin and Cantonese).
"As NYC Health Commissioner, when the Community Health Survey was first created, I saw the need for new tools to better understand the health of our city's residents and neighborhoods. I am proud of the 20 years of data this survey has provided, helping to make better, more informed decisions about how to improve the health of our city," said former NYC Health Commissioner Dr. Tom Frieden, who also served as the director of the U.S. Centers for Disease Control and Prevention from 2009 to 2017.
Some examples of health measures collected from the 2021 CHS found that:
The prevalence of current smoking was 9.1%. In 2021, Black adults (11.0%) were significantly more likely to currently smoke than Asian/Pacific Islander adults (6.9%).
The prevalence of diabetes in 2021 was 12.1%. The prevalence of diabetes was lower among White (8.0%) than among Black (15.2%), Latino (15.6%) and Asian/Pacific Islander (11.9%) adults. The prevalence among Latino adults was higher than among Asian/Pacific Islander adults.
The prevalence of obesity in 2021 was 27.7%. The prevalence was higher among Black (39.8%) and Latino (34.9%) adults than among White adults (21.6%). The prevalence was lower among Asian/Pacific Islander (10.0%) adults compared to Black, Latino, and White adults.
The prevalence of high blood pressure was 28.7%. The prevalence of high blood pressure was lower among White (23.4%) and Asian/Pacific Islander (26.6%) adults than among Black (36.2%) and Latino (30.4%) adults.
And 13.7% of New Yorkers reported having current depression in the last two weeks, defined as having a Patient Health Questionnaire (PHQ-8) score of 10 or more.
Find more information about Harlem health here.
Related Articles