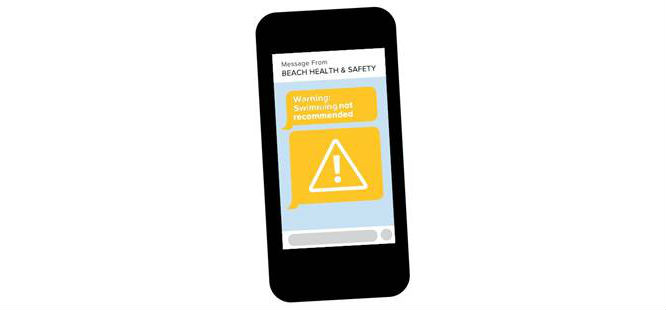 Text BEACH to 877-877 to get real-time opening, closing and water quality information before you head to the beach
With Memorial Day around the corner marking the unofficial start of summer, the Health Department today announced a free texting service so you can "Know Before You Go" if your beach is open or closed, and receive alerts about any advisories, closures, or water quality issues.
In order to sign up, simply text BEACH to 877-877 to get the status of your beach.
"Beaches in New York City are a favorite recreation destination for millions of residents and tourists every year," said Health Commissioner Dr. Mary Bassett. "Our new texting service will offer up-to-the-minute information on water quality conditions, helping to ensure that everyone's trip to the beach is a safe and healthy one."
New York City has more than fifteen miles of beach access at eight public and fifteen private beaches. The Health Department is responsible for beach surveillance and routine water quality monitoring of all public and private beaches in New York City, and regularly tests the City's beach water to make sure it is safe for swimming. When water quality near the beaches is compromised from excessive rain runoff, sewage or other pollution events, it can pose health risks to swimmers. The new text alerts will notify beach goers of any adverse conditions, and can also let you know if a previously closed beach has been re-opened.
In addition to the texting service, which has been advertised over the last few weeks at the Staten Island Ferry terminal and on bus shelters throughout New York City, the public can also visit nyc.gov and search "BEACH," or call 311 to find out if there are any warnings or closures before heading out to the beach. Public and private beaches will also post new, easy-to-read water quality advisory and closure signs to help make sure all beach goers are aware of any public health or safety risks.
The eight public beaches in New York City managed by NYC Parks, which open for swimming on Saturday, May 24, attracted more than 15 million visitors in 2013.
For more information on beaches and water quality information, please visit: http://www.nyc.gov/html/doh/html/environmental/beach.shtml
Related Articles
---