---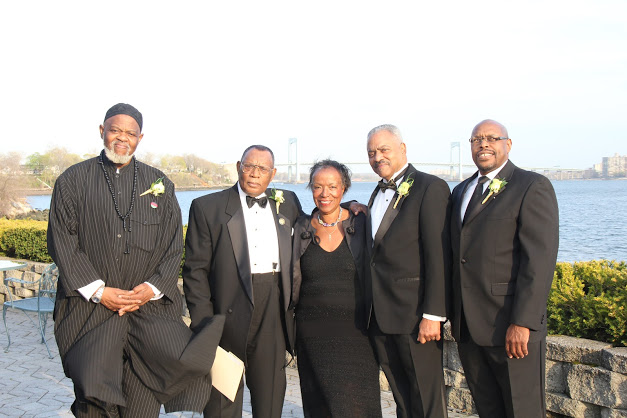 Harlem Congregations for Community Improvement, Inc. (HCCI) celebrated its 30th Anniversary "Let Us Break Bread Together" Awards Dinner on Thursday, April 21, 2016 at Marina del Rey in Throgs Neck, NY. The elegant ballroom played host to an array of powerful guests including business owners, civic and community leaders, such as Congressman Charles B. Rangel, Council Member Inez E. Dickens, former Mayor David N. Dinkins and others.
Hosted by Dr. Bob Lee of WBLS, the awards dinner honored: Assemblyman Herman Denny Farrell, Jr., New York State Assembly District 71 with HCCI's most prestigious Canon Frederick Boyd Williams Community Service Award endowed by the Rockefeller Foundation; Anthony M. Harmon, President of New York Branch NAACP and Director of Community & Parent Outreach, United Federation of Teachers (UFT) received the Humanitarian Award; Bishop Gregory G. M. Ingram, Presiding Prelate, First Episcopal District, African Methodist Episcopal received the Distinguished Service Award; Ron Moelis, Chief Executive Officer and Founding Co-Partner, L&M Development Partners was presented the Community Builder Award; and Preston D. Pinkett, III, Chairman and CEO, City National Bank of New Jersey received the Corporate Leadership Award; and Vivian A. Taylor, Ed.D., Associate Dean of Diversity & Cultural Affairs, Columbia University School of Nursing was honored with the Community Partner Award. Jazzy-soul duo Acute Inflections and John Stanley – musical director for the legendary singer Patti Labelle – and opera singer Martine Bruno punctuated the festive affair with lively music.
The evening also served as a coronation for HCCI's new Interim, President & CEO Mr. Malcolm A. Punter who greeted the HCCI supporters. Punter proudly announced the upcoming completion of the 153rd Street Corridor, which will provide a new child care center for up to 120 children, headquarters for HCCI, and additional social services for the neighborhood.
"We are celebrating 30 years of tremendous impact on the Harlem community," said Punter.  "We are also nearing completion of the of the 153rd service cooridor. HCCI's founding members envisioned this, so bringing this project to fruition, 30 years later, is a major milestone. And of course, it was my first public event serving as Interim President and CEO, a role that – as a lifelong member of this community – I will pursue with passionate dedication."
Spirits were high at this fete and Congressman Rangel surprised guests with an impromptu presentation. He enlisted former Mayor David N. Dinkins and Council Member Inez E. Dickens to present citations to Farrell and HCCI Chairman, Dr. Charles A. Curtis.
"This evening was incredibly special. Rangel, Dinkins and Farrell have each stood by HCCI since our inception 30 years ago," said Dr. Curtis.  "The citations were a wonderful accent on the importance of the impact HCCI has made in Harlem. And, our honorees are symbolic of HCCI's strength and vision for a future marked by improved social services and an increasingly stimulated local economy."
The evening closed with three scholarships presented to local high school seniors. Presented by AJ and VJ Ghaness, Ramier Williams and Ryan Brown each received the HCCI/H&N Insurance Agency & Financial Group Scholarship Award of $1000, which is funded by the Ghaness family. Anu Osibajo received the Canon Frederick Boyd Williams Community Service Scholarship Award of $1000, which is funded each year by the Rockefeller Foundation.
Proceeds from this event benefit the ongoing work of HCCI, a diverse, interfaith consortium of congregations established to revitalize the physical, economic, cultural, and spirit of the Harlem community. HCCI has made a substantial impact on the social and living conditions prevalent in Harlem by developing low to moderate income housing; creating supportive health and human service facilities and programs; providing commercial development opportunities to local businesses; and expanding cultural programs. To learn more about HCCI and to view testimonials by residents who have been impacted by HCCI's programs, please visit www.hcci.org.
Photo credit: HCCI Board members Imam Talib Abdur Muhammad, Corporate Secretary; HCCI Chairman Rev. Charles A. Curtis, Ed.D.; First Vice Chair Joan O. Dawson, Ph. D.; Second Vice Chair, George H. Weldon, Jr.; and Treasurer, Rev. Keith W. Roberson, I strike a pose outside of Marina del Rey. By Hubert Williams.
Related Articles
---