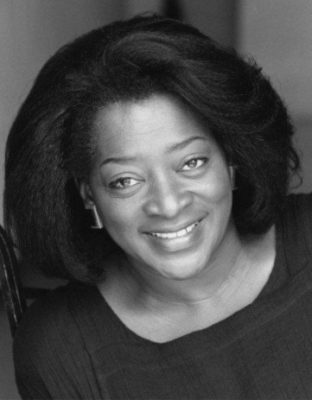 By Robert Walker
Down South in Montgomery, AL. there is a voice and personality as big as all of the state itself that echoes from Hope Hull to Harlem. That voice and personality belongs to Dr. Tommie "Tonea" Stewart who is Dean of the College of Visual and Performing Arts at Alabama State University, and the endearing actress you no doubt have seen at some point over the years in film or on television series.
This "journeyman" actress has been professionally acting since the late 60's and has had memorable performances in such films as, 'Mississippi Burning', 'A Time To Kill', 'The Rosa Parks Story', 'Invasion of the Body Snatchers III', and on television series, 'In The Heat of the Night', where she had a recurring role as Miss Etta Kibbee, 'Walker: Texas Ranger', 'Matlock', and many more.
It is her portrayal of Southern women, battered by time and circumstances from the harshness of the South, the by-products of slavery, but with the strength and pride of the African ancestors who walked proud and free in their native homeland that Tonea projects in her acting roles. Much in the way Sidney Poitier projected a sense of dignity and pride exuding royalty from an ancestry of Kings and Queens that made him such a memorable star on the big screen.
Dr. Stewart was nominated for an NAACP Image Award for her role in the film adaptation of John Grisham's 'A Time to Kill' and won the New York World Festival Gold Medal Award for the narration of Public Radio International's series 'Remembering Slavery'.
After receiving her B.S. degree in Speech and Theater from Jackson State University and an M.A. in Theater Arts from the University of California at Santa Barbara, Dr. Stewart completed her doctorates in Theater Arts at Florida State University (FSU), in 1989.
She was the first African American female to receive a doctorate from the FSU school of Theater and the first McKnight Doctoral Fellow in Theater Arts.
Dr. Stewart has received numerous awards over the years and has gained the respect in academia circles as a tenured professor and educator with a passion to pass along to the next generations the grace and pride found in performing arts as exhibited every Summer with her "Tonea" Stewart Performing Arts Camps.
Young people from Alabama, and around the country, come to Alabama State University to participate in the camps which are designed to enrich, uplift, and empower their lives.
I had the opportunity to speak with Dr. Stewart about her career and achievements and was impressed that like most people with a true passion for what they do, there is no talk of slowing down. She had just completed her 20thyear of her Summer Camp, and has several movie projects due out in 2017, including the Queen Latifah / Jada Pinkett Smith movie, 'Girls Trip' due out in July, 2017.
Q&A with Dr. Tommie "Tonea" Stewart:
---
---
Robert Walker: Dr. Stewart, you have acted in some of our great films centered around racism and the African American experience in this country. Movies like 'Mississippi Burning' and 'A Time To Kill', 'Mississippi Damned', and the 'The Rosa Parks Story' to name a few. What has been your biggest joy in doing films like these?
Dr. Tommie "Tonea" Stewart: The opportunity to work on sensitive subject matter film projects gives me the opportunity to recreate history. Our youth have no idea of our achievements as a people, It is important, for their sense of self, to learn of the past in order to appreciate the present and excel in the future.
RW: Earlier this year, we witnessed another change in government with the end of the Obama era. What were your thoughts when President Obama was first elected and what does his legacy mean for you?
DRWS: When President Obama was first elected, I thought of my father. He was a brilliant, handsome, tall and gifted electrician and a plumber. My father had barely a fourth grade education. But he was sought out by every builder in my hometown.
He never fulfilled his dreams and doubted if a black man should dream at all. Yet, he always encouraged the children to do our best, be our best and the best will come back to you. His motto was "Live while you are living, take Jesus as your friend and Die when you just can't help it" I rejoiced for my father and I cried tears of JOY because I lived to witness a day that many felt will never come.
RW: You are a Dean at Alabama State University in Montgomery, AL. and ran the theater department on campus, what has that experience been like for you, and what do you hope your students get out of their time with you there?
DRWS: At ASU I was privileged to develop a Theater Arts Program second to none. While at Alabama State, I was able to share Frank Silvera's acting concept "The American Theater of Being", my students related to this technique and are practitioners of Being. Many universities recruited our graduates and awarded them full scholarships. Now more than 40 ASU graduates hold MFA degrees in Theater Art's. Schools such as: Yale, New York University, LSU, Kentucky State. Brandeis, Brown, SCAD, Pennsylvania, Alabama State' UCLA etc.Five have starred in Broadway shows and many have stared in Television and Movie Projects. I am so proud of this log of students that they make up my trophy case as my Tony, Emmy, and my Academy Award.
RW: When school is not in session, over the Summer months you host a camp? What is the camp and its goals?
DRWS: During the summer months I started five summer camps: TAPS (Theatre Arts Performance School) ages 6 to 12.3T (Teaching Through Theatre) ages 13 to 18ARPAC (Adult Repertory Performing Arts Camp) ages 19 and UpCamp Gifted (Giving Individuals Freedom To Express Diversity)TTI (Technical Theatre Initiative) age 13 to 19.
The focus is to motivate, validate and create artistic expression. These Camps all end with a performance before an audience. The participants leave this experience empowered and enthusiastic about their future. This is a benefit that money cannot buy.
RW: You have won many awards over the years as an actress and speaker and teacher. What was one of the awards that brought you the most joy?
DRWS: I appreciate all of the awards equally. It means much to be recognized. A Highlight however, was the recognition by President Obama when he deemed me "A Champion Of Change". This recognition will always hold a special place in my heart.
RW: How are you liking the current shift in the business where we have more African American men and women working behind the scenes in Hollywood?
DRWS: I find this shift to be exciting!!! This change is welcomed and now we can tell our stories in our own voice.
RW: What one actress and actor, and Director would you love to work with?
DRWS: It would be powerful to perform with my students and be guided by the directions of one of them. I know how great they are. The world deserves to see us together. Outside of that scenario, I would enjoy one more round with Samuel L. Jackson and directed by Tina Mabry.
RW: You are still very active as an actress with several film projects coming out and planned. Is there a story you would like to see made into film and star in?
DRWS: Yes, I would love to see the play "Diary of A Black Man" made into a movie and have the opportunity to direct this project rather than Star in it.
RW: You will be seen soon in the new Queen Latifah/Jada Pinkett Smith film, 'Girls Trip'. What was that like for you and would you like to do more films like this?
DRWS: Well I will possibly be seen. My character was effective to move the scene forward. The action was in my view but not significant for the audience. Being in the presence of this dynamic cast was a privilege.
RW: If there was one bit of advice you could give to a young theater student wanting to embark on a performance arts career, what would that be?
DRWS: I would encourage that aspiring artist to "go for it"!!! If it is in your heart, you will reach others.
RW: Finally, we spoke of President Obama's legacy earlier, what will be Dr. Stewart's legacy when it's all said and done; what would you like people to remember you for?
DRWS: Remember that I gave my all. It was my desire to touch and help somebody.
Thank you Dr. Stewart. You are an inspiration and we look forward to seeing you in many more films to come.
Related articles
Related Articles