---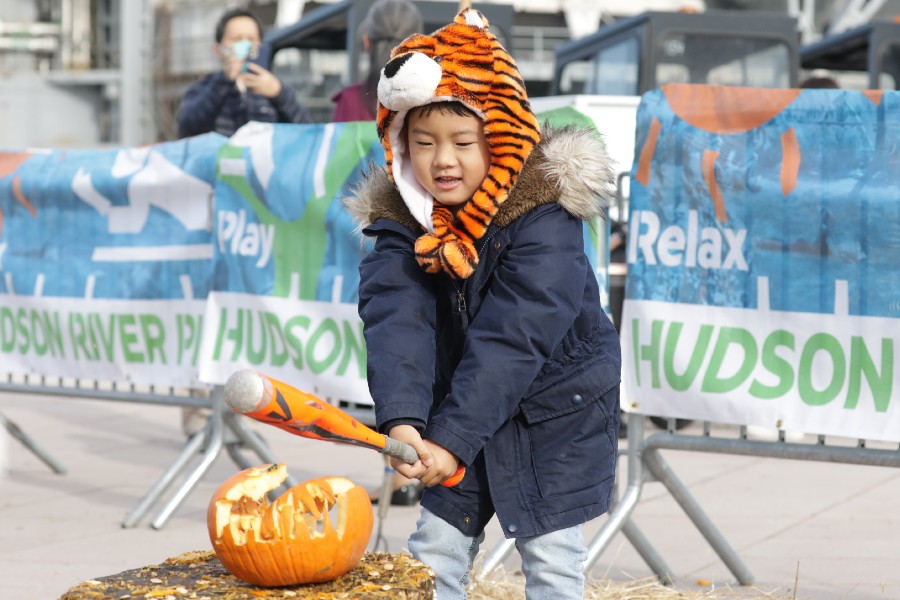 Just 30 minutes from Harlem, Hudson River Park announced today that its annual Pumpkin Smash event will return to Pier 84 on November 5, 2022.
New Yorkers of all ages are invited to smash their leftover Halloween pumpkins into small pieces that will be repurposed as compost by Park staff. 
This year's event will take place from 11am to 2pm on Saturday, November 5 at Hudson River Park's Pier 84 near W 44th St. and Twelfth Ave. Participants will use a bat, hammer or shovel to squash and smush their pumpkins, helping to jumpstart the composting process. After the event, Park staff will then convert the gourd bits into nutrient-rich compost that will be used around the Park to nourish plants. During Pumpkin Smash last year, over 1,000 pounds of pumpkin scraps were collected and used for compost.
"Environmental education doesn't have to come from a book, and it can even help you burn calories," said Noreen Doyle, President & CEO of the Hudson River Park Trust. "Throughout the year, we host fun, interactive events that increase appreciation and understanding for our environment and help inspire the next generation of environmental stewards." 
"Community Composting and other Park sustainability initiatives are not only crucial to preserving our treasured blue and green spaces but are also deeply valued by our members and supporters, and we're excited to welcome New Yorkers back for another Pumpkin Smash this year," said Connie Fishman, Executive Director of Hudson River Park Friends. "This fun and educational event offers our community a great way to turn their leftover pumpkins into valuable compost for the Park's beautiful landscapes and gardens. By turning more local residents into environmental stewards, we can all play a role in creating a greener, more sustainable city." 
Pumpkin Smash is designed to help divert seasonal organic waste from landfills and offers an opportunity for park goers to learn about the year-round benefits of composting. This year, the Park has invested in expanding its compost capacity thanks to a grant from the New York State Pollution Prevention Institute which allowed for the purchase of a larger composting machine.
Hudson River Park's Community Compost Program began in 2015 and is now a year-round effort that includes ten drop-off sites where local residents can deposit food scraps 365 days each year. This year, the Park launched its interactive Community Compost Tracker on its website so that the community can see how many pounds of compost were collected at each location and track community participation on both a monthly and annual basis.  
Through its community compost initiative and other compost-focused education programs and workshops, including Pumpkin Smash, the Park diverted over 490,000 pounds of organic waste from landfills in 2021 and is on track to exceed that total in 2022. Composted food waste helps reduce harmful carbon emissions by reducing the need for waste to be shipped outside of New York City on gas-guzzling vehicles or barges that release carbon dioxide into the atmosphere. Composted soil also benefits the overall health of the Park by enriching lawns and flowerbeds and providing protection against pests and disease.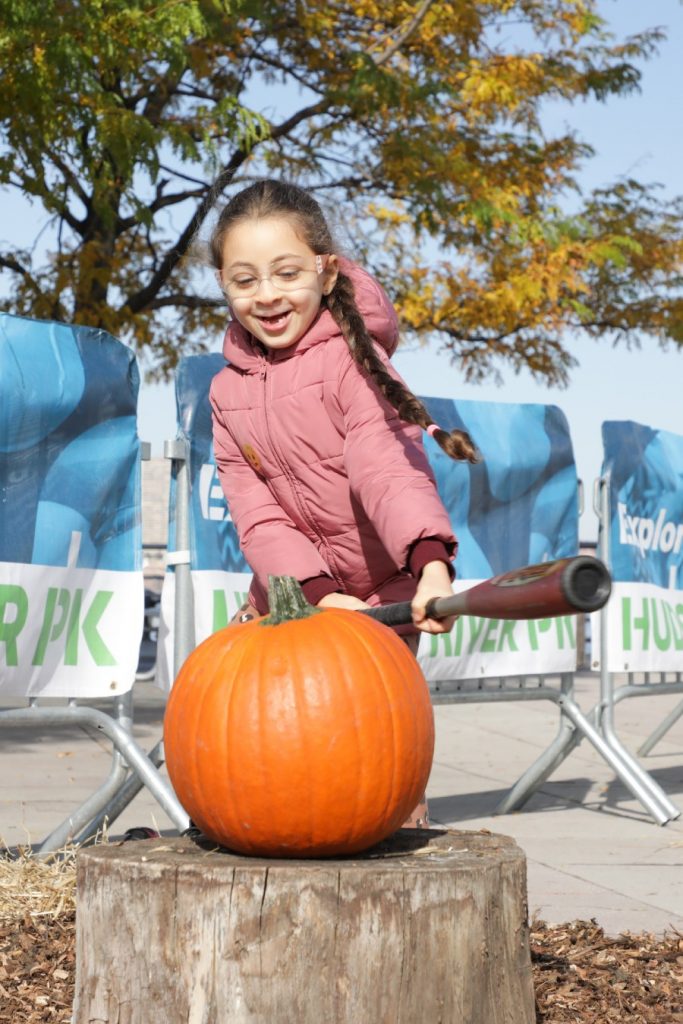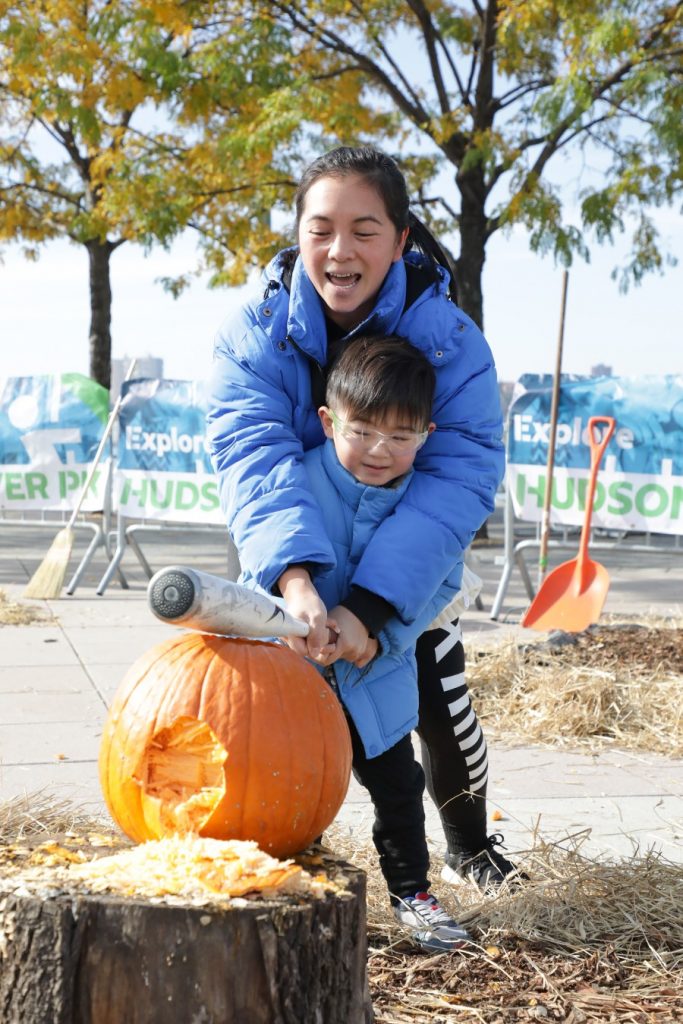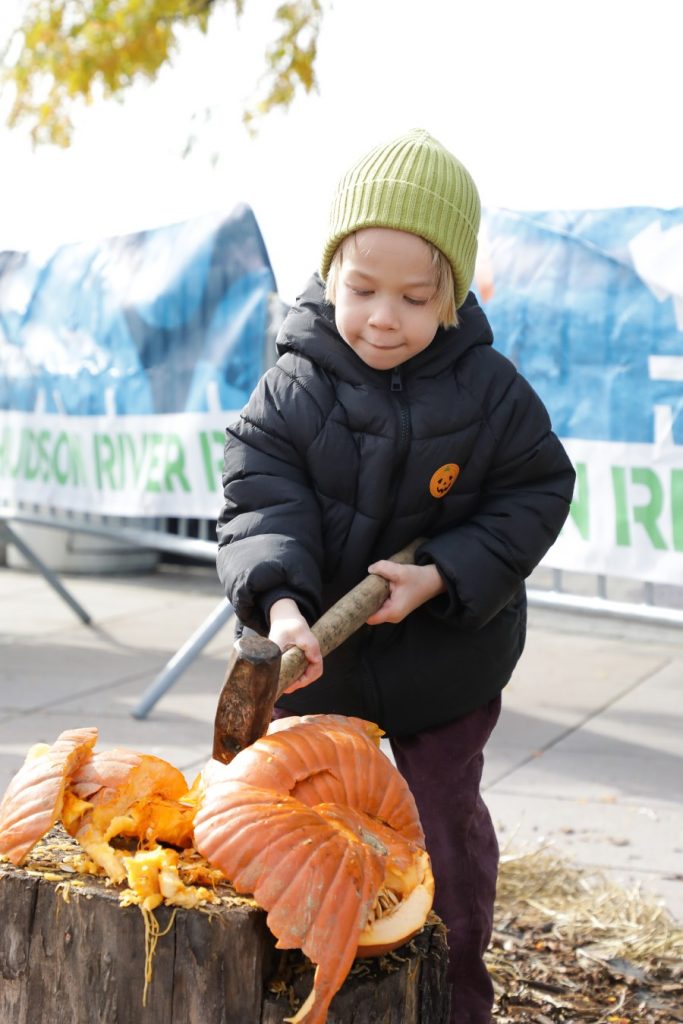 Hudson River Park Trust
Hudson River Park Trust is a unique partnership between New York State and New York City charged with building and operating Hudson River Park between approximately Chambers Street and West 59th Street along Manhattan's west side.
This free, urban recreational oasis is home to award-winning skate parks, playgrounds, sports fields, gardens and nature exhibits, boating and maritime activities, art installations, and myriad year-round events that celebrate the diverse cultures and neighborhoods along its shores.
The Park, which has transformed four miles of decaying piers and parking lots into a premier New York City destination for local residents and visitors alike, plays a critical role in protecting the Hudson River ecosystem.
For more information, please visit www.hudsonriverpark.org.
Photo credit: Max Guliani for Hudson River Park.
---