---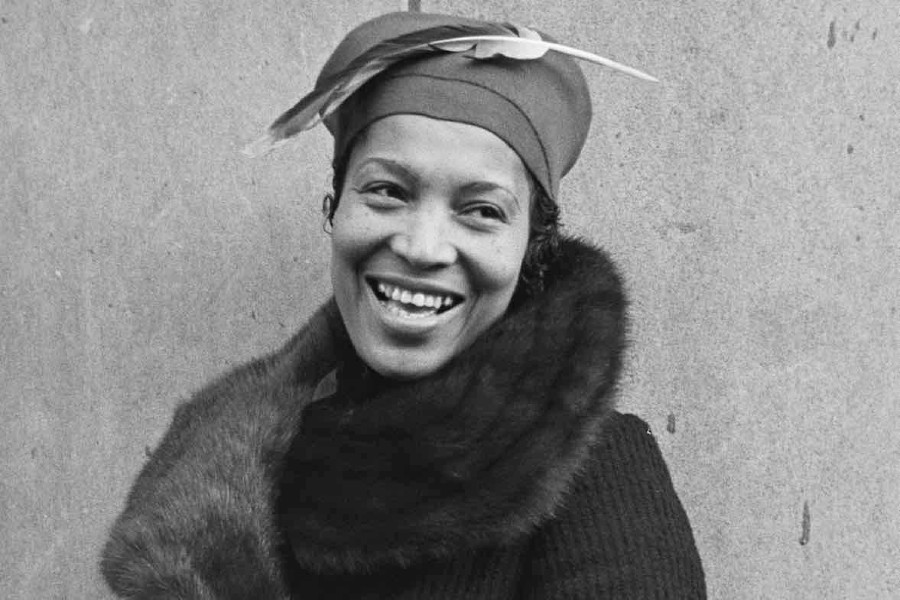 AMERICAN EXPERIENCE presents Zora Neale Hurston: Claiming a Space, a new in-depth biography of the influential author.
Whose groundbreaking anthropological work would challenge assumptions about race, gender, and cultural superiority that had long defined the field in the 19th century. Directed by Tracy Heather Strain, produced by Randall MacLowry, and executive produced by Cameo George, the film premieres on AMERICAN EXPERIENCE on Tuesday, January 17, 9:00-11:00 p.m. ET (check local listings) on PBS, PBS.org and PBS Video app.
Raised in the small all-Black Florida town of Eatonville, Zora Neale Hurston studied at Howard University before arriving in New York in 1925. She would soon become a key figure of the Harlem Renaissance, best remembered for her novel Their Eyes Were Watching God. But even as she gained renown in Harlem literary circles, Hurston was also discovering anthropology at Barnard College with the renowned Franz Boas. She would make several trips to the American South and the Caribbean, documenting the lives of rural Black people and collecting their stories. She studied her own people, an unusual practice at the time, and during her lifetime became known as the foremost authority on Black folklore.
Immersing herself in the worlds of her participants, Hurston focused on building trust. She interviewed Cudjo Lewis, one of the last known surviving Africans of the slave ship Clotilda, collected folklore at lumber camps, phosphate mines, and turpentine distilleries, and studied "hoodoo" in New Orleans. Her techniques paid off, yielding a plethora of material, which Hurston turned into a series of papers, plays, and stories. By 1932, she had been published twice in the Journal of American Folk-Lore. 
In 1936, with the help of two Guggenheim fellowships, Hurston traveled to Haiti and Jamaica and focused on her literary and scientific work. While in Haiti, she wrote Their Eyes Were Watching God, mixing memory, fiction, and research.
In 1937, the novel was published to acclaim, followed by Tell My Horse, her second ethnographic book, in 1938. But royalties from both books were not enough to give Hurston financial security.
Despite her success, the end of Hurston's life was marked by money woes and a multitude of setbacks. To make ends meet, she published her autobiographical book Dust Tracks on a Road in 1942. While the book helped establish her as a literary celebrity, Hurston still struggled financially. She eventually landed in the Black community of Fort Pierce, Florida, where she worked a series of odd jobs.
On January 28, 1960, at the age of 69, Zora Neale Hurston died in near obscurity following a stroke in a nursing home. Although now heralded as a great literary figure, her work in anthropology — and her pivotal role in elevating Black culture and folklore  — is only now being fully appreciated.
"Zora Neale Hurston has long been considered a literary giant of the Harlem Renaissance, but her anthropological and ethnographic endeavors were equally important and impactful," says AMERICAN EXPERIENCE Executive producer Cameo George. "Her research and writings helped establish the dialects and folklore of African American, Caribbean, and African people throughout the American diaspora as components of a rich, distinct culture, anchoring the Black experience in the Americas."
AMERICAN EXPERIENCE Zora Neale Hurston: Claiming a Space will stream simultaneously with broadcast and be available on all station-branded PBS platforms, including PBS.org and the PBS Video app, available on iOS, Android, Roku, Apple TV, Amazon Fire TV, Android TV, Samsung Smart TV, Chromecast and VIZIO. The film will also be available for streaming with closed captioning in English and Spanish.
Major funding for AMERICAN EXPERIENCE is provided by Liberty Mutual Insurance and by the Alfred P. Sloan Foundation. Additional funding is provided by the Robert David Lion Gardiner Foundation, The Documentary Investment Group, the Corporation for Public Broadcasting, and public television viewers. All titles are distributed internationally by PBS International.
---