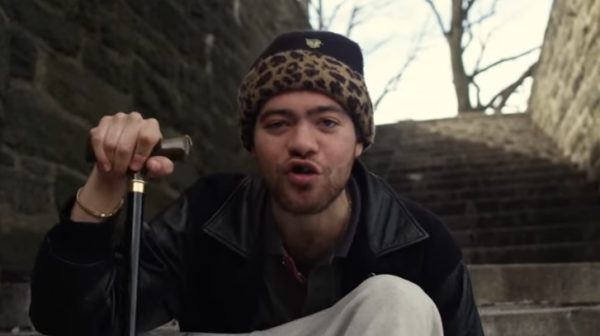 Now that he's 23, Harlem rapper Wiki is starting to look a lot like Kevin Corrigan, the Bronx character actor who played criminals or mob affiliates in Goodfellas, True Romance, The Departed, Superbad, and plenty of other movies.It's only fitting, then, that Wiki spends his latest video running around North Manhattan's Fort Tryon and Inwood Hill parks with a cane and a Sopranos jacket.
Wiki, born Patrick Morales, is half Irish, half Puerto Rican (just like Corrigan), and has been the pride of East Coast boom bap fans since his grimy "Wikispeaks" video blew up in 2012. He's explored weirder, more abrasive terrain with his group, Ratking, but his solo work has always been a little more conventional. As Wiki himself puts it in "Icarus," he's "old school like your mama's weed."
Although he may be the type to craft an EP with rap classicist Your Old Droog and lament the fact that New York rappers have started copying Southern artists by drinking lean, Wiki's not afraid of rapping on instrumentals that no '90s (or '90s-mimicking) MC would have touched with a ten foot pole.
"Icarus" consists of a heavily phased sample and a booming, unconventional beat that allows Wiki a plethora of negative space to play with. He's an extremely gifted lyricist and flowsmith, but he's also not trying to cram as many syllables as possible into every line, an approach that works wonders on this type of beat.
There's no word on whether "Icarus" is a loosie or if it will be included on the yet-to-be-announced follow-up to Wiki's debut solo tape, 2015's Lil Me. We also haven't heard any rumblings about any new Ratking music since rapper Hak left the group last June.
Needless to say, fans of both have been patiently awaiting new music, and for now, the intriguing "Icarus" will do just fine.
Here's the video below:
Via source
Related Articles