---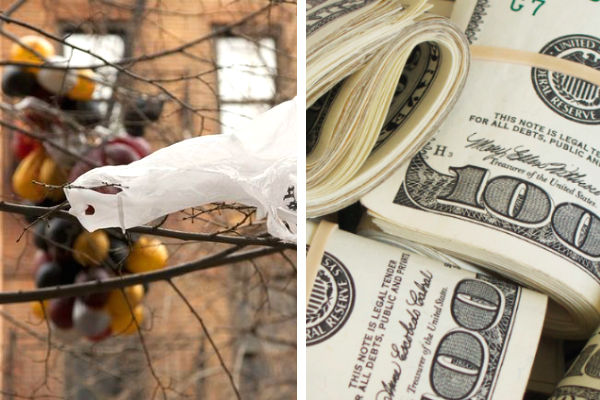 More than 175 groups today launched a new coalition to protect funding for critical environmental programs.
The programs that support hundreds of thousands of good-paying jobs, fortify local New York economies, protect clean drinking water, create new parks, advance environmental justice, and mitigate the intensifying climate crisis.  These state programs include:
Environmental Protection Fund (EPF): The EPF supports 350,000 jobs across the state and approximately $40 billion in economic activity each year. The program has a strong track record in preventing pollution, improving water quality, protecting family farms, and expanding parks, trails, gardens, and zoos across the state.
Clean Water Infrastructure Act: New York's drinking water and wastewater systems need tens of billions of dollars in upgrades to ensure our communities have safe drinking water. To date, the State has provided $3.9 billion for water infrastructure programs, including the Clean Water Infrastructure Act, and Governor Cuomo committed an additional $1.5 billion over the next three years as part of the FY19 budget for a total commitment of $5.4 billion. This program is a job generator, with every $1 million in state investment resulting in 17 local jobs.
NY Parks 2020 and DEC Capital Funding: Over the last 10 years, Parks 2020 has funded $1 billion in upgrades to NY's world-class state parks system. Every dollar invested in state parks generates $5 of economic activity. Likewise, the DEC NY Works Program has improved public recreation opportunities throughout the state and ensured the agency can address pollution that threatens both public health and natural resources.
Over the course of the program, $228 million of Regional Greenhouse Gas Initiative funds (17% of total funding) have been transferred by NYSERDA to the state General Fund, depriving New Yorkers of funding that could have lowered energy bills and created good jobs. RGGI funds need to be fully dedicated to New York's climate change initiatives, including meeting the state's ambitious climate goals.
The coalition, New Yorkers for Clean Water & Jobs, is also calling for the reinstallation of the Environmental Bond Act on the ballot. If put back on the ballot and passed by voters, the Environmental Bond Act would dedicate $3 billion to create jobs, protect clean water, modernize outdated water infrastructure, and address climate change.
The coalition is also advocating for federal aid for New York as the state grapples with a massive budget deficit bought on by the pandemic.
Environmental programs have historically driven state economic recovery, serving as a proven investment that makes New York communities stronger and healthier. The ongoing pandemic and the escalating climate crisis put further urgency on protecting environmental programs that improve public health, safeguard clean water, strengthen the economy, allow New Yorkers to spend time in nature, and enable communities to reduce local climate risks.
Coalition members include WE ACT for Environmental Justice and other partners listed below:
+ POOL
Adirondack Council
Adirondack Land Trust
Adirondack Mountain Club
Adirondack Wild: Friends of the Forest Preserve
Agricultural Stewardship Association
Alley Pond Environmental Center, Inc
Alliance for a Green Economy
Alliance for the Great Lakes
American Farmland Trust
Appalachian Mountain Club
Association for a Better New York
Atlantic States Legal Foundation
Audubon New York
Audubon Society of the Capital Region
Bedford Audubon
Buffalo Niagara Waterkeeper
Capital Roots
Catskill Center
Catskill Mountainkeeper
Central Westchester Audubon Society
Champlain Area Trails
Chautauqua Watershed Conservancy
Chemung Valley Audubon Society
Citizens Campaign for the Environment
City Parks Foundation
Clean and Healthy New York
Climate XChange
Coalition of Living Museums
Coalition to Save Hempstead Harbor
Columbia Land Conservancy
Concerned Citizens of Montauk
Construction Industry Council of Westchester and Hudson Valley
Defend H2O
Delaware-Otsego Audubon Society
Ducks Unlimited
Earthjustice
Eastern Long Island Audubon Society
Edmund Niles Huyck Preserve, Inc.
Empire State Forest Products Association
Environmental Advocates NY
Environmental Defense Fund
Finger Lakes – Lake Ontario Watershed Protection Alliance
Finger Lakes Land Trust
Food & Water Action
Four Harbors Audubon Society
Friends of Georgica Pond Foundation
Friends of the Bay
Friends of the Upper Delaware River
Friends of Tillson Lake, Inc.
Friends of Times Beach Nature Preserve
Genesee Land Trust
Genesee Valley Audubon Society
Genesee Valley Conservancy, Inc.
Grassroots Gardens WNY
Great Neck Breast Cancer Coalition
Great South Bay Audubon Society
Green Ossining
Greene Land Trust
Groundwork Hudson Valley
Group for the East End
HabitatMap
Hampton Bays Civic Association
Harlem Valley Rail Trail Association
HEALTHY SCHOOLS NETWORK
Hempstead Harbor Protection Committee
Hudson Highlands Land Trust
Hudson River Audubon Society of Westchester
Hudson Valley Fishermen's Association
Huntington Breast Cancer Action Coalition, Inc.
Huntington-Oyster Bay Audubon Society
Indian River Lakes Conservancy
Institute for Ocean Conservation Science at Stony Brook University
Keuka Outlet Trail
Kingston Land Trust
Lake Agawam Conservancy
Lake George Land Conservancy
Lake Placid Land Conservancy
Land Trust Alliance
Lewisboro Land Trust
Long Island Contractors' Association, Inc.
Long Island Pine Barrens Society
Manhasset Bay Protection Committee
Mianus River Gorge
Mohawk Hudson Land Conservancy
Mohonk Preserve
Moms for a Non Toxic New York
Nassau County Soil and Water Conservation District
Nassau Hiking & Outdoor Club
Natural Areas Conservancy
Natural Resources Defense Council
New York Botanical Garden
New York Building Congress
New York City Audubon
New York League of Conservation Voters
New York Restoration Project
New York State Assc. of Reduction, Reuse and Recycling (NYSAR3)
New York State Laborers' Union
New York State Pollution Prevention Institute
New York State Urban Forestry Council
New York-New Jersey Trail Conference
New Yorkers for Parks
Newtown Creek Alliance
Northeast Organic Farming Association – New York (NOFA-NY)
North Fork Audubon Society
North Fork Environmental Council
North Salem Open Land Foundation
North Shore Audubon Society
Northern Catskills Audubon Society, Inc.
Northern New York Audubon
NY Climate Reality Chapters Coalition
NY Product Stewardship Council
NYC Audubon
NYPIRG
Onondaga Audubon
Ontario Bays Initiative, Inc (OBI Land Trust)
Open Space Institute
Orange County Audubon Society
Orange County Land Trust
Otsego Land Trust
Our Outer Harbor Coalition, Buffalo
Palisades Parks Conservancy
Parks & Trails New York
Peconic Baykeeper
Peconic Estuary Protection Committee
Peconic Land Trust
Pollinator Conservation Association, Inc
Preservation League of New York State
Protect the Adirondacks!
Putnam County Land Trust
Rebuild by Design
Renewable Energy Long Island (reLI)
Rensselaeer Plateau Alliance
RETI Center
Riverkeeper
Riverside Park Conservancy
Rochester Museum and Science Center
Sag Harbor Village Harbor Committee
Saratoga PLAN (preserving land and nature)
Save The Great South Bay
Save the Sound
Saw Mill River Audubon
Scenic Hudson
Seatuck Environmental Association
Serpentine Art and Nature, Inc.
Setauket Harbor Task Force
Sierra Club Atlantic Chapter
Somers Land Trust
South Shore Audubon Society
Southampton Town Civic Coalition
Southern Madison Heritage Trust
St. Lawrence Land Trust
Stormwater Infrastructure Matters (SWIM) Coalition
Surfrider Foundation
Sustainable Westchester
SWANA – New York Chapter
Syracuse Cultural Workers
Teatown Lake Reservation
The Conservation Fund
The Nature Conservancy
The North Shore Land Alliance, Inc.
The Trust for Public Land
Theodore Roosevelt Conservation Partnership
Trout Unlimited
Tug Hill Tomorrow Land Trust
Urban Green Council
Van Cortlandt Park Alliance
Vision Long Island
Wallkill Valley Land Trust
Waterfront Alliance
WE ACT for Environmental Justice
Westchester Land Trust
Western New York Environmental Alliance
Western New York Land Conservancy
Wildlife Conservation Society
Winnakee Land Trust
Woodstock Land Conservancy
New Yorkers for Clean Water & Jobs
New Yorkers for Clean Water & Jobs is a broad coalition formed to demonstrate the vast support for New York environmental funding and programs that protect clean water and air, create jobs, and address the climate crisis.
For more information on the website, please visit www.cleanwaterandjobs.org.
Follow us on social media: Twitter, Facebook, and Instagram.
---