---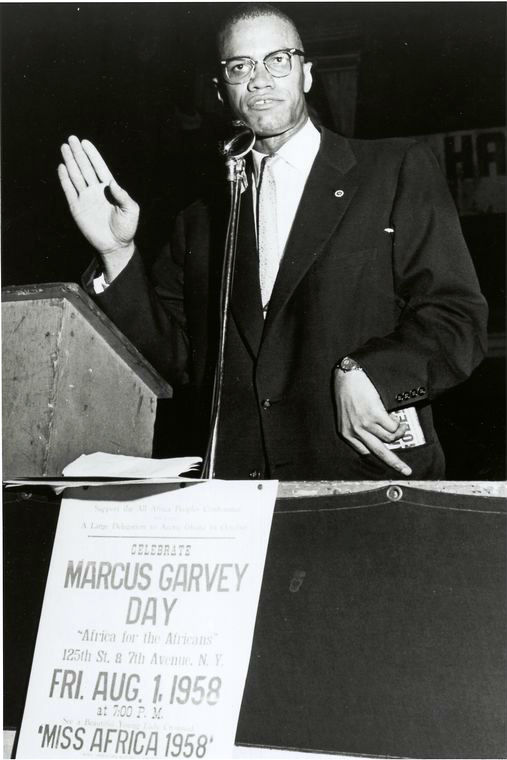 The Schomburg Center for Research in Black Culture will host a public display from October 23 through November 10, 2018, of its newly-acquired, never-before-seen manuscripts, notes, and an unpublished chapter from The Autobiography of Malcolm X.
The limited-time public display will be open to the public for viewing at the Schomburg Center near the main entrance and will feature selections of Malcolm X's autobiographical writing with Alex Haley including:
The partial, yet-extensive manuscript of The Autobiography, illustrating the influential text as a work-in-progress, with back-and-forth written dialogue between Malcolm X and Haley on everything from diction to timing and tone
Written fragments showing Malcolm X's reworking of key passages from the final pages of his autobiography
The never-before-seen unpublished chapter from The Autobiography of Malcolm X, titled "The Negro," which was removed from the manuscript during the editing process
New manuscript pages will be displayed weekly through November 10, 2018. On November 13, 2018, researchers will be able to access the manuscripts by appointment at the Schomburg Center with a New York Public Library card.
On July 27, 2018, the Schomburg Center announced acquisition of the Malcolm X Manuscripts, previously held by a private collector, who acquired them at a sale of Alex Haley's estate in 1992. The acquisition is a critical addition to over 16 linear feet of Malcolm X manuscript material, including a diary, letters, speeches, photographs, and journals currently available at the Schomburg Center.
"I believe that it would be almost impossible to find anywhere in America a black man who has lived further down in the mud of human society than I have; or a black man who has been any more ignorant than I have been; or a black man who has suffered more anguish during his life than I have. But it is only after the deepest darkness that the greatest joy can come; it is only after slavery and prison that the sweetest appreciation of freedom can come."—Malcolm X
"These materials are extremely significant, as they can provide researchers with extensive new insights into the writing process and thoughts of one of the most important and influential figures and books of the 20th Century," said Schomburg Center Director Kevin Young on the acquisition. "The Autobiography of Malcolm X is a monumental work; to actually see how that book took shape through Malcolm X's handwritten corrections and notes is very powerful. Additionally, the omitted chapter, believed to be removed after Malcolm X's death, places the work in a new context, and provide an understanding as to why it was excluded from the book in the first place. The possibilities for new revelations are nearly endless, and we are so proud that the Schomburg Center can bring this material to light for the first time."
Learn more at schomburgcenter.org
Photo credit: Malcolm X speaking at a Marcus Garvey Day Celebration, at West 125th St. and 7th Avenue, in Harlem, New York, Friday, August 1, 1958.
---