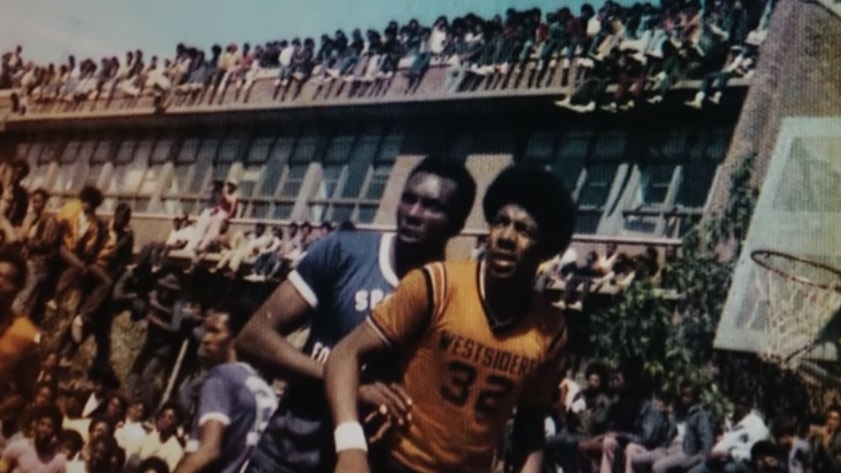 "The Rucker" turned 50 in 2015 at its current location in Harlem, located at 155th Street and Frederick Douglass Boulevard. The Rucker Pro Tournament, internationally known as The Rucker, was born the summer 1965, the same year as the Voters Rights Act of 1965, the March on Selma, the assassination of Malcolm X and the passing of Holcombe Rucker, and is arguably the most famous street court in the world. The mentor of the founders and the man they named the park after, Holcombe Rucker, was a playground director in Harlem for the New York's Parks and Recreation; he established the historical pro-am tournament that still bears his name. Through his efforts, over 700 individuals were able to obtain basketball scholarships to help finance their education. He believed in and coined the motto: 'Each one, teach one.'
#RUCKER50 is a 55-minute journey, debuting on iTunes on February 1, told via the voices of such basketball greats as Julius Erving, Rick Barry, Nancy Lieberman, Dr. Dick Barnett, Derrick Coleman, Albert King, Kenny Anderson, and Chris Broussard. Explore and journey with the aforementioned NBA legends, pro-basketball players, civil rights activists, Harlem residents, musicians, Rucker players and real live spectators as they convey how The Rucker helped shape basketball and history.
One of the premier elements of The Rucker was hip-hop music and culture. The compelling, freestyle and innovative style of play at The Rucker has influenced past and current greats in the NBA. The Co-founders of the Rucker Pro Tournament, Bob McCullough Sr. and former LA Laker and NY Knick Fred Crawford continue the legacy today with the National Association of Each One Teach One.
Fifty years of The Rucker reverberate throughout basketball, hip-hop, Harlem and life. The filmmakers include Director Robert McCullough Jr., Producer Darryl L. Neverson, and Producer Eric Maryea. Founder Bob McCullough Sr., father of Director Robert McCullough Jr., states: "Holcombe Rucker was like a father to me. Without him, I might have ended up as a hustler on the corner."
Watch the trailer below as well as Nancy Lieberman's take on The Rucker: Nancy Lieberman Witness the stories of how The Rucker touched, changed and matured the hearts of many.
Photo of Dr. J playing in Rucker Park Harlem, NY.
Related Articles
---
VIDEO
---
"Dr. Harry Delany is a renowned Harlem born and raised surgeon, the son of the great jurist and civil rights leader, Hubert Delany...." This monthly post is made in partnership with Harlem Cultural Archives.