---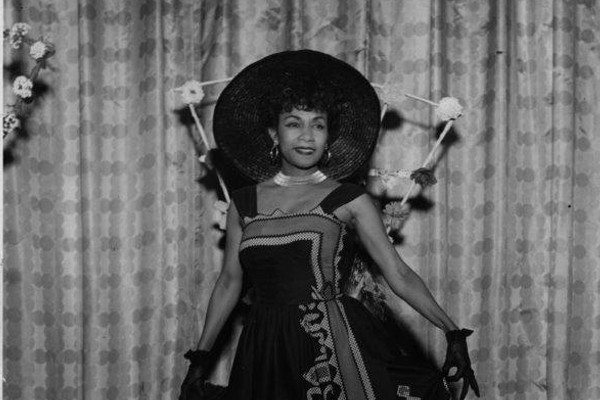 Ruby Bailey was born in Bermuda in 1905 and arrived in the United States in 1912 with her mother and sister. She lived in Harlem until her death in 2003 at the age of 97. Growing up during the Harlem Renaissance, Bailey embraced both visual and performing arts, participating in fashion shows, art exhibitions, and theatrical productions at locales including St. Phillips Episcopal Church, the Savoy Ballroom, and Small's Paradise in Harlem, NY.
She was well known for her portraiture and illustrations. W.C. Handy, often called the father of the blues, commented on her portrait of Richard B. Harrison, the actor who portrayed 'de Lawd' in the Broadway play Green Pastures, in the New York Age on June 8, 1940:
[I]f I had a million dollars, I would gladly make you recipient of it in exchange for the picture. – W.C. Handy
August 16, 1941, New York Amsterdam-Star News cited Bailey's presentation of 19 original costume designs at the Alma Reed Galleries on 57th Street, noting she was the only "Negro" artist.
Related: Get more Harlem history HERE.
Bailey had the flamboyantly expressive personality often associated with New York generally and Harlem in particular.
She was a member of many social and art clubs and a regular on the Harlem social scene, which necessitated an extensive wardrobe.
Perhaps this fostered her fashion design career since African Americans were not permitted access to mainstream clothing and other retail establishments at that time. Bailey was Afro-centric before people knew what Afro-centric was.
The Amsterdam News and the New York Age, have covered Bailey extensively, publishing photographs of her wearing daring creations unusual in other parts of the country, but quite appropriate for the New York fashion scene.
One such creation was a zebra-printed "African" influenced jacket, featured in the New York Amsterdam News in 1949. She handcrafted 29 "Manikins" (mannequins).
They are Barbie-sized figures made with cotton fiber and glue. The detail of workmanship in the facial expressions, delicate fingers, poses, settings, and clothing designs rival the mannequins in the Theatre de la Mode produced by French designers after World War II.
Bailey's figures are dressed in beaded gowns, leather suits, fur coats, and African and Native American clothing. Their hairstyles include Afros, cornrows, and short blond bobs, appropriate to each character and clothing. Snakeskin boots, sandals, gloves, and jewelry complement the clothing.
Ruby Bailey was a member of the International Ladies Garment Workers Union as a master beader. According to a New York Amsterdam-Star News article, April 9, 1949, Hollywood costume designer Adrian saw her designs at the St. Regis hotel and selected some to be adapted for his designs.
In 1949 civil rights activist and educator Mary McLeod Bethune invited Ms. Bailey to attend a conference in Harlem's Hotel Theresa sponsored by the National Council of Negro Women.
Mainstream fashion industry professionals including designer Mollie Parnis, Vogue managing editor Esther Lyman, and milliner Sally Victor addressed the conference.
Later that year the National Association of Fashion and Accessory Designers (NAFAD) was established to help promote and integrate "Negro" designers into mainstream fashion.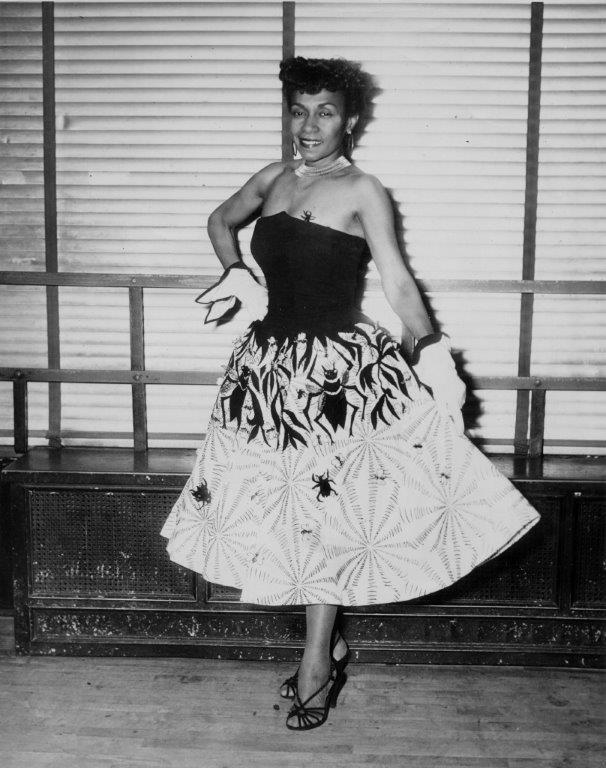 Bailey is famous for her "Bugs" cocktail dress, printed with webs and adorned with silhouetted spiders and jeweled bees, worn to the "Bugs" Cotton Extravaganza held at Lenox Avenue's legendary Savoy Ballroom in 1953-54 in Harlem, NY.
Pearl Bailey (no relation) in her performance on Broadway in Hello Dolly, 1967 (pictured on the right).
"Fashion's Racial Divide," a New York Times article published on February 11, 2015, cited many of the same issues for present-day African American designers that Bailey faced 56 years ago.
Read more about Ruby Bailey HERE.
Photo credit: 1-2) Source.
---