---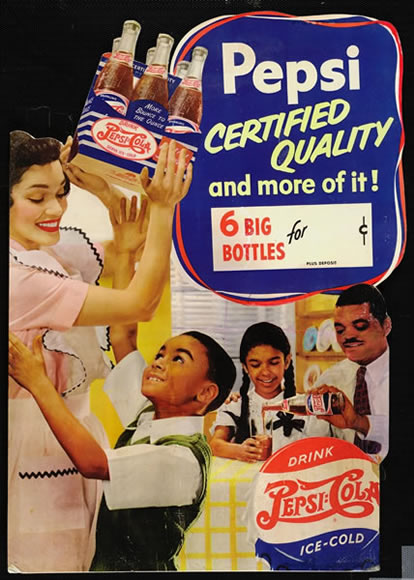 A the Wall Street Journal Reports the so-called Negro marketers helped bolster sales at Pepsi-Cola during its most troubled times. But they also helped define the concept and strategy of niche marketing and were instrumental in changing the way African-Americans were portrayed in advertising.
Instead of stereotypes — from Uncle Bens and Aunt Jemimas to offensive caricatures of bare-bottomed children — the Pepsi-Cola's Walter S. Mack, the astute president wanted their ads that appeared in the black press wanted to show African-Americans as stylish, fun-loving, middle-class consumers living the American Dream. Mr. Mack hired Edward F. Boyd, a onetime singer and actor working then for the National Urban League in New York, to create the new division.
Mr. Mack Six members of that team, now in their 80s and 90s, lived to tell their story for the book, "The Real Pepsi Challenge": Mr. Boyd, Dr. Jean Emmons of Florida, Allen L. McKellar of St. Louis, Julian C. Nicholas of North Carolina, William R. Simms of Massachusetts and Dr. Charles E. Wilson of New Jersey and hired some of the first professional black models. "I kept saying, I wanted to make something impressive," he said.
He launched three major press campaigns from 1948 to 1951. For the first, he found accomplished African-Americans to profile for a "Leaders in Their Fields" series — about 20 names in all. The campaign compared the professionals with Pepsi, a "Leader in Its Field." It began in April 1948 with United Nations diplomat Ralph Bunche. That series was complemented in the upstart Ebony magazine by a seven-ad series drawn by award-winning African-American cartoonist Jay Jackson, known for his biting satire of racists and red-baiters. For his third series, Mr. Boyd took a crew to the campuses of black universities to photograph top students enjoying Pepsi.
Finally, Mr. Boyd was ready to tackle the displays in stores selling the soft drink. He wanted to make a splash with a colorful point-of-sale advertising piece showing a black family, and thought a friend's son would make a perfect model. The seven-year-old was handsome, bright and full of energy. His real-life father, William Brown, was the new manager of a hotel in Harlem. "Ronnie used to run around the Theresa hotel, in and out of the bar, greeting people," said Mr. Boyd with a grin. "He was very precocious. We were concerned he'd come to no good."
To everyone's surprise, when it was the young boy's turn to pose for the shoot, he was poised, cooperative and professional. He did his shoot, smiling and reaching up for a six-pack of Pepsi held by his "mother," a popular new model named Sylvia Fitt also from Harlem. The result was a handsome tableau of a middle-class African-American family enjoying a meal and Pepsi.
The boy was Ron Brown, who grew up to become secretary of commerce in the president Bill Clinton administration.
In The Real Pepsi Challenge reports that Ron Brown cherished the ad, and kept it on display in his office in Washington. After he was killed on a trade mission to Croatia in 1996, his mother returned the ad to Mr. Boyd.
The ad campaigns were a hit. Thousands of individuals and schools asked for reprints of the Leaders series to use as educational tools.
---