---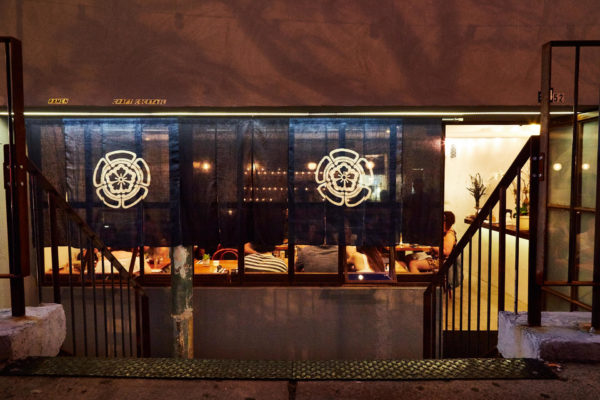 If you walked past Harlem's ROKC on Broadway you might think nothing of it. The restaurant and cocktail lounge — its name an acronym for ramen, oysters, kitchen and cocktails — has dark curtains in its windows and sits next to an eye-catching bodega with neon signage.
But despite its unassuming exterior, ROKC is getting some serious recognition for its inventive offerings. On Thursday ROKC was named one of its 24 best bars in America for 2017 by Esquire.
ROKC, located on Broadway near West 141st Street, draws inspiration from the traditional restaurants of the Japanese Meiji Period, according to its website.
"ROKC is a contemporary twist on restaurants that were found in traditional Japanese port towns during the Meiji Period, when Japan first became open to the rest of the world after nearly two centuries of seclusion. Not unlike these ports, ROKC is where East meets West, where the past fuses with the present," reads ROKC's website.
Esquire hailed the inventive nature of ROKC's cocktails and how they are served. Who needs a glass when you can drink an alcoholic beverage out of a lightbulb?
"Drinks in eggshells and conch shells. Drinks in lightbulbs and ceramic skulls: ROKC, in the Hamilton Heights neighborhood of way-uptown Manhattan, would feel like a shrine to gimmickry were it not for the warm hospitality and cool meticulousness of proprietor Shige Kabashima, who brings a sense of humor to the ice-chipping, eyedropper-squirting precision of Tokyo-style cocktailing," Esquire said in their blurb. "As if the expert drinks were not enough, you can slurp while you sip. The name stands for Ramen Oysters Kitchen Cocktails, and it fits: The place rokcs."
A message left with ROKC ownership was not immediately returned.
Photo from ROKC
Related Articles
---