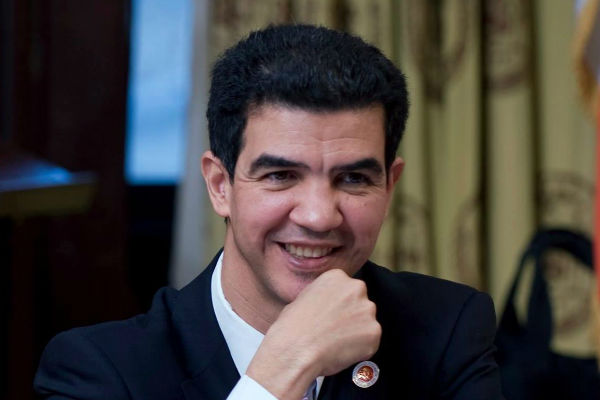 Council Transportation Chair Ydanis Rodriguez, Council Members Corey Johnson, Jumaane Williams, Margaret Chin, elected officials, and transportation advocates call on the City of New York to install pedestrian safety bollards.
They call on the city to install the bollards along sidewalks in key areas of high pedestrian volume and other pedestrian safety measures to protect New Yorkers.
Elected officials and pedestrian safety advocates discussed various pedestrian safety measures, including Introduction 1658 whose primary sponsor is Chair Rodriguez. The bill would require the installation of bollards in front of schools, plazas and vision zero priority corridors, among other details. The bill was introduced and heard before the Transportation Committee in June and is awaiting a vote by the full Council body; however, the call will be to begin installation now before the legislation goes to a vote.
The heightened urgency of protecting pedestrians comes, in part, as vehicles have increasingly been used as weapons of mass destruction. The recent attack in New York City resulted in eight deaths and eleven injured.
"For the safety of New York City's pedestrians, we need the installation of more bollards in the city's most crowed areas," said Council Member Ydanis Rodriguez, Chair of the Council Committee on Transportation. "New York is one the biggest targets for these types of attacks and we will continue to work together to prevent these kinds of tragedies from happening. I thank the courageous men and women of the NYPD for avoiding a greater loss of life, in particular Officer Ryan Nash, and all law enforcement and investigation agencies working to bring clarity about this act of hate and terror."



"I join my colleagues in a call to action. We stand ready to work together with agencies in developing a plan for protecting highly trafficked pedestrian areas and priority intersections. The Council can be particularly helpful in working to identify locations in our communities in need of bollards or other traffic barriers. Together, we must create a line of defense against future tragedy," said Council Member Robert Cornegy. "Our city is strong, we are resilient, but we must also take every action possible to ensure our residents and tourists are protected."
"Vehicular terrorism is a real threat. we saw it in Charlottesville, and we saw it yesterday in Manhattan," said Execute Director of Transportation Alternatives Paul White. "The same measures that prevent reckless drivers from harming pedestrians and bicyclists can also protect us from vehicular terrorism. Accordingly, the city must redouble efforts to protect our vital public spaces, bike lanes and greenways. Thanks to Councilmember Rodriguez for leading the way again on traffic safety."
Tim Tompins, President of the Times Square Alliance said: "We are working closely with the NYPD and City Hall on the quick, decisive and thoughtful installation of additional bollards in key, sensitive locations in Times Square after last spring's incident. We are grateful for the NYPD's consultation with the Times Square community and support their smart and strategic use of bollards and other objects to protect the public."
Steve Vaccaro, a founding Board Member of StreetsPAC and safe streets advocate, said: "Increased density is critical to our City's growth, but with density comes greater vulnerability. As transportation modes shift toward walking and cycling to accommodate greater density, we have to protect vulnerable street users from harm, whether inflicted intentionally or negligently. There is no reason to delay installation of bollards to protect the Greenway and other key cycling and walking facilities from intrusion by vehicles, as long as the bollards do not interfere with the intended uses of the facility."
Related Articles
---
VIDEO
---
"We re-imagine, recreate, and redeem cultural omissions and misrepresentations of Blackness, for the culture. ...." This post is made in partnership with British Pathé.