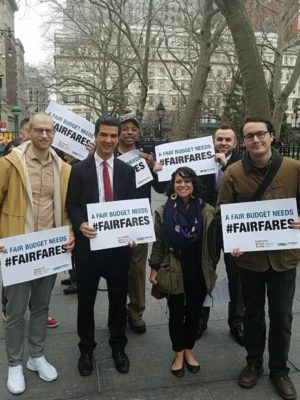 Members of the Fair Fares Coalition, including Riders Alliance, Community Service Society, Council Transportation Chair and Harlem elected
Ydanis Rodriguez
and a handful of his colleagues, today unveiled a new, lower-cost proposal that would ensure New Yorkers living deep in poverty are supported by the City with half-priced MetroCards.
The initial proposal for Fair Fares, put forward by Community Service Society and Riders Alliance estimated a cost of just over $200 million for the program. Following concerns over cost issued by Mayor de Blasio, the NYC Council included a proposal priced at $50 million, a drastic reduction in cost aimed at assuaging these concerns but aiming to guarantee its inclusion in the FY '18 budget.
Advocates and Council Members proposed a plan that would phase-in over three years, starting at a cost of $50 million in January, ensuring the cost to the city remains low at the outset. The plan would target New Yorkers in deepest poverty at first, for whom the cost of public transit is restrictive. The plan would continue to cover this group of New Yorkers the following year at a cost of $100 million for the full FY '19, before covering the complete population of the initial proposal at approximately $200 million in FY '20.
The plan highlights a willingness to be creative in the approach and is a response to concerns over the cost of the program. Advocates and Council Members are hopeful for a willing negotiating partner in Mayor de Blasio, whose consistent efforts to address poverty and criminal justice issues are well documented. The mayor's executive budget is due to be released in late April and the coalition argues that Fair Fares is a crucial part of any fair budget.
"We've heard the mayor's concerns over cost and we've developed a new plan to account for them," said Council Transportation Chair Ydanis Rodriguez. "Through a phase-in over several years, we can work out any early kinks and ensure that we are delivering for New Yorkers most in need starting soon. This is about being creative in a time of budgetary uncertainty, while standing up for New York values of supporting our neighbors. Transportation is an equalizer in our city, capable of uplifting New Yorkers through access to jobs, education, cultural institutions, healthcare and more. The time for Fair Fares is now."
"This phase-in proposal and City Council's support for Fair Fares in their budget response demonstrate that we can make Fair Fares happen," said Rebecca Bailin, Fair Fares Campaign Manager for Riders Alliance. That it's affordable and doable. Now, there's no reason for the Mayor to say no. Low-income New Yorkers need Mayor de Blasio to stand up for them just as he did for middle class New Yorkers when he expanded the pre-tax transit benefits program."
"Access to public transportation is an economic necessity for New Yorkers, but especially the working poor," said Nancy Rankin, Vice President for Policy Research and Advocacy. "The Fair Fares proposal is consistent with the mayor's agenda to tackle inequities in our city and help struggling New Yorkers get ahead. We applaud the City Council for supporting this effort and look forward to working with the Council and de Blasio Administration to make transit affordability a reality for all New Yorkers."
"With the cost of public transit rising but wages remaining stagnant, it is critical that the City give impoverished New Yorkers a much need break in their commuting costs," said  Council Member Mark Levine. "New Yorkers who fall below the poverty line already face an incredible struggle to make ends meet, and with the recent fare increase, it has only gotten harder. By funding the cost of offering half-price MetroCards, eligible New Yorkers could save up to $700 annually, dramatically increasing their quality of life. I fully support the Council's proposed $50 million budget allocation to begin phasing in this program, and I thank Transportation Chair Ydanis Rodriguez for his leadership on this issue." 
"Trips to the workplace, school, and the doctor's office shouldn't be a luxury," said Council Member Margaret S. Chin. "That is why I am proud to be part of this effort to include $50 million in funding to phase-in 'Fair Fares' in the City Council's budget response so that we can move the conversation forward about helping the New Yorkers who are most in need. I am proud to join Chair Rodriguez and many of my Council colleagues in supporting this proposal to address transportation inequality in our City."
Related Articles
VIDEO
---
Harlem Cultural Archives is a donor and foundation-supported Historical Society, Its mission is to create, maintain and grow a remotely accessible, online, interactive repository of audio-visual materials documenting Harlem's remarkable and varied multicultural legacies, including its storied past as well as its continuing contributions to the City and State of New York, the nation, and the world.
Support Harlem Cultural Archives
and
click here to get more Harlem History
, Thank you.