---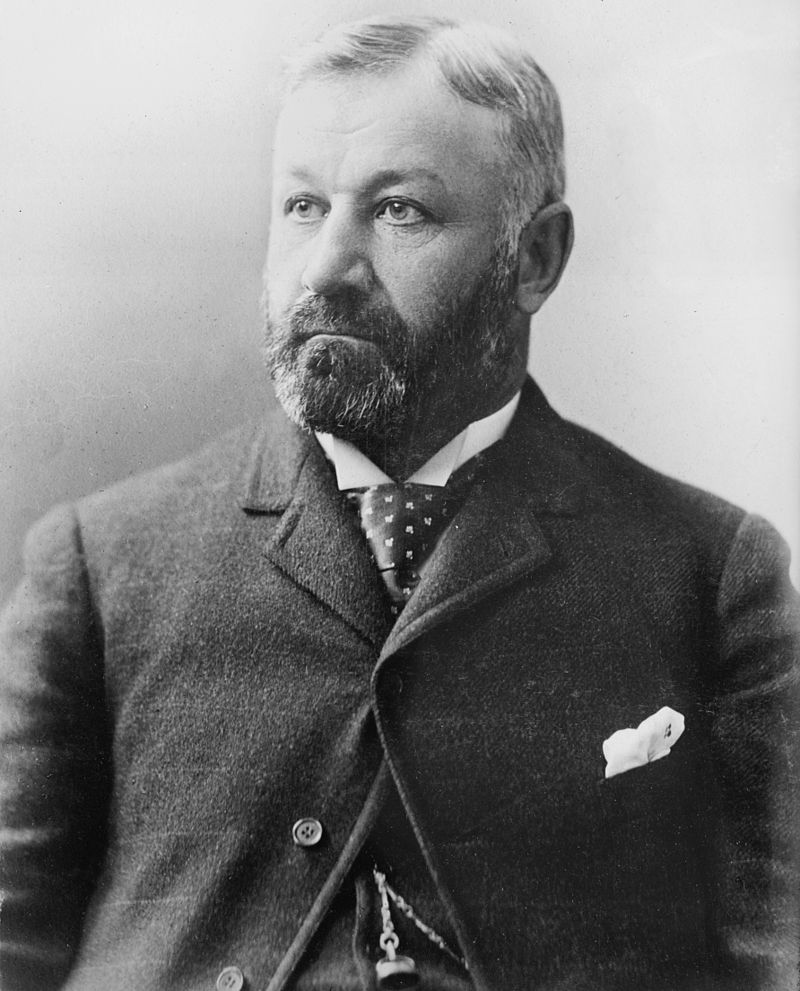 Richard Croker, Sr. (November 24, 1843 – April 29, 1922), known as "Boss Croker" was an Irish-American politician, a leader of New York City's Tammany Hall from Harlem..
He was born in the townland of Ballyva, in the parish of Ardfield, six miles south of Clonakilty in County Cork on November 24, 1843, son of Eyre Coote Croker and Frances Laura Welsted. He was taken to the United States by his parents when he was just two years old. They boarded at the Henry Clay in Cobh, County Cork and headed for the land of opportunity. There were significant differences between this family and the typical family leaving Ireland at that time. They were Protestant, and were not land tenants. Eyre Coote Croker owned an estate in Ardfield, in south west Cork. However, he was not a good manager. Within a short space of time, he was as poor as his tenants.
Richard Croker grew up at 26 Mount Morris Park West, and he was educated in the public schools Harlem, New York, where he eventually became a member of Tammany Halland active in its politics.
Richard Croker grew up at 26 Mount Morris Park West, and he was educated in the public schools Harlem, New York, where he eventually became a member of Tammany Halland active in its politics. He was an alderman from 1868 to 1870, a coroner from 1873 to 1876. He moved to Harrison, New Yorkby 1880, then he was the New York City Fire Commissioner in 1883 and 1887, and city Chamberlain from 1889 to 1890. After the death of John Kelly he became the leader of Tammany Hall, and for some time almost completely controlled that organization. As head of Tammany, Croker received bribe money from the owners of brothels, saloons and illegal gamblingdens. He survived Charles Henry Parkhurst's attacks on Tammany Hall's corruption and became a wealthy man.
Croker's greatest political success was his bringing about the 1897 election of Robert A. Van Wyck as first mayor of the five-borough "greater" New York, and during Van Wyck's administration Croker is popularly supposed to have completely dominated the government of the city. After Croker's failure to carry the city in thepresidential election of 1900 and the defeat of his mayoralty candidate, Edward M. Shepard in 1901, he resigned from his position of leadership in Tammany and was succeeded by Lewis Nixon. Afterwards, Croker retired and began living a country life in England and Ireland.
Croker operated a stable of thoroughbred racehorses in the United States in partnership with Mike Dwyer. In January 1895 they sent a stable of horses to England under the care of trainer Hardy Campbell, Jr. and jockey Willie Simms. Following a dispute, the partnership was dissoved in May but Croker continued to race in England. In 1907 his horse Orby won Britain's most prestigious race, the Epsom Derby. Orby was ridden by American jockey John Reiff whose brother Lester had won the race in 1901. Croker was also the breeder of Orby's son Grand Parade who won the Derby in 1919. In another animal venture, Croker was the first person to pay $5000 for a bulldog, Champion Rodney Stone.
Richard Croker married Beulah Benson Edmondson (1884–1957) in 1914 when he was 71 years old.
He died in 1922 in Ireland [6] leaving a fortune estimated to $3–5 millions to his second wife, disinheriting the children.[7] This resulted in a celebrated lawsuit in which the children unsuccessfully claimed that their father's second marriage was invalid for bigamy, in that their stepmother was at the relevant time married to another man. They were, however, unable to produce any credible evidence that the gentleman existed.
Croker's funeral drew some of Dublin's most eminent citizens, The Times (of London) describing it as follows (the 'Alderman Macdonagh' referenced being Joseph MacDonagh:
FUNERAL OF MR. CROKER: – The funeral of Mr. Richard Croker took place yesterday [May 5, 1922], when the body was buried in the grounds of Glencairn House, Mr. Croker's residence in South County, Dublin. After a Requiem Mass in the private oratory, the burial service was conducted by the Right Rev. Dr. W. J. Miller, Roman Catholic Bishop ofEumenia. The body was clothed in evening dress, and before the coffin was closed Mrs. Croker desired the mourners to look at her husband's face for the last time. The coffin was covered with a pall made of natural violets and evergreen. The pall-bearers were Mr. Arthur Griffith, President of Dail Eireann, the Lord Mayor of Dublin, Mr. A. H. Flauley, of Chicago, Mr. Oliver Gogarty, Alderman Macdonagh, and Mr. J. E. Tierney. Mr. Michael Collins, Chairman of the Provisional Government, was represented by Mr. Kevin O'Shiel. Mr. James MacMahon, British Under-Secretary to the Lord Lieutenant, was also in attendance.
Related Articles
---