---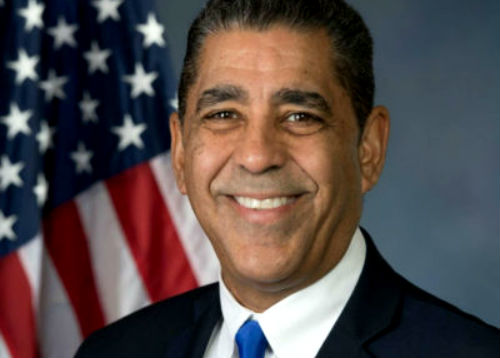 Today, Harlem Congressman Adriano Espaillat and Congresswoman Jenniffer González-Colón released the following statement to introduce the Housing Victims of Major Disasters Act. As we approach nearly seven months since Hurricane Maria first made landfall, this bill will help assist many of our fellow United States citizens of Puerto Rico who are still struggling to obtain basic and livable housing following the storm.
"It remains critical that we continue our efforts to help the American citizens of Puerto Rico rebuild their lives following the Hurricane Maria," said Rep. Adriano Espaillat. "As we approach seven months in the wake of devastation to the island, thousands of U.S. citizens remain without adequate resources or assistance, only half of the population has reliable electricity and water, medical supplies are scarce, schools are closing and families are having to leave their homes because resources have remained limited. Since last September, I have pushed a legislative agenda that would call for emergency federal hearings and provide emergency financial assistance to residents, including this latest joint effort with my colleague, Rep. Jenniffer González Colón, that would specifically address the critical needs and ongoing challenges that residents who have lost their homes continue to face nearly half of a year later."
"It is difficult to fathom the destruction brought by natural disasters until experienced firsthand. That has been the case with every single one of my constituents," said Rep. Jenniffer González Colón. "Hurricane Maria blanketed the island and left thousands of U.S. citizens without proper shelter. Now, seven months after the hurricane and with this years' hurricane season rapidly approaching, it is of paramount importance that we ensure federal funding approved through disaster relief legislation reaches constituents. Close to 60,000 people on the island who are now dealing with home damages caused by Maria have had their claims denied by FEMA due to not having property titles. This bill increases the list of documentation considered by FEMA when administering housing assistance, and augments the likelihood of island residents and other victims of natural disasters receiving housing recovery assistance when its merited and necessary. This is part of the discussions we already have at House hearings with FEMA and meetings with HUD officials but making it a direct instruction. I appreciate Rep. Adriano Espaillat's leadership and commitment to Puerto Rico by addressing this issue which so important for our people."
"This legislation would ensure that all survivors of the recent hurricanes and wildfires – including those with the lowest incomes – have the resources they need to keep a stable roof over their heads while they rebuild their lives. The NLIHC-led Disaster Housing Recovery Coalition of more than 700 local, state, and national organizations commends Congressman Espaillat and Congresswoman González Colón for their leadership in putting forward critically needed, long-term housing solutions so that in the future, no family recovering from a disaster has to make the impossible choice between paying rent and meeting their other basic needs as they get back on their feet," said Diane Yentel, president and CEO of the National Low Income Housing Coalition.
"It has been nearly seven months since Hurricane Maria hit Puerto Rico and thousands still lack power and a roof over their heads. Many migrating families are moving to areas already experiencing a housing crisis. The 'Housing Victims of Major Disasters Act' would be a step in the right direction, allowing FEMA to provide housing assistance to those whose homes were destroyed and need it the most. Congress should pass this legislation right away to meet the urgent needs of impacted Puerto Rican families," said Eric Rodriguez, Vice President of Policy and Advocacy of UnidosUs.
The Housing Victims of Major Disasters Act addresses two main issues. In the immediate, the bill will direct FEMA to enter a mission assignment with HUD to administer the Disaster Housing Assistance Program (DHAP), a program that has previously been used in the aftermaths of Hurricanes Katrina and Ike. This would open the door to provide temporary rental assistance to families displaced from their residences by any major disaster declared during 2017, including Hurricane Maria. The bill would also make individuals who are either renting, or are without land permits, deeds, or titles eligible for FEMA funds and prevent them from being turned away from FEMA assistance.
In the long term, the Housing Victims of Major Disasters Act would allow for Disaster Relief funding under the Stafford Act to be used for land surveys, land titles, and any other tax or fees associated with the transfer of property. Given the situation, and circumstance that many Puerto Ricans have not obtained legal titles, this has made them ineligible for post-disaster housing aid, and they are cut off from programs that finance rebuilding or major repairs.
The Housing Victims of Major Disasters Act has been endorsed by the following organizations: Hispanic Federation, UnidosUS, Oxfam, National Low-Income Housing Coalition, Disaster Housing Recovery Coalition and the American Federation of Teachers.
---