---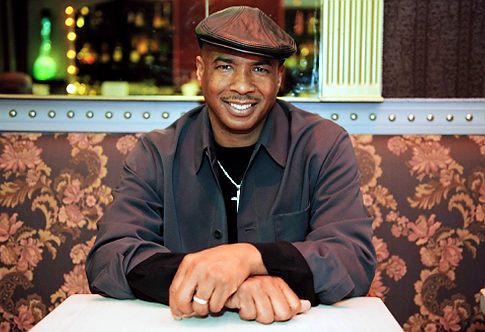 Keyboardist and orchestral arranger Ray Chew has been a key figure on some of television's most watched shows, serving as music director and/or composer on "Showtime at the Apollo," "American Idol," "Dancing With The Stars" and ABC's newest singing competition series, "Rising Star."
Growing up in Harlem's Grant Houses project, Chew managed to balance a rigorous schedule of attending school and learning the various intricacies of musical education. It later paid off when Chew got the opportunity to perform alongside the likes of Aretha Franklin, Prince, Diana Ross and Ashford & Simpson, among others.
During a recent interview with The Huffington Post, Chew, 46, opened up about his journey from Harlem to Hollywood and shared his thoughts on how new artists should be more diligent in paying homage to veteran musicians.
For those who aren't familiar with your career trajectory, take me back to your humble beginnings growing up in Harlem.
It came about from my parents. We were in the Grant projects on 125th St., and my mother and father insisted that I be a product of the environment. And they did everything they could to make sure I had access to musical education and cultural education, and so I had the support of a lot of family and I started my training very early at age 6. And from 6 throughout all my school years I was in musical training every day and on weekends. So every day I was in school, and then music school and every musical program they could find. My first professional job was at age 16 with [singer] Melba Moore, and at 18 I started working with Nick Ashford and Valerie Simpson and they introduced me to the New York session scene as well as being their musical director for a very long time … I started working on a lot of records towards the end of that whole disco era. In the '80s I played on hundreds of albums and classic records with Diana Ross, and Chaka [Khan], and Teddy [Pendergrass], Gladys Knight & the Pips…
My first TV show was with "Saturday Night Live," and that was during the Eddie Murphy years … After that, my next TV show, years later, was with the Apollo [Theater]. And that started my Apollo tenure. So a lot of people know me from the Apollo … And after the Apollo I progressed and did a lot more TV musical direction. A lot of the BET TV shows of course ["BET Awards," "BET Celebration of Gospel," "BET Honors"]. That's been a great relationship for many years, and I cherish that. Then I started moving into a lot of the mainstream shows like "American Idol," the Emmys, "Dancing with the Stars" and of course now "Rising Star." So I guess that's the quick of it.
This year marks the Apollo Theater's 80th anniversary. As a respected affiliate of the institution, what are your thoughts on the theater's role in being an epicenter for black entertainment?
It's a great experience to not only visit this great institution, but it memorializes and archives the great musical spirit, and the history of our culture is embedded in the walls. It's embedded in the stage. It's embedded in the seats. It's just embedded in the whole place. When you walk around there, you can feel the spirit of James Brown and all the Motown acts, and even Ella [Fitzgerald] and the young Gladys Knight. So the spirit inhabiting that place is amazing, and you can feel it, and it's always such an honor to join with that. And I'm very proud of my 15-plus years of being the musical director at the Apollo and doing "Showtime At The Apollo," and that I have a page in their history … I'm very proud of that.
Do you have any interest in recording new material with emerging artists?
Yes. I have two new artists that I'm focusing on right now. One is Stanaj and he is, I guess if you think of Justin Timberlake, Justin Bieber and Alicia Keys, if they had a love child, that would be him. [Laughs] So I'm very excited about him. [He's] already got a lot of stuff online. We're going to be presenting him really strong this year. My next artist's name is Bianca Raquel. I would describe her as having I guess an R&B, pop, indie feel, somewhere in there. And she doesn't like to be typecast, or pigeonholed in one spot. And so I think if you look at some of her stuff, you'll get a feel, just by hearing her voice and some of the things she does. She also happens to be my daughter.
With your experience working alongside artists such as Ashford & Simpson and Diana Ross, what are your thoughts on newer artists not paying homage to veterans? For example, the controversy and comparisons surrounding Robin Thicke's "Blurred Lines" and Marvin Gaye's "Got to Give It Up."
I think as long as they pay respectful homage, and do it in a way where they tip their hat and give a credit where credit is due … I think with that whole record that [Thicke] released, I think from the beginning if they had said, "Obviously this was influenced by the Marvin record and we respect Marvin and his legacy" … I think a lot of the controversy with that could have been put behind them earlier. I would recommend that to a lot of new artists, that they should be more vocal about whose shoulders they stand upon. A lot of young kids, they don't really know enough about their history and speaking up about it. So I'm not going to say all of them, but I would say a lot of young artists are not vocal enough about that. And they should be.
Aside from music directing and composing, you've also managed to produce major concerts at Carnegie Hall in the past. Do you have plans to produce any future shows at the venue?
Yes, we're going to be doing some more of those. We had two great events at Carnegie. We did an event called "The Night Of Inspiration" where we married secular and gospel music together on the great stage of Carnegie with a 60-piece orchestra and 130 in the mass choir. We had great names like Michael McDonald, Shirley Caesar, BeBe & CeCe Winans, Sheila E., Fred Hammond, Richard Smallwood … It was such a great night. One of the best nights in my life…
A year or two after that, we did a tribute to the music of Motown and we had the Temptations, Boyz II Men, Anita Baker. And again, every time I do something at Carnegie Hall, my stipulation is that it has to be with a full orchestra. [laughs] So they asked me to do more stuff. And we have some plans, hopefully in 2015, for another great event there.
Since you've achieved so many amazing accomplishments thus far, is there anything else that you would want to pursue, or anyone that you would want to work with?
I'm always interested in new artists or somebody that's really going to capture the wonderful artistry that I hold so near and dear to me. Because for me it's about the legacy of what I'm going to be … I feel like now it's very important for me to set the table for a lot of those who may follow me. The next young musical director. So I go and do seminars. I'm involved with NARAS [the National Academy of Recording Arts and Sciences], the Grammy organization … I always like to connect and pass a lot of the wonderful knowledge that I gained over the years to others who [are] ready to receive it.
Related Articles
---