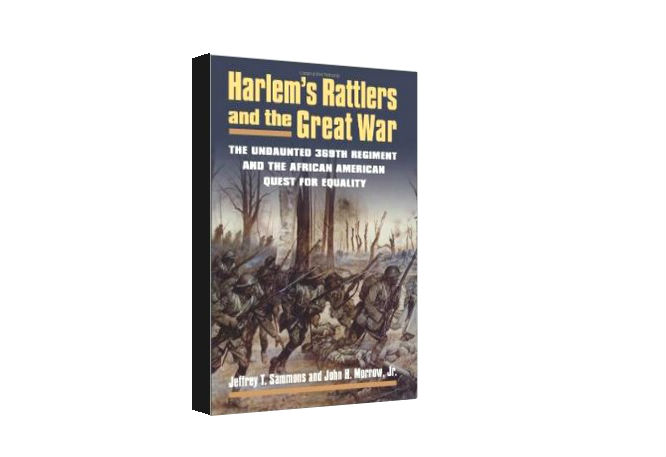 When on May 15, 1918 a French lieutenant warned Henry Johnson of the 369th to move back because of a possible enemy raid, Johnson reportedly replied: "I'm an American, and I never retreat." The story, even if apocryphal, captures the mythic status of the Harlem Rattlers, the African-American combat unit that grew out of the 15th New York National Guard, who were said to have never lost a man to capture or a foot of ground that had been taken. It also, in its insistence on American identity, points to a truth at the heart of this book–more than fighting to make the world safe for democracy, the black men of the 369th fought to convince America to live up to its democratic promise. It is this aspect of the storied regiment's history–its place within the larger movement of African Americans for full citizenship in the face of virulent racism–that Harlem's Rattlers and the Great War brings to the fore.
With sweeping vision, historical precision, and unparalleled research, this book will stand as the definitive study of the 369th. Though discussed in numerous histories and featured in popular culture (most famously the film Stormy Weather and the novel Jazz), the 369th has become more a matter of mythology than grounded, factually accurate history–a situation that authors Jeffrey T. Sammons and John H. Morrow, Jr. set out to right. Their book–which eschews the regiment's famous nickname, the "Harlem Hellfighters," a name never embraced by the unit itself–tells the full story of the self-proclaimed Harlem Rattlers. Combining the "fighting focus" of military history with the insights of social commentary, Harlem's Rattlers and the Great War reveals the centrality of military service and war to the quest for equality as it details the origins, evolution, combat exploits, and postwar struggles of the 369th.
The authors take up the internal dynamics of the regiment as well as external pressures, paying particular attention to the environment created by the presence of both black and white officers in the unit. They also explore the role of women–in particular, the Women's Auxiliary of the 369th–as partners in the struggle for full citizenship. From its beginnings in the 15th New York National Guard through its training in the explosive atmosphere in the South, its singular performance in the French army during World War I, and the pathos of postwar adjustment–this book reveals as never before the details of the Harlem Rattlers' experience, the poignant history of some of its heroes, its place in the story of both World War I and the African American campaign for equality–and its full importance in our understanding of American history.
Get a copy of the book for only $31.46
Thank you Jeff S. for recommending the book for our readers.
Related Articles
---