---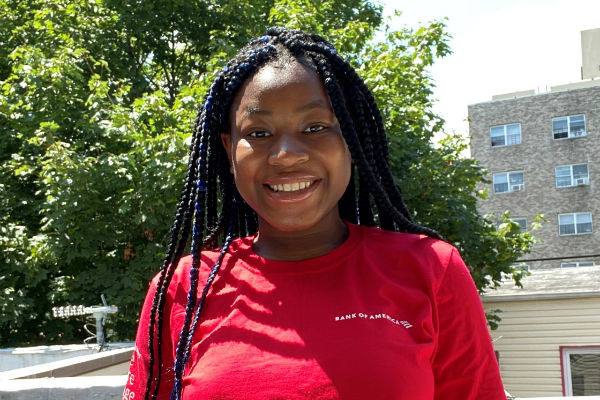 Five New York City high school juniors and seniors selected as Bank of America Student Leaders, including Nazira Cisse, a recent graduate of Harlem's Promise Academy.
The students will start their paid summer internship experience of leadership, civic engagement, and workforce skills-building. The program, adapted this summer to a virtual format, continues to show students the vital role that nonprofits play in advancing community health, the need for public-private partnerships to advance social change and the importance of building financial acumen.
The Class of 2020 New York City-based Bank of America Student Leaders are:
Nazira Cisse, a Bronx resident and recent graduate of Harlem's Promise Academy
Youssef Hasweh, a Brooklyn resident and recent graduate of Fort Hamilton High School
Rae Jeong, a Queens resident and rising senior at Stuyvesant High School
Shubh Khanna, a Manhattan resident and rising senior at Hunter College High School
Jahin Rahman, a Queens resident and rising senior at the Academy of American Studies
New York City Student Leaders will participate in programming that leverages Bank of America's national partnerships and expertise and will work closely with the bank's New York City leadership and nonprofit partners. They will participate in a collaborative project working closely with the YMCA of Greater New York to promote programs that empower youth, improve health, and strengthen the community.
"At the YMCA of Greater New York we believe that lasting personal and social change can only come about when we all work together to invest in our youth, our neighbors, and our communities," said Sharon Greenberger, President, and CEO of the YMCA of Greater New York. "We are excited to welcome this year's cohort of New York City Student Leaders and look forward to the contributions they will make to ensure that everyone, regardless of race, age, income or background, has the opportunity to learn, grow and thrive."
Students will develop digital communication campaigns, participate in grant application processes, and create strategic plans for fundraising post-coronavirus. In addition, the student will engage in conversations focused on social justice, civil rights, and how to build a more diverse and inclusive society. They will have the opportunity to gain a better understanding of their personal finances through Better Money Habits®, Bank of America's financial wellness and education platform.
Bringing students from across the country together in order to discuss the role of citizenship and how cross-sector collaboration creates community impact is a core component of the Student Leaders program. This year, 300 students will gather virtually for Young America Together at Home program, delivered by the Close Up Foundation, which will include discussion of finding one's voice in order to effect change and pressing policy issues such as the economy, healthcare, the environment, and immigration.
"Bank of America is grateful for our continued partnership with the YMCA of Greater New York as we collectively navigate the challenges our communities face and remain committed to supporting young people from across New York City," said Anne Walker, New York City market president for Bank of America. "By connecting our Student Leaders to jobs, skills-building, and leadership development opportunities, we are providing them with the tools necessary to be agents of change, a powerful investment in the future of our communities."
Now in particular, in the wake of significant job losses nationwide, the ability to earn a paycheck will be essential to many young people whether they are helping to support their families or planning for the future. As part of their Student Leader experience, each student will receive a $5,000 stipend to recognize them for their community achievements.
Now in its 17th year, the Student Leaders program has seen participants go on to graduate from Ivy League universities, start careers in fields as varied as social work, marketing and banking, and continue to be leaders in their communities. In addition to Student Leaders, Bank of America invests in approximately 3,000 summer jobs for young people across the nation through partnerships with nonprofits. In New York City, the bank supports 100 jobs through the Fund for Public Schools and their CTE Summer Scholars program, which supports students in Career and Technical Education high schools by providing work readiness training, certifications and internships.
Photo credit: Nazira Cisse.
---