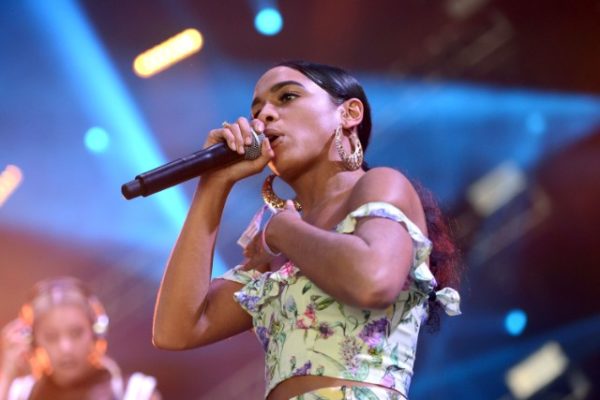 Vibe reports that Harlem's Princess Nokia, whose very identity and body politic stands against all that is heteropatriarchal and elitist, is being accused of canceling tour dates in her home country of Puerto Rico to campaign for Urban Outfitters, an opportunity that is "hard to miss and will raise her profile globally."
On August 20, 2017, the Afro-Boricua rapper from Harlem tweeted she'd be issuing a statement in regards to why she was forced to cancel her shows in Puerto Rico. A follow-up tweet cited scamming as the reason for pulling out.
"THE PROMOTER IN PUERTO RICO WHO ARRANGED MY TOUR DATES WAS TRYING TO SCAM AND MY FANS AND YOU WILL HAVE HE FULL STORY VERY SOON," she wrote, to which one John Doe behind the Twitter handle @worito1923, replied "BULLS**T," along with a screenshot of what looks like an email stating Nokia has been offered the opportunity to participate in a major fashion campaign for the multinational clothing corporation.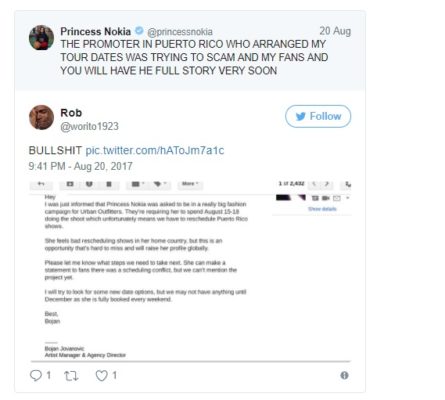 Nokia had this to say to the above claim: "PUERTO RICO I LOVE YOU VERY MUCH, AND I APOLOGIZE FOR THE CONFUSION BUT YOU HAVE NO IDEA HOW MUCH THEY TRIED TO TAKE ADVATAGE OF US."
Related articles
Related Articles
---
VIDEO
---
"We re-imagine, recreate, and redeem cultural omissions and misrepresentations of Blackness, for the culture. ...." This post is made in partnership with British Pathé.