---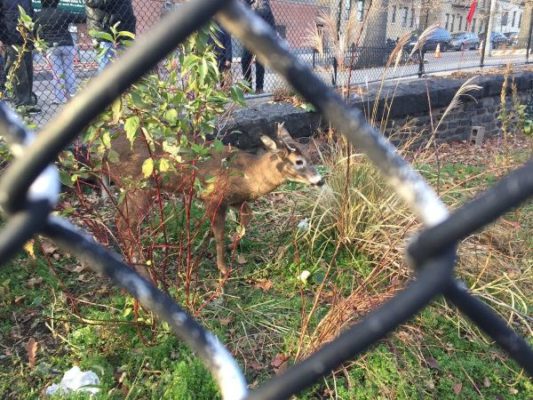 Harlem's famous one-antlered deer, "Lefty," died Friday as he awaited relocation upstate, according to a spokesman for the NYC Mayor's Office.
"Sad news," Eric Phillips, the mayor's spokesman, said Friday afternoon. "While under the stress of captivity and while awaiting potential transport upstate by state [Department of Environmental Conservation], the Harlem deer has died."
The DEC shot back with the following statement: "We offered yesterday to take possession of the deer and transport it to a suitable habitat. The City did not accept our offer until just before noon, and while we were arriving on scene the deer died in the City's possession."
City and state officials had been squabbling overnight and and through the morning over what to do with Harlem's one-antlered deer, who made Jackie Robinson Park his second home for the majority of December and who was captured Thursday after vaulting a fence into the nearby Polo Grounds Towers public housing development.
The deer likely swam his way to Manhattan in search of food or a mate, the city said, but decided to stay in Jackie Robinson Park once locals started to feed it (against official advice).
The city sentenced Lefty to euthanasia as soon as he was caught.
Soon after, though, state officials intervened, saying they would spare no expense to relocate the deer upstate — despite state regulations that prohibit the movement of deer beyond county lines, except for scientific purposes.
Gov. Andrew Cuomo released an unprovoked statement Thursday night offering to relocate the deer — a break from policy. State environmental regulations prevent deer from being transported across county lines, as they often do not survive relocation to a new habitat.

"There are alternatives to euthanasia that they can consider, including relocation," a Cuomo spokesperson said Thursday. "The City has now captured the deer, and Governor Cuomo has directed DEC to offer assistance to the City to transport and find a new habitat for it immediately."
Despite Cuomo's efforts, city officials reiterated Friday morning that euthanizing the deer was the only humane option.
"Moving the deer to a new place would likely have caused the animal a great deal of suffering and would have been inhumane on many levels," Sarah Aucoin, chief of wildlife and education at the Parks Department told source. "Disorientation, trauma, injury and death are all possible results of relocating, and relocated deer have very low long-term survival rates."
Aucoin said that because of low temperatures in the region — and because the deer had been tranquilized — relocation could lead to injury or death. The deer, which had been fawned over by Harlem residents, also got acclimated to humans, and may have searched for them after it was relocated, Aucoin said.
"These decisions are never easy, and we do not take this lightly at all, but considering all of these factors, and with our top priorities being human safety and the most humane treatment of this deer, we think this is the best, safest, and most humane course of action," Aucoin said.
But after "repeated attempts" Friday by the State Department of Environmental Conservation (DEC) to save the deer from euthanasia, the city gave in, albeit reluctantly.
"Due to the stress caused by travel and low survival rates of relocated deer, we believe euthanasia is the most humane option," a spokesman for the city's Parks Department responded Friday morning. "But we defer to the state as the regulatory authority on wildlife."
DEC spokesman Sean Mahar confirmed: "The state is securing the safe transport of the deer to suitable habitat upstate."
Before state officials could take the deer into custody, though — and despite the passion city and state government officials showed over Lefty's ultimate fate — the deer died anyway.
Photo via Ralph A. Gilmore/Twitter. Source
Related Articles
---