---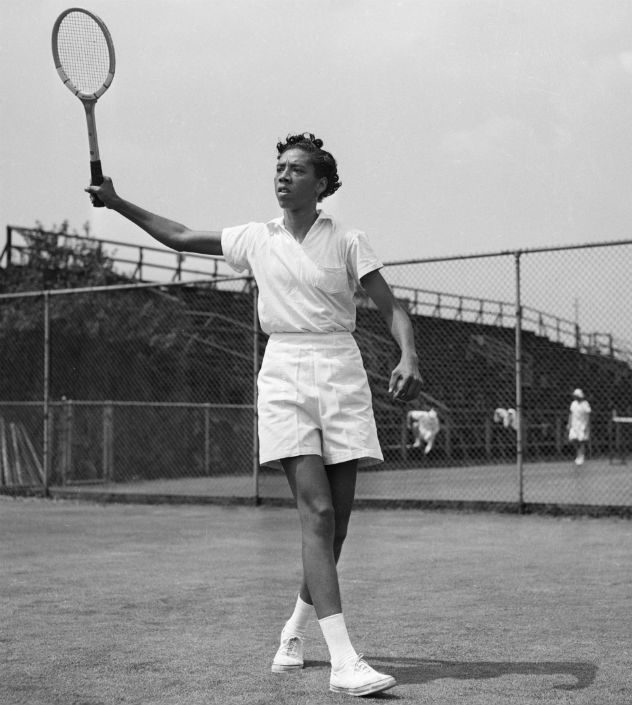 The Harlem-based National Black Programming Consortium (NBPC) has made a grant in support of Althea, the award-winning documentary about trailblazing tennis star Althea Gibson.
NBPC's funding will enable a robust community outreach around the film, including in Harlem, where the celebrated athlete was raised. Produced and directed by Rex Miller, Althea is slated for nationwide premiere on THIRTEEN's American Masters on PBS on Friday, September 4, 2015, at 9 p.m. (check local listings) during the US Open.  The program will air in the tri-state area on THIRTEEN.
Althea Gibson, a truant who came from the rough streets of Harlem, emerged as a most unlikely queen of the highly segregated tennis world of the 1950s. No player, not even the great Arthur Ashe (who came a decade after Althea), overcame more obstacles to become a champion than did Althea Gibson—the first African-American to play at (and win) Wimbledon and the US Nationals (precursor of the US Open). Forced out of the game to make a living, Althea later brought her talents to golf, breaking another color barrier: the Ladies Professional Golf Association, where she competed for over 10 years. Her life transcended sports, and her fame thrust her unwillingly into the glare of the early Civil Rights movement. Althea captures the legend's highs and lows. The film Althea, which won the Grand Jury Prize for Best Documentary at the 19th American Black Film Festival, was executive produced by women's sports legend Billie Jean King, Hollywood actor John Amos and activist investor William A. Ackman (CEO, Pershing Square Capital Management).
The funding by NBPC, a media arts organization, will help make possible the celebration of Althea Gibson Week, August 24–29. (Gibson was born on August 25, 1927.) Events planned include:
Tuesday, August 25, 1 p.m.:  Screening at the Harlem Armory, where Althea trained and competed, 40 West 143rd Street, Harlem. The event is hosted by Harlem Junior Tennis & Education Program and will be followed by a Q&A with Rex Miller
Tuesday, August 25, 6 p.m.: A special event at the Schomburg Center for Research in Black Culture, 515 Malcolm X Blvd., Harlem, with excerpts from the film and remarks by Schomburg Center for Research in Black Culture Director Dr. Khalil Gibran Muhammad and American Masters Executive Producer Michael Kantor. The event will include a talk-back following the screening featuring:
·         David Dinkins, 106th mayor, City of New York
·         Art Carrington, former National Tennis Association Champion, tennis historian, and longtime friend of Althea Gibson
·         Leslie Allen, former ATA, NCAA and WTA champion
·         Rex Miller, director/producer, Althea
Wednesday, August 26, at 7 p.m.: Queens premiere at the Queens Theatre, 14 United Nations Avenue South, Corona, part of Queens Day at the US Open.
Thursday, August 27, at 7 p.m.: Screening at the ImageNation Cinema Foundation Raw Space, 2031 Adam Clayton Powell Jr. Blvd., with Q&A with Rex Miller
Friday, August 28, at 8 p.m. West Side Tennis Club, 1 Tennis Place, Forest Hills. Outdoor screening on the grass courts just after sunset. Visit the legendary site of Althea's groundbreaking 1950 match against Louise Brough and of her 1957/58 US National titles. In the shadow of the grand old stadium, built in 1923 and recently renovated, the film will be viewed on a 20-foot screen.
Saturday, August 29, at 10 a.m.: The David Dinkins Tennis Club presents a rededication of the Althea Gibson and Sydney Llewellyn courts at the Jungle public courts, Seventh Avenue and 151st Street, in honor of those who have contributed to the Jungle's legacy. The ceremony will be followed by a party for kids and their parents, in conjunction with the club's weekly "Free 10 and Under Family Tennis/Reading Program."
Saturday, August 29, at 7:30 p.m.: Long Island premiere screening at Soundview Cinemas in Port Washington, New York, presented by the Gold Coast Film Festival with Q&A with Rex Miller.
For RSVP and registration information on the above events, visit http://altheathefilm.com/phone/althea-week.html.
NBPC will also support additional outreach and engagement around the U.S. through the end of 2015 to include community screenings, tennis clinics and school curriculum implementation in Washington, D.C., Atlanta, Boston, Chicago, Charleston, San Francisco, Los Angeles, Newark and other cities.
The award reflects NBPC's new funding priorities, which include an emphasis on documentary and Web content exploring issues of race and around social justice, black male achievement, the international black woman, blacks and the environment and economic inequity.
NBPC is the nation's only nonprofit organization dedicated solely to media content about the black experience. To learn more about NBPC, visit www.blackpublicmedia.org or follow the organization on Twitter (@BLKPublicMedia) or Facebook (https://www.facebook.com/BlackPublicMedia).
For more information on Althea, visit http://www.altheathefilm.com/.
Related Articles
---